The 2022 GMC Sierra 1500 pickup fits the bill as a capable utility vehicle with a healthy range of engine options, desirable interior technology, and practicality that make it fit to compete in one of the toughest segments in the entire industry. It also offers plenty of trim levels at very different price points, making for a versatile lineup to suit many specific needs.
With a base price of $35,600, GMC's The 2022 Sierra 1500 boasts an updated exterior and plenty of interior upgrades, but things were taken to a whole other level in the all-new top-of-the-line Denali Ultimate, making it one of the most luxurious trucks imaginable. Starting at a whopping $82,600 before options, the Denali Ultimate isn't cheap by any means, but it doesn't even feel that way either.
Competing directly with the Ford F-150 Limited, Ram 1500 Limited, and Toyota Tundra Capstone, GMC's Sierra Denali Ultimate still manages to find ways to gain a luxury edge over the rest.
Related: 9 Used Pickup Trucks That Actually Aren't As Bad As Their Reputation
The 2022 GMC Sierra's all-new Denali Ultimate Trim offers two impressive engines
Before getting into all the goodies that make the Denali Ultimate the most luxurious Sierra GMC has ever made, it's worth going over the powertrain options. The standard engine comes in the form of a 3.0-liter turbodiesel inline-six that makes 277 horsepower and 460 pound-feet of torque. In addition to delivering good torque, this base engine is also the most fuel-efficient option, returning 23 mpg in the city and 30 mpg on the highway.
For those uninterested in saving money on fuel, the GMC Sierra Denali Ultimate can also be had with a 6.2-liter V8 that produces 420 horsepower and 460 pound-feet of torque. Both versions come mated to a 10-speed automatic transmission with all-wheel drive, and the more powerful V8 propels the Sierra from 0-60 mph in just 5.7 seconds, giving it one of the fastest acceleration times in the entire segment.
Related: The real reason the Mercedes-Benz X-Class pickup truck failed miserably
Sierra Denali Ultimate achieves the height of luxury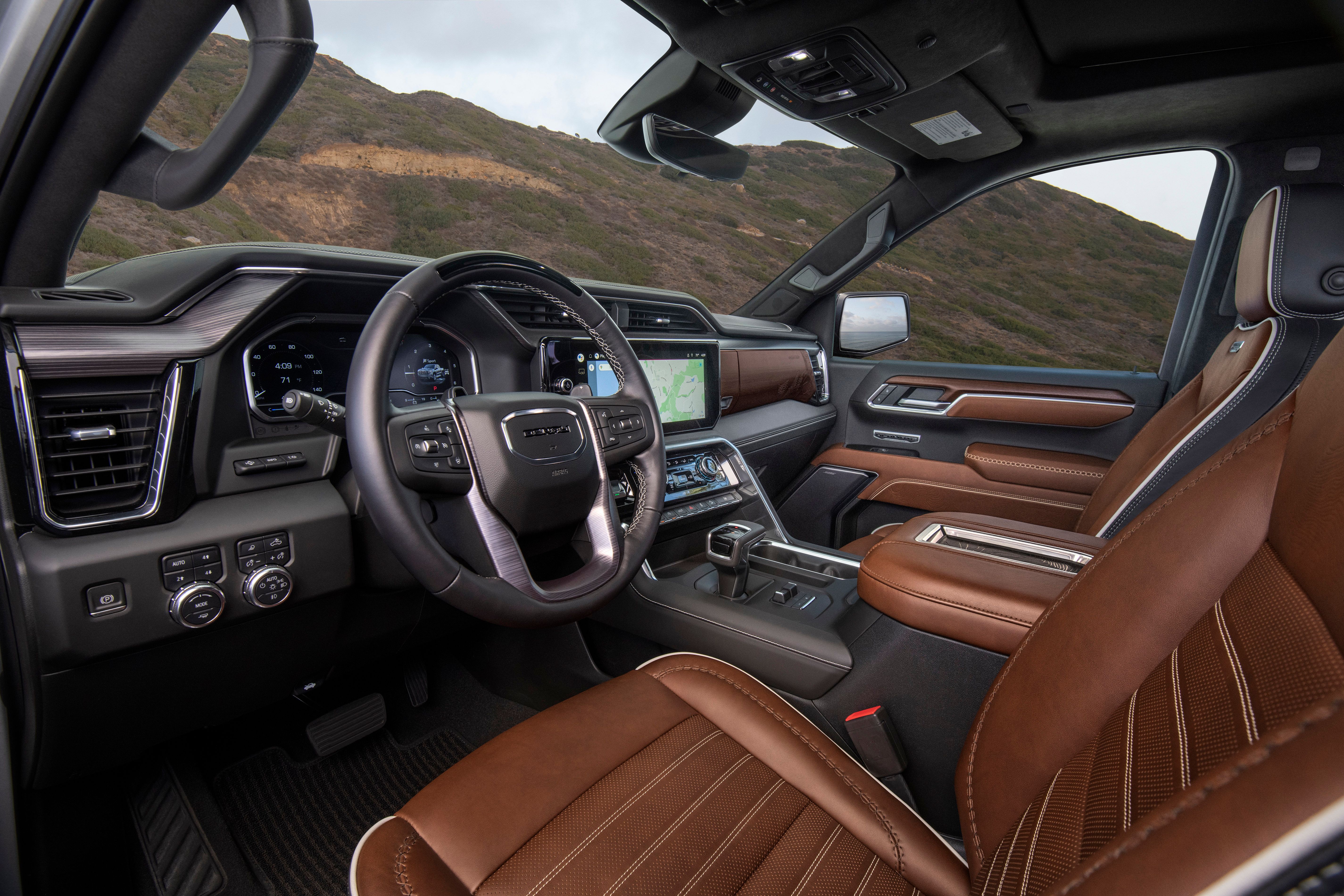 Step inside the 2022 GMC Sierra 1500 Denali Ultimate, and you'll find a cabin loaded with high-quality materials, supremely comfortable seating, plenty of technology — and plenty of "Ultimate" badges in case you forget which vehicle you're in. The beautiful seats and center have quality upholstery in what the GMC says is Vecchio Savage leather, and while we don't really know what that means, we can confirm that it's gorgeous and incredibly comfortable. The seats also offer 16-way power adjustment, as well as heated and massage functions as desirable options. On the dash, you'll find exquisite wood panels with brushed metal accents, giant climate vents, and plenty of useful storage bins and cubbies.
The Denali Ultimate comes only as a crew cab, meaning it provides a rear row of seats with more than enough room for larger adults and a 5.8-foot truck bed. The rear seats share the same high-quality leather upholstery found up front, and provide 3-way heated functions as well as individual as well as climate vents. The bench can also be raised to reveal a healthy storage area suitable for tools or anything else you prefer to leave hidden.
On the exterior, the 2022 GMC Sierra Denali Ultimate comes with plenty of exclusive touches, starting with standard 22-inch wheels with a unique design. Furthermore, the front grill and badge are uniquely painted in what GMC calls Vader Chrome, and you'll also find plenty of distinctive "Ultimate" branding just like the inside. Most important of all is GMC's multi-pro tailgate system, which can be lowered to adopt multiple configurations—whether it's just the center portion of the tailgate, a drop-down rear panel that extends the entire bed, or a fully lowered setup that serves as a step to climb up in the bed itself. If that's not enough, GMC also provides a full Kicker audio system built into the tailgate.
Related: We're going overboard in excitement with the new Rivian R1S Configurator
The amount of technology in the 2022 Sierra Denali Ultimate is insane
Aside from a cabin that ticks every single comfort-related box, the interior of the GMC Sierra Denali Ultimate is also filled to the brim with impressive and useful technology. It has a 12.4-inch central infotainment touchscreen with built-in Google software, a fully digital driver display and a wonderful 12-speaker Bose sound system.
The most impressive display of GMC's engineering wizardry, however, comes in the form of the Denali Ultimate's driving aids. It comes standard with adaptive suspension control that constantly adjusts the truck's damping for the best possible settings at all times, and it makes for an incredibly comfortable ride despite having a larger set of wheels. The Denali Ultimate also comes with GM's Supercruise system, which is a truly amazing autonomous driver assistance feature that takes full control of the truck when driving on mapped roads. GM has mapped the major freeways and interstates in the United States, which means you'll be able to use this feature with peace of mind. It automatically steers, drives and brakes the truck using multiple sensors placed around the body, and it can even do automatic lane changes.
Overall, the 2022 GMC 1500 and its all-new Denali Ultimate trim take the already luxurious truck to stratospheric levels, helping to re-establish the model in an ever-growing luxury segment.