You just have to love the SEMA (Specialty Equipment Market Association) Show. Every year the fleet of concept vehicles arrive at the Las Vegas show and leave us wanting more. With so many manufacturers and their latest offerings on display at the SEMA show, there's always at least one or two vehicles we'd love to see in production (and would probably blow all of our savings on).
In anticipation of the 2022 SEMA Show hitting this November, we took another look at the precious gems the show collected in 2021. If anyone forgot the seven captivating custom concepts that Mopar introduced, we're here to refresh your memory.
The Jeep Wrangler 4xe, Jeep Grand Cherokee L Breckenridge, Kaiser Jeep M725, Ram 1500 Outdoorsman, Ram 1500 TRX RexRunner and Dodge Challenger Holy Guacamole made a grand entrance at the Texas show and turned heads. However, the seventh big star was the one that caught our interest the most.
The Jeep Wrangler Overlook Concept isn't a vehicle headed for production, much to our dismay, but it's one that's practically begging for it. Or we do, to be honest.
Let's take a closer look at this custom vehicle that we liked so much. We're sure to send some of our excitement to those who haven't seen the Jeep Wrangler Overlook Concept.
RELATED: These were the 10 coolest modified cars at SEMA this year
The unexpected three-row SUV makes us want to conquer rough terrain during a family picnic
The Jeep Wrangler Overlook Concept finally makes some people's (read: many) dreams come true by introducing a third row of seats. Based on a four-door Wrangler Sahara, the concept differs by having a 12-inch longer body and a 5-inch higher roofline. In this way, the Overlook Concept stretches to accommodate more passengers, giving them more space and comfort.
What we liked about the Jeep Wrangler Overlook Concept right off the bat are the extra windows and the removable roof. Passengers can not only enjoy the extra height and a better view through the improved windows, but also ride with the wind in their hair on a sunny day. How does that sound for production?
We haven't even started with the words of praise. The Jeep Wrangler Overlook Concept also sits on 20-inch wheels mounted on 37-inch tires. This basically means you can take the SUV over any type of terrain. The concept was actually made with that purpose in mind, with a wide rear bumper, A-pillar lighting, a winch in the front bumper and Fox shocks.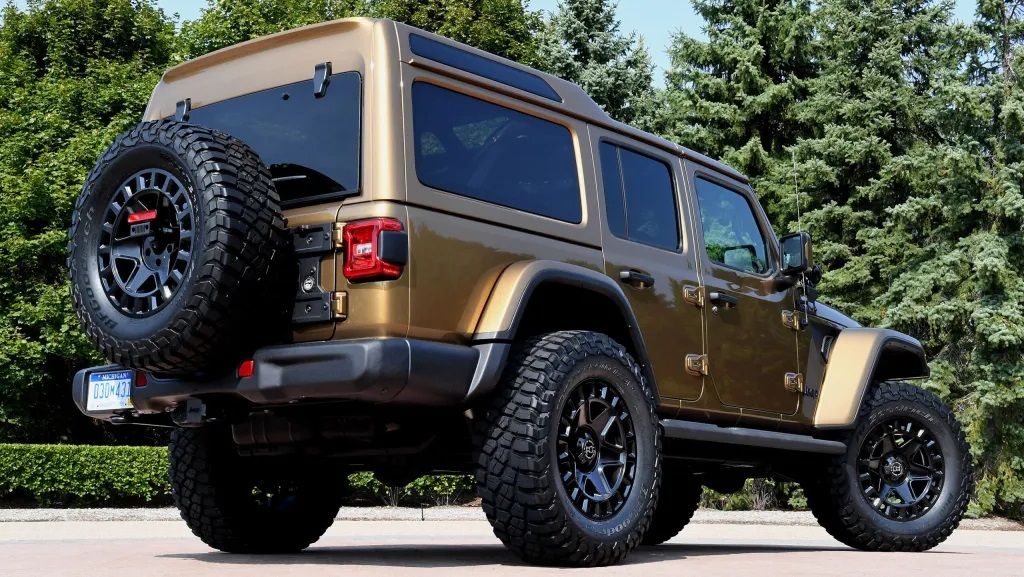 The wide and heavy rear bumper makes the Overlook Concept much less susceptible to damage in demanding conditions, and the A-pillar lighting helps improve visibility in bad weather. Add to the equation a winch in the front bumper to get you out of impossible situations and Fox shocks to ensure more comfort while riding, and you have a truly impressive all-terrain adventure vehicle.
But the biggest point to highlight here is that we're talking about a very capable three-row SUV. The vehicle can indeed accommodate more than five passengers and go off-road effortlessly (or at least we hope this would prove to be true in real life), and all this while remaining stylish.
Everything about the Jeep Wrangler Outlook Concept is aesthetically pleasing, from the tubular side steps that work to provide support and protection to the purely aesthetically focused grille. Also, it sports Sahara Bronze paint which just looks good, and the interior is the same.
RELATED: Here's Why General Motors Is Skipping SEMA 2022
The interior of the Jeep Wrangler Overlook Concept makes us want to sit in this SUV both as driver and passenger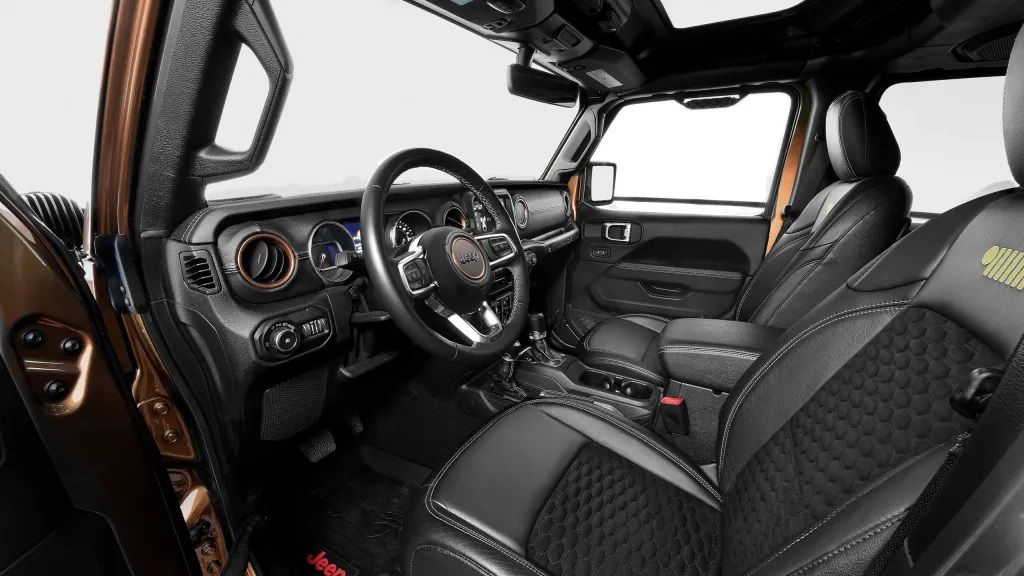 We didn't expect the Jeep Wrangler Overlook Concept to be as appealing inside as it is from the outside, but we're glad we were wrong. First of all, this concept SUV looks more than spacious inside. As we mentioned earlier, with the body and roofline extended a bit, it aims to make passengers much more comfortable. This makes it perfect for families who want to spend some quality time in nature.
Second, the Jeep Wrangler Overlook Concept has all the interior features you might need during your adventures. There's an 8.4-inch touchscreen, uConnect software and some other practical features you'd expect from a modern vehicle – plus a luxurious design.
The bronze gold interior finish adds a splash of fresh air to what would otherwise be a standard SUV interior. The quality leather materials on the seats also help to make this concept more appealing and desirable.
All in all, the Jeep Wrangler Overlook Concept has a lot to offer, and there would certainly be more than a few buyers ready to buy it straight off the production lines. Would the manufacturer push the project forward and make our wishes come true? It's hard to say, but we'll keep you updated if anything pops up.