The average fuel efficiency so far is 14 kmpl+ and I am happy with it. If you show enough patience while driving on the highway, this engine can easily give you 18-20 kmpl+,
BHPian arun_josie recently shared this with fellow enthusiasts.
Update for 1,00,000 km:
We finally passed the 1L kms milestone earlier this week after a short hiatus due to a quarantine situation at home. It's a nice feeling to pass the 1L mark and I'm glad it's been trouble free ownership so far. Scarlett has been an excellent highway companion and a good handler of bad roads. I've had some of my most memorable drives in this machine. I have a few wish lists to go with Scarlett, one of them being a trip to the Himalayas. I was able to do it twice in my Linea but it hasn't happened yet with Scarlett due to the pandemic and various other reasons. Hopefully it will happen soon.
Some data captured so far:
Usage patterns:
After the pandemic, overall usage has decreased. Also, since I still work from home, the office trips have come down to zero. Overall, it's about 70:30 in favor of highway use: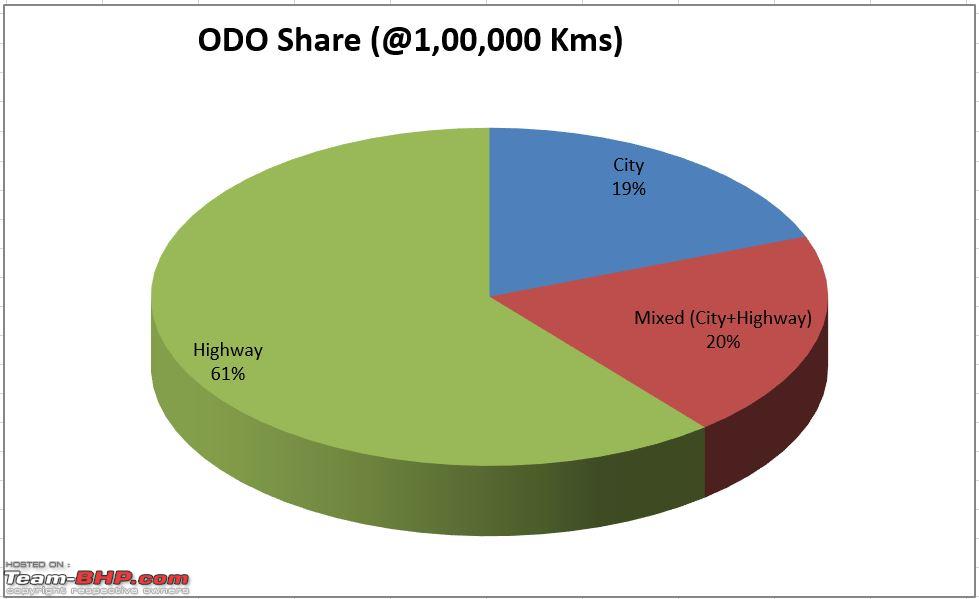 And in terms of 4×4 use, I have used the AWD on a few drives on a beach near Kanyakumari, some off-road drives with the Bangalore Jeep Club and some driving on rocky terrain. The 4×4 came in handy when driving to the Devi Gudda peak, Chikmagalur. It was really fun. Here is the travelogue of this.
No: number of days taken for each 5k km:
Fuel efficiency:
The average fuel efficiency so far is 14Kmpl+ and I am happy with it. If you show enough patience while driving on the highway, this engine can easily give you 18-20Kmpl+, but it is difficult to drive quietly with this machine in your hands.
In city driving I get around 10-12 kmpl.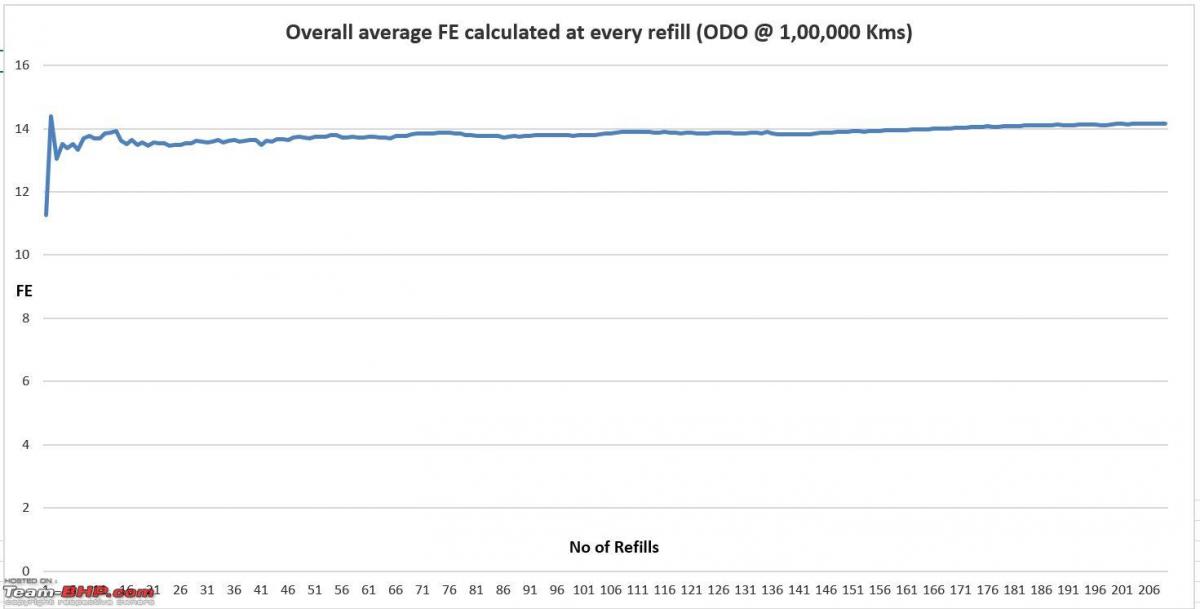 Fuel price chart during this ownership so far: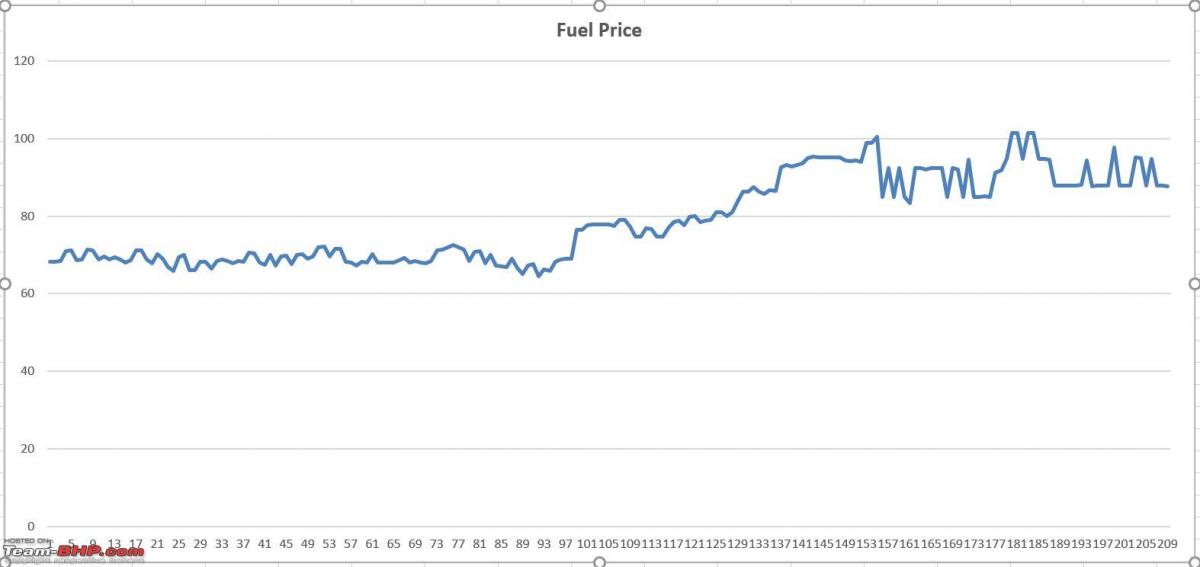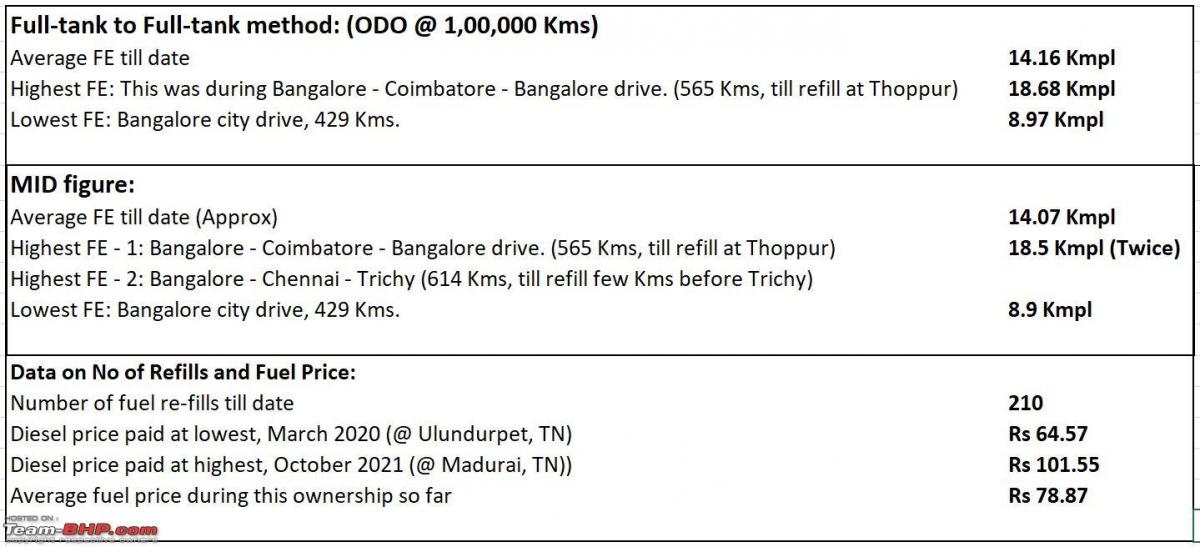 Gas station:
Within Bangalore I stick to BPCL or IOCL which is near my home. When I am on highway I prefer BPCL COCO or any other COCO. If COCO is not readily available, then I look for Shell or others.
Maintenance – Periodic Service Information:
The average service cost is approximately 15,000 per service. It happens when there is a change of parts involved (Ex: brake pads, cam belt, clutch etc).
At 1,00,000 km the service cost is a little over rs 1 per km. Amount spent for service so far is 1,11,690 /-.
And for changing tyres, battery, accessories it has cost 1,08,270 /- This again a little over rs 1 per km.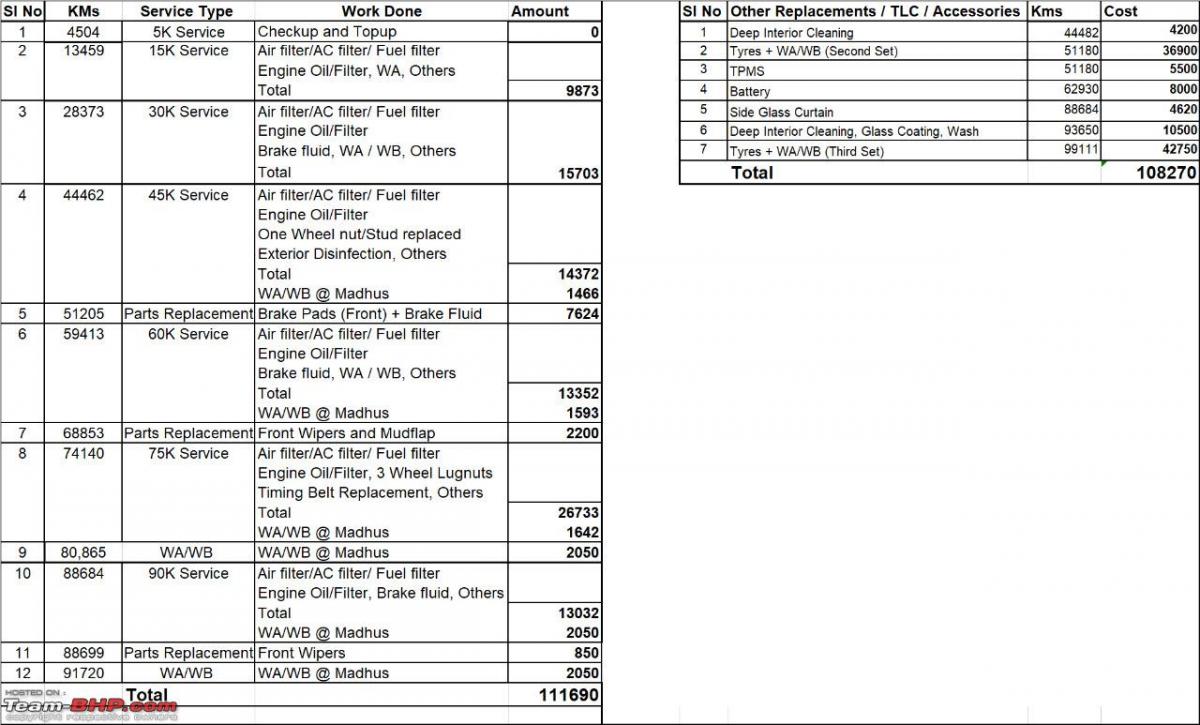 Maintenance – Replacement of parts:
Brake pedals:
Brake pads were changed at 51K Kms. The other set is at 49K Kms now and I believe this will go to the next service which is due in another 4K Kms. I will replace this then. The brake discs are still in stock and may need to be replaced at the next service as well. I'll have it checked.
Wiper:
The regular ones were very good, and it was replaced at 69K Kms. This is expensive but around 5K for front wiper. So, replaced with Bosch dryer which cost around SEK 900. These Bosch wipers are thin but do the job. However, it requires frequent replacement. I have already used 2 sets and will need the 3rd soon.
Battery:
One fine day, Scarlett refused to start and started throwing random errors on MID. This happened after 2 years and 63K Kms on ODO. Scarlett came with Exide, and I replaced it with an Amaron. It is a known behavior that the battery in the Compass gives up around the 2-year mark. Many owners had to replace the battery around the 18-24 month time frame. Very few were lucky enough to extend the battery life to 3-4 years.
These were the errors displayed when the battery ran out.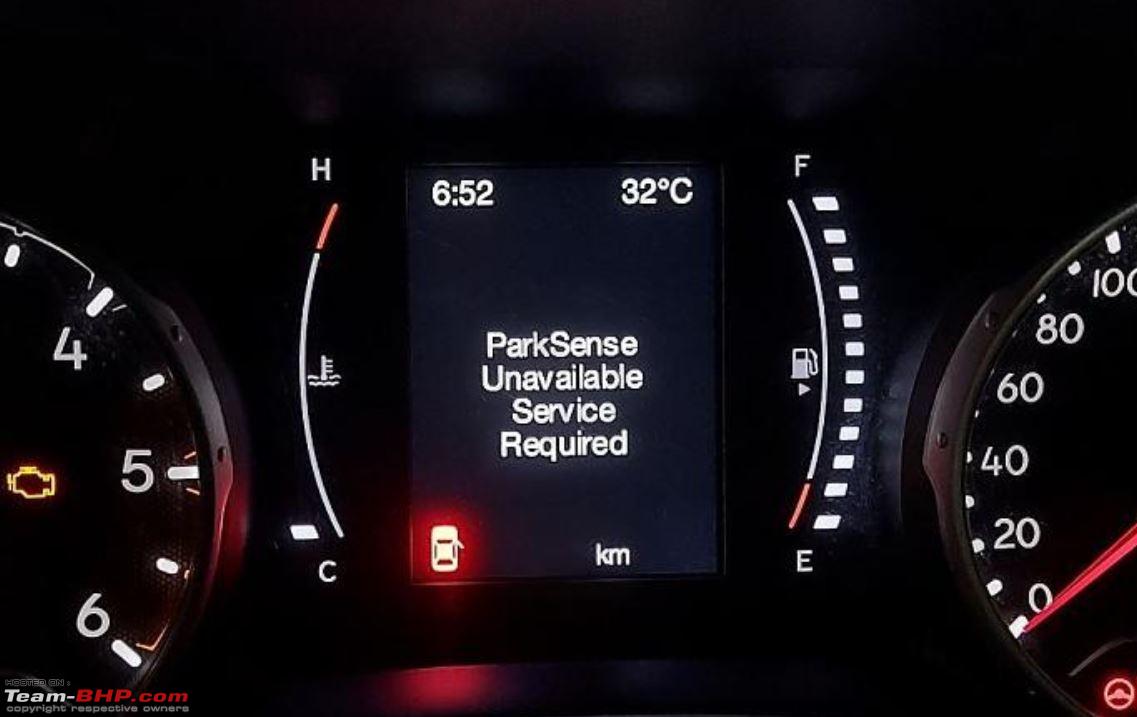 Deck:
First set of Firestones replaced @ 51K Kms, you can find more info on this here.
Second set was Yokohama Earth1 and this was replaced at 99K Kms, you can find more information on this here.
In my opinion, the Earth1 was much better than the regular Firestones. However, Earth1 started turning hard at 30K Kms and after that the tire noise also increased.
Overall, for anyone looking to stick with stock size, there aren't many options for Compass. Off late we have Good Years AT and MRF Markus on the market.
This is the current GoodYear Wrangler AT: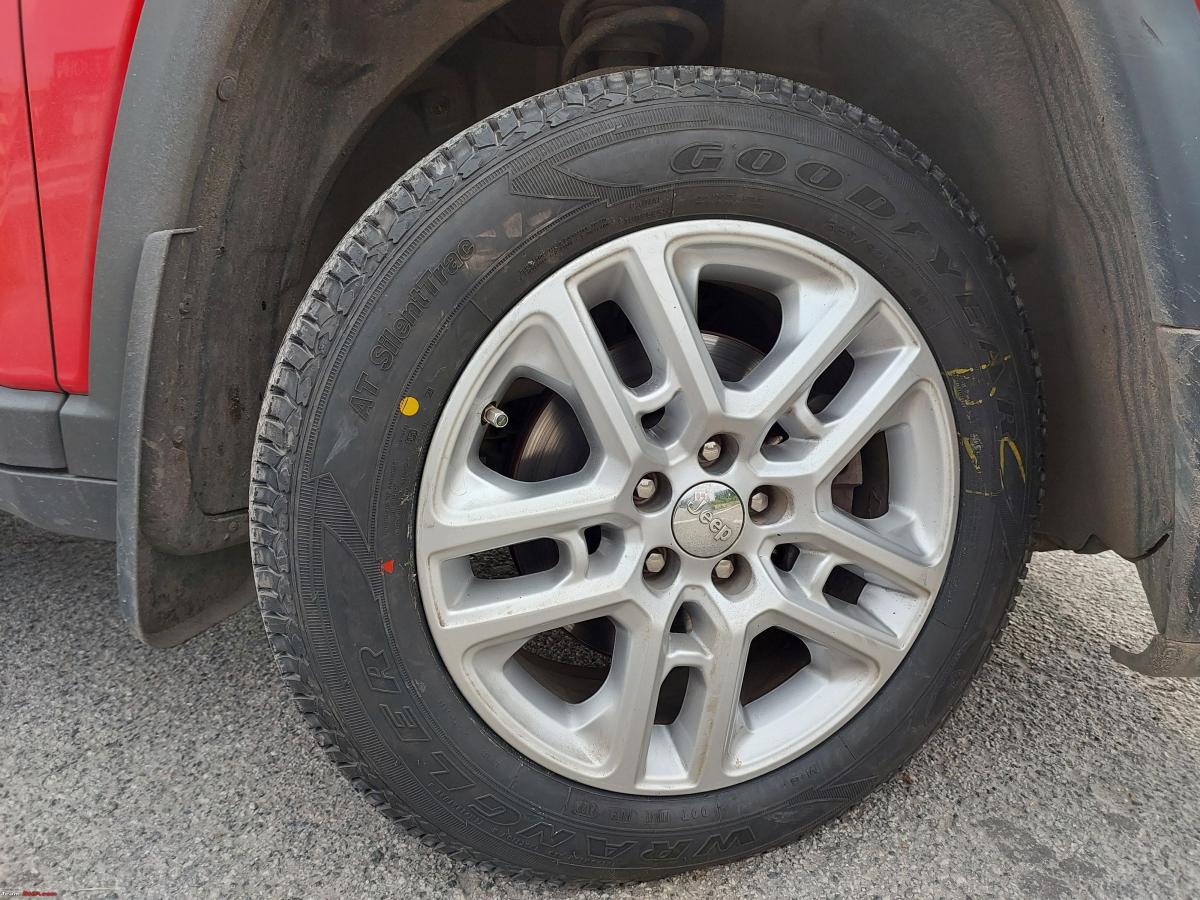 Cam belt:
Timing belt was a periodic replacement at 75K Kms.
Problems faced:
Thankfully, I haven't run into any major problems so far. #take in wood
The only issue that concerned me a bit was with the AC. As mentioned in post #297, the AC stopped working during a freeway drive. When I went to the service center, they first connected the diagnostic tool and scanned for errors. The error caught was "Lost communication with HVAC control module". Due to some problem with the power supply, the system had disabled the HVAC control module. Fixed this problem and concluded that this could have been caused by a loose connection in the fuse. See this post for details.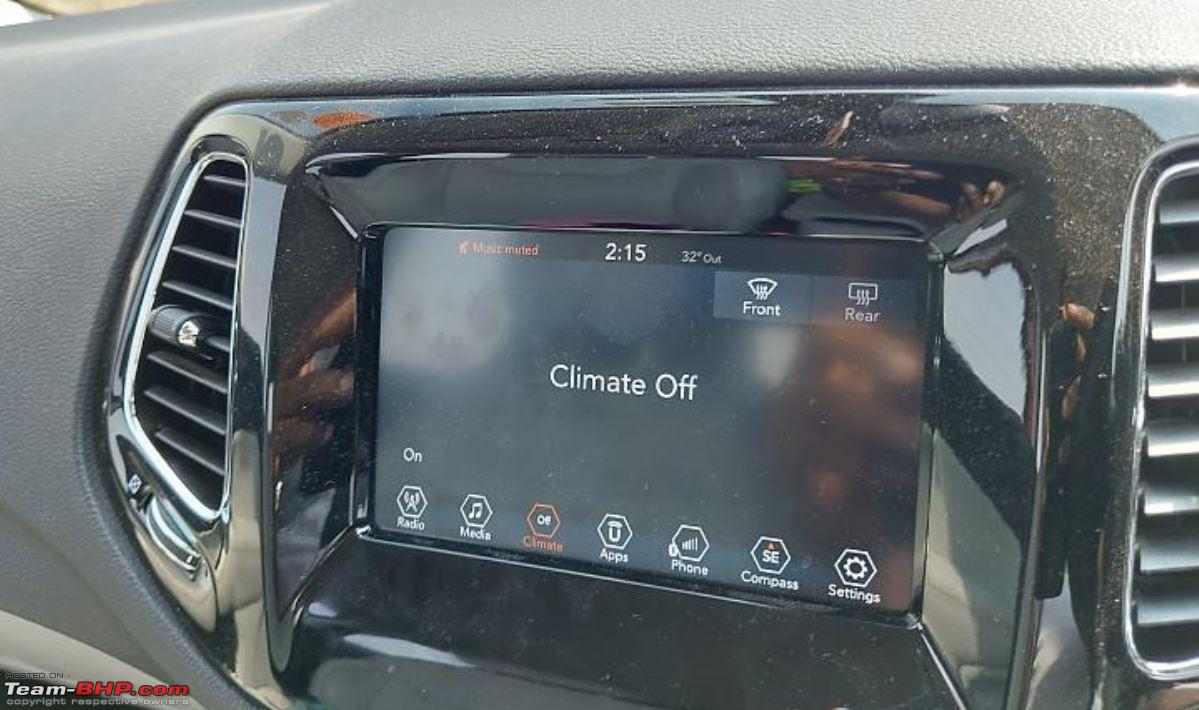 Apart from this, I ran into problems with the stuck wheel nuts. It is a known problem with these cap type nuts that if the cap becomes misaligned it becomes difficult to remove the nut. I recently had to replace 3 of them that had this problem. I think for the Compass facelift they have moved to the normal ones.
Rattling problems:
The much talked about question in the Compass is its infamous rattling question. I have no major complaints about this other than intermittent rattling issues on the driver's side door and a sound from the dash that keeps happening occasionally.
Both are intermittent and I have never made any attempt to fix this problem. The main reason is that so far I have not been able to replicate this issue at the service center and this issue is not intolerable which affects the quality of the device.
Current issues:
There is an intermittent problem with the headlight switch. When I turn this ON randomly, the left or right won't turn ON. But when I turn it OFF and back ON, both come up fine. It's a very random question. I will have this checked at the service center sometime soon.
Service Experience @PPS/MPS Motors:
So far all servicing has been done at PPS Motors located in Electronic City (Hosur Road) and my experience has been very good. Normally when I go for service I update them well in advance and am the first person there for the day. During the service I stay there and get it back when it's done. I prefer to go to work in the middle of the week than weekends and Mondays. Weekends are normally very busy, and sometimes the weekends extend to Monday.
Overall, I have no complaints and am happy with their service.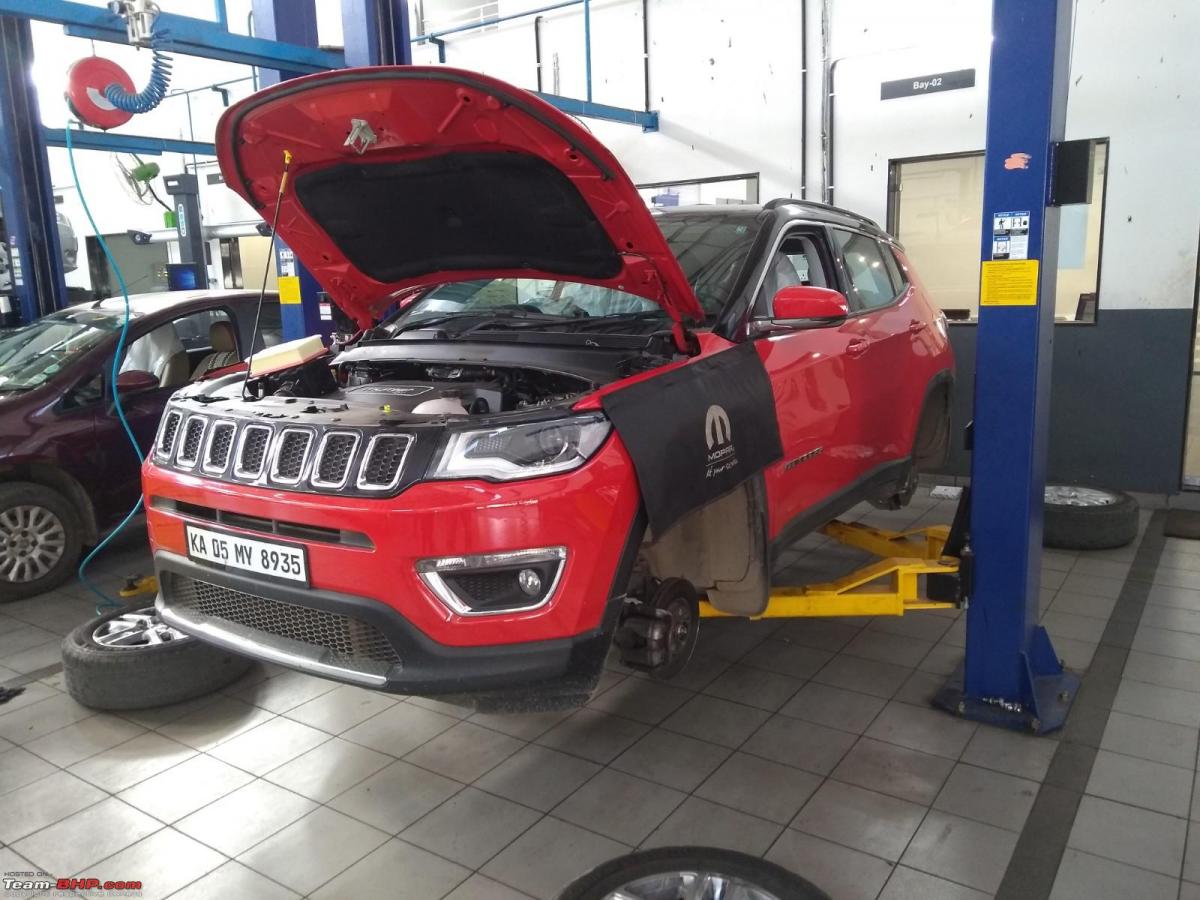 Standard/Extended Warranty:
The standard warranty lapsed at the end of the 3rd year and I now have the extended warranty period. The standard warranty ended up unused as I didn't encounter any issues that required it. In the early days the wheel nuts had alignment issues so few were replaced under warranty which would have cost less than 1K.
Extended warranty will be valid for an additional 50 km or 18 months, whichever occurs first.
Wheel alignment/balancing:
I am a regular at Madhus and get the wheel alignment/balancing done every 5-7K km based on usage. I also get the wheel rotation done periodically. The only time I went out was for the last tire change.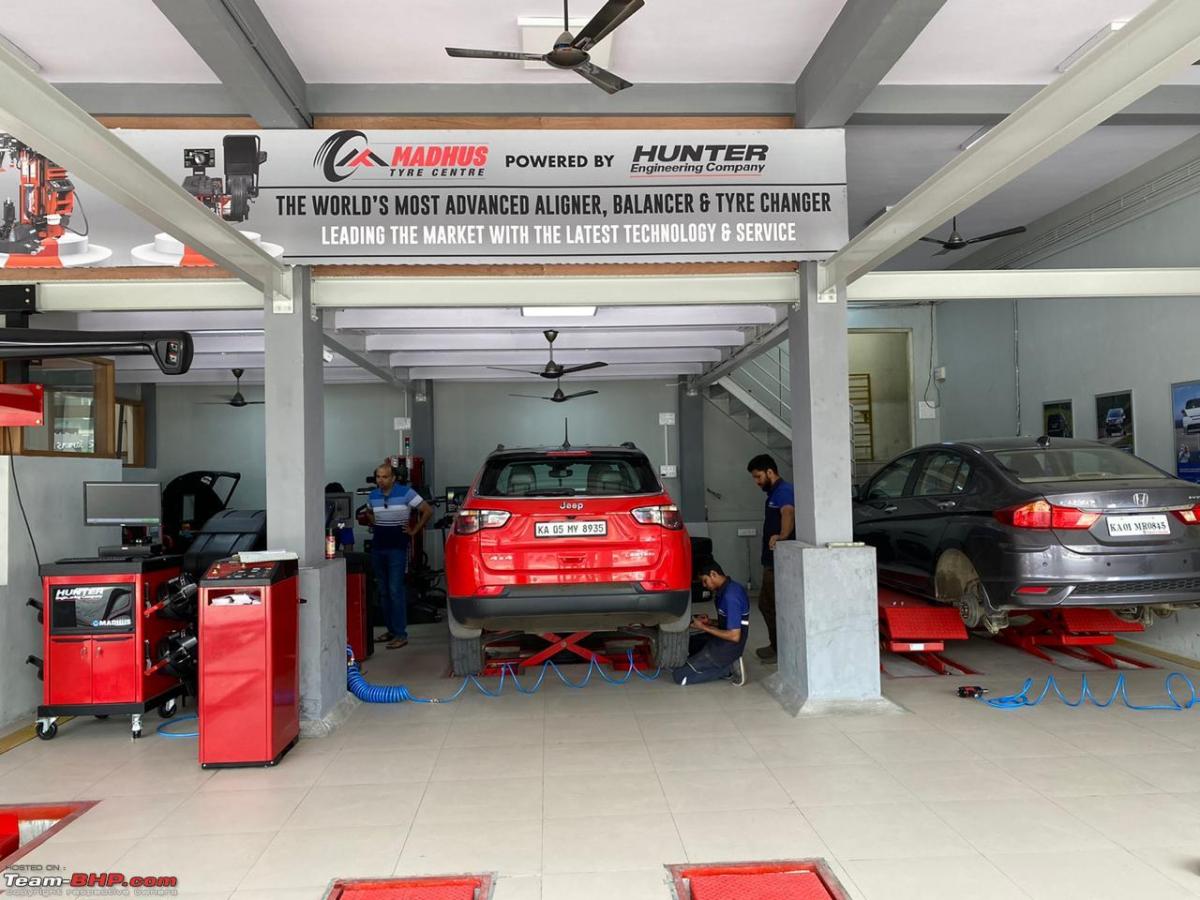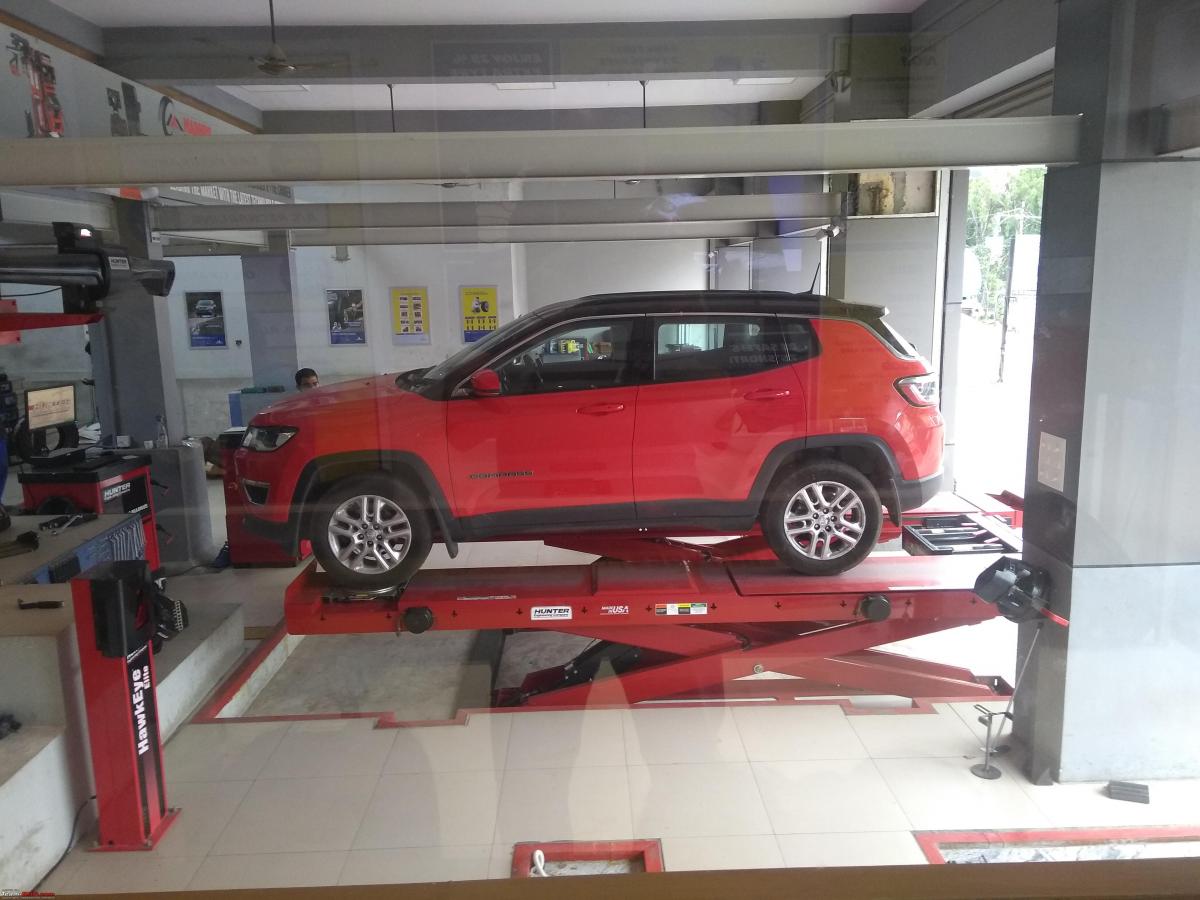 Liqui moly diesel additive:
I started using this additive since 76,000 km, at first I could not notice any difference but after the fourth bottle I started to see some differences. The engine noise that comes at lower revs in 3rd – 4th gear has softened and the engine also feels smoother. Also I see an increase in FE but not sure if it is due to the additive or something else. When I started using this the average FE till then (76000 Kms) was 13.96 Kmpl. Now at 1,00,000 km the average FE stands at 14.16 kmpl. Apart from this, it also works as an injector cleaner.
Deep interior cleaning:
Beige/off-white interiors are always difficult to maintain. I have deep cleaned interiors twice so far. This is what I did at Krithi Car Care. They did a great job both times. You can find more information here.
A picture during a short drive (small terrain) after crossing 1L km:
Continue reading on BHPian arun_josie's Jeep Compass completes 1 lakh kms for BHPian comments, more insights and information.