First all-electric Jeep and the smallest
Sold next year as Jeep embraces electrification
Designed and built in Europe
This is the Avenger, a new all-electric SUV designed to get more young people, especially women, to embrace a brand traditionally associated with macho outdoor types. Following the introduction of hybrids to the Jeep range, this is the first BEV – soon to be followed by many more. Jeep will have four electric models on sale in Europe by 2025 and will be fully electric in Europe by 2030.
It shares some underpinnings with Stellanti stablemates such as the Peugeot 2008, but the e-CMP2 platform has been heavily modified, and the body and cabin are completely new. An Alfa Romeo spin-off is expected to follow, built at the same factory in Tychy, Poland, where the Fiat 500 is also made, along with the Abarth 500 and Lancia Ypsilon.
On top of that, Jeep has teased an all-wheel drive concept version of its electric Avenger – more on that below.
It's a small jeep…
Head of Global Design Ralph Gilles said: "When I started here, 31 years ago, we only had three nameplates. A niche brand that doesn't think globally. At Stellantis, the pace of change is incredible. Jeep still has a small-town dynamic, with this incredible company behind us.'
His brief from Meunier? "I want a fun, boxy Jeep that's all electric."
Gilles, in turn, informed Daniele Calonaci, European design director: "Even without a badge, you have to know it's a Jeep."
It was designed in Italy – the first Jeep to be designed outside the US, although studios around the world have had design efforts in the past. And it doesn't just look like a Jeep – it has the traditional off-road capability too, despite being front-wheel drive. It comes with hill control and six driving modes: Eco, Normal, Sport, Sand, Mud and Snow. Ground clearance is 200mm or more, depending on specification, with a 20º breaking angle, 20º approach angle and 32º departure angle. Most won't be used off-road, but that capacity and ruggedness will make the Avenger well-suited to battling curbs, speed bumps and tricky multi-story ramps.
The axle line is from the company's cornerstone product, the 1941 Willy's Jeep, as are the trapezoidal wheel arches. The floating C-pillar is from the Compass and Grand Cherokee. The grille has the family seven-slot look, but is actually closed (with cooling air entering under the front bumper).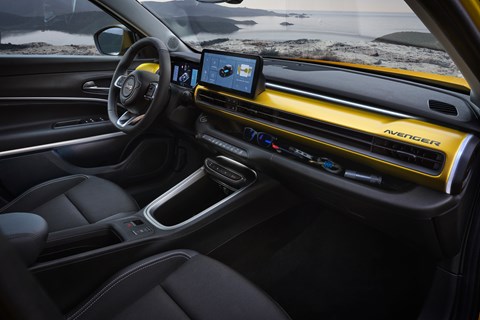 Inside, there is a strong horizontal line across the front and plenty of storage. In the center of the dashboard is a 10.25-inch screen, and in front of the driver a 7.0- or 10.25-inch instrument screen, depending on spec. It runs Android Auto, with natural voice activation and level 2 driving assistance.
There is a choice of seven body colors and a variety of body graphics for the roof, bonnet and grille. Wheel sizes range from 16 to 18 inches.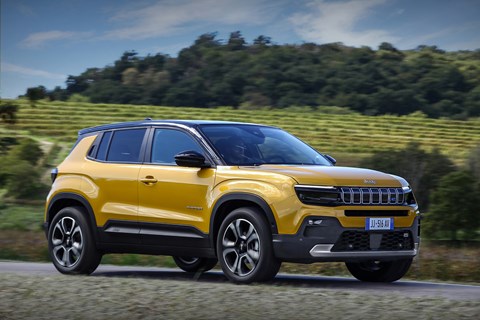 Jeep CEO Christian Meunier says the Avenger is true to the company's core pillars of freedom, adventure, authenticity and passion. "It's not marketing talk. When we talk about the product, it has to be robust, and we like to convey that with the design of the product. There's no fake stuff on a Jeep.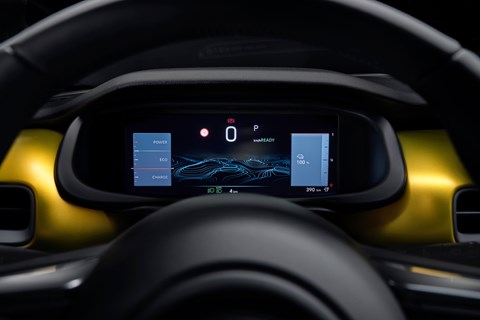 Meunier admits that Jeep is underperforming in much of Europe. Italy is its biggest market by some means, with a 10 percent SUV market share, compared to one or two percent in most other countries. 'It is disappointing. Why are we so low? There have been issues with offering the wrong powertrains [lacking diesels when they were in demand, then being slow with hybrids]. With the Renegade 4xe, we start to gain momentum. The vehicles will be more suitable for Europe, for daily use and a lifestyle machine for the weekend.' He predicts it will be Jeep's best seller in Europe by 2024.
Looks cool – any specs on it yet?
At 4084 mm, with short front and rear overhangs, the Avenger is the smallest Jeep, which fits in the range below the Renegade. Its boot space is 380 liters and it weighs 1541 kg, of which 340 kg is the electric powertrain.
The first version has a single electric motor driving the front wheels. The battery – its 17 modules split between under the front seats and under the rear seats, providing space for the rear passengers' feet – has 51kWh net, with an output of 154bhp and 192lb ft of torque. Expect a range of almost 250 on the WLTP cycle, or 340 in urban use. Three minutes on a fast charger can add 18 miles of range, or 24 minutes can get the battery from 20 to 80 percent. Energy efficiency is rated at 5.0 miles per kWh.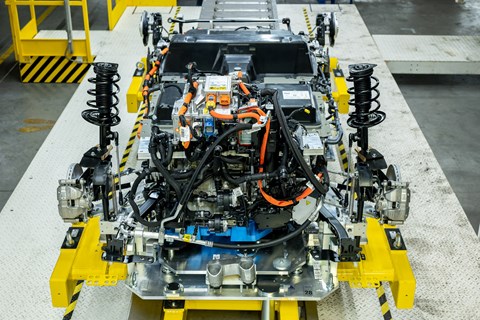 Although the Avenger will initially be BEV-only, a couple of months later a combustion version will be offered in Italy and Spain, which are lagging behind in terms of electrification, with a 1.2-liter turbocharged engine.
Does Jeep think it will work?
Globally, Jeep has had a fourfold increase in sales since the beginning of the decade – up from 400,000 cars per year then to 1.2-1.5 million now.
The success of the Wrangler and Grand Cherokee hybrids in the US shows that Jeep buyers are happy with electrification; the new Grand Cherokee will arrive in the UK next year, after delays caused by supply chain issues. 'It is a great opportunity. A 4xe Jeep is a better Jeep.'
The range will also include a Range Rover Sport rival based on the recently revealed Wagoneer S concept, and a rugged Wrangler-style electric car called the Recon. The fourth electric Jeep has not yet been revealed.
Read more about Jeep Wagoneer S and Recon here
What about a 4×4 version?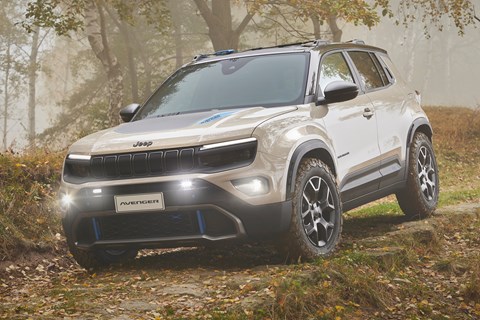 If Jeep were to build a 4×4 version of its new compact electric SUV, it would look like this. Right after showing the production version of the Avenger at the Paris Motor Show, Jeep revealed the Avenger 4×4 Concept.
Jeep CEO Christian Meunier said: "We couldn't help but wonder, what if we injected the Jeep brand's all-wheel-drive electrified capabilities into a compact package, while retaining the brand's unique design language, capability and personality?"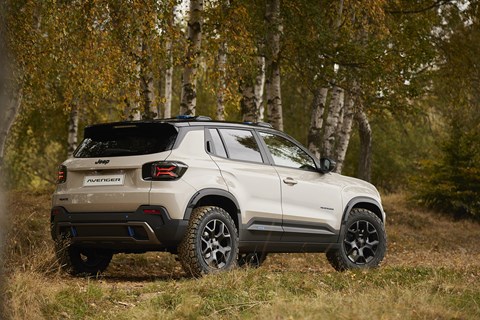 A pure concept for now, there are no details on how the production Avengers' front-engine, front-wheel-drive layout would be adapted to create an all-wheel-drive version.
But the visual treatment is carefully sorted. It gets thicker, more exposed tires, prominent towbars, increased ground clearance, extra lights and thicker upholstery.
It also launches a new roof rack system, with belts designed to compress luggage.
When can I buy the new Jeep Avenger?
UK order books open in early 2023 for the two-wheel drive model. Expect prices to start at close to £40k. We'll have to wait and see if that Avenger 4×4 concept makes it to production.