Advantages:
Proper off-road ability


Funky design


Practical compact SUV

Disadvantages:
Gets noisy at higher speeds


Very hard plastic and rather poor safety rating


Rivals are more engaging and refined to drive

More about this car
Do you need more information?
Request more information

Introduction
The Jeep Renegade is a compact SUV with a lot of character and attitude. It boasts funky styling and since its launch has delivered record sales in Europe for the brand.
The latest Renegade range consists of three models – an e-hybrid powered by a 1.5-litre 130bhp hybrid unit with a manual gearbox and front-wheel drive. This is available in limited equipment level. There are also two 4xe plug-in hybrid versions with a 1.3-liter petrol engine. The Limited model has 190 hp while the range-topping Trailhawk has 240 hp. Both of these vehicles have an automatic transmission and four-wheel drive.
We chose the advanced Renegade Trailhawk model. With 4×4 capability on tap, this is a practical car that can handle many off-road challenges, so it takes daily driving in its stride.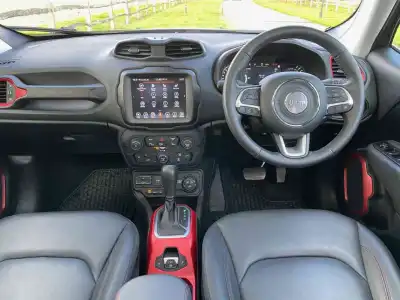 The five-door compact SUV Renegade is instantly recognizable as a Jeep with its vertical seven-slot grill, circular headlights and square taillights.
Other eye-catching features on our Trailhawk model included an optional panoramic sunroof, black wheel arch moldings, tinted rear windows, roof rails, body-colored bumpers, exterior mirrors and door handles, plus 17-inch off-road wheels with mud and snow tires (a "must" for anyone planning true 4×4- adventure).
Climb in using the handles for convenience, and the cabin is neatly laid out. There's a small 8.4-inch touchscreen infotainment system that provides access to Apple CarPlay and Android Auto, Bluetooth, a DAB radio and satellite navigation.
Elsewhere, climate control functions are controlled by a dash panel for convenience, and the interior has been designed with off-road enjoyment in mind. There are a number of wipeable surfaces, along with all-weather floor mats featuring the Jeep logo.
The black leather-trimmed seats, with 'Trailhawk' embroidered into them, are manually operated but can be heated along with the steering wheel. There are neat red accents around the speakers, air vents and gear lever, and the elevated seats result in good all-round visibility for the driver.
On the road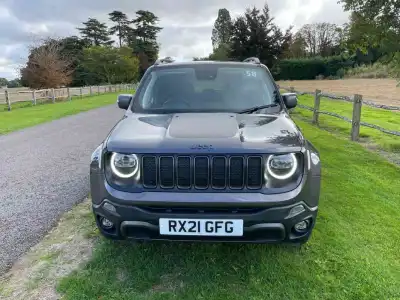 Handling & performance
While the Jeep Renegade 4xe isn't the most refined car to drive, it's great fun. Powered by a 1.3-litre turbo petrol engine with an 11.4kW high-voltage battery mated to a six-speed automatic gearbox, it delivers a total of 240bhp. It can complete the 0-62 mph dash in a very respectable 7.1 seconds and tops out at 124 mph.
The Renegade starts in hybrid mode which uses the electric charge with the petrol engine starting at the first hint of gas pressure. Out on the open road it has plenty of zip and the ride quality is surprisingly good too. There are driving modes called Hybrid, Electric and E-Save which are self-explanatory and another steering wheel gives access to a range of other driving modes. These include all-terrain settings such as Snow, Sand, Mud, Rock, 4WD Low and 4WD Lock, but also offer a Sport mode that livens up the car's response considerably.
The automatic gearbox is well timed, although there are no paddles to steer things manually and no B-mode to increase levels of regenerative braking.
I found the steering to be a little light at times and the cabin gets quite noisy at higher speeds, but it's worth remembering that the Jeep Renegade is a very capable off-roader, so you're getting quite an all-rounder. And while we didn't venture off the tarmac on this occasion, past challenging hikes have proven just how good this Jeep is when it comes to anything Mother Nature throws its way.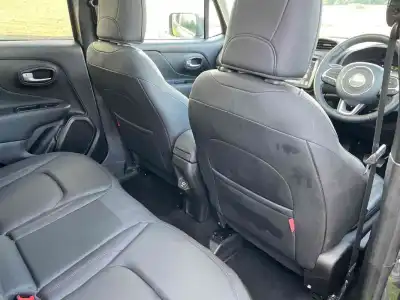 Space & practicality
The Jeep Renegade is 4,236 mm long, 1,805 mm wide, 1,718 mm high (with roof rails) and has a wheelbase of 2,570 mm.
It is billed as a compact SUV so space is quite limited. However, there is plenty of room in the front and enough room in the back for a couple of youngsters to sit comfortably.
The luggage compartment is practically dimensioned with a capacity of 330 litres, which increases to 1,277 liters with the rear seats folded down. There is also a compartment under the boot to store charging cables.
Our Trailhawk test model featured an optional Feature Pack II, costing £700, which introduced 40:20:40 split-folding rear seats with a central armrest. This makes it easier to transport longer objects without affecting the passengers in the two outer rear seats.
Elsewhere there are glove compartments, front and rear cup holders, door compartment with space for a small water bottle, back pockets, a pair of trays in front of the gear lever and a compact center compartment under the sliding front armrest,
There's a dash-mounted grab handle for the front passenger that's handy if the Renegade is being driven off-road or just for climbing into the vehicle.
It has a braked towing limit of 1.15 tonnes and charging the Jeep Renegade Trailhawk PHEV takes less than two hours via a 7.4kW home wall box.
Ownership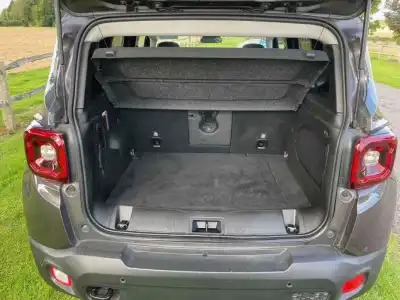 Operating costs
The Jeep Renegade range consists of the e-Hybrid Limited which costs £30,050, the PHEV Limited from £36,100 and the PHEV Trailhawk, as tested, which cost £38,100. A couple of options saw the price rise to £41,700. These included an electric panoramic sunroof, a features pack and Granite Crystal metallic paint.
Under WLTP testing, the vehicle can officially deliver a combined 141.2mpg, but this figure would only be possible if the car's 26 EV-only miles were used regularly.
The 46g/km CO2 emissions figure, along with the EV-only range, offers financial rewards though as it would mean the vehicle is exempt from road tax for the first year and would be classed at the reduced rate for PHEV models of £155 after 12 months .
Anyone considering the Jeep Renegade PHEV as a business vehicle would see a tax benefit of 14 percent and the vehicle belongs to insurance group 18.
Judgment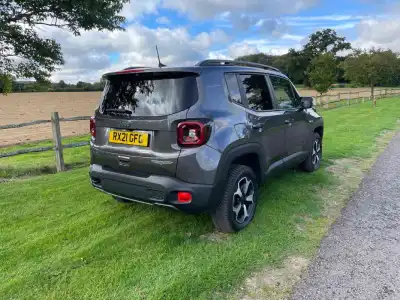 The Jeep Renegade PHEV Trailhawk is fun to drive and offers bags of character with its funky styling. And should owners be brave enough to take it off-road, it easily takes on the challenge of climbing over rocks, jumping through sand and climbing slippery, muddy hills.
More about this car
Do you need more information?
Request more information