If you're looking for a large luxury SUV for the family, the X5s and GLEs of this world have you well and truly covered with their sleek looks and soothing nature. But what if you're looking for something a little more outdoorsy? There really isn't much in this price range, is there? This is where the Jeep Grand Cherokee comes in. It is back in India after quite a long gap, locally assembled and in its latest fifth generation guise.
Jeep Grand Cherokee exterior, dimensions, trunk
Set your sights on the Jeep Grand Cherokee and the great mass of American metal in front of you is delightful in its own right. Although it is 4,914 mm long, 1,979 mm wide and 1,792 mm tall, it is about the same size as the competition.
So much of this sense comes from the blocky yet modern style. Striking features are the deep seven-slate grille over which the bulging bonnet folds and the wide, narrow LED headlights. In contrast to this is the large bumper that stands out with its simple but large openings. Even the chrome treatment is subtle but effective. Jeep says it has thought about maintaining good approach and departure angles with the short overhangs.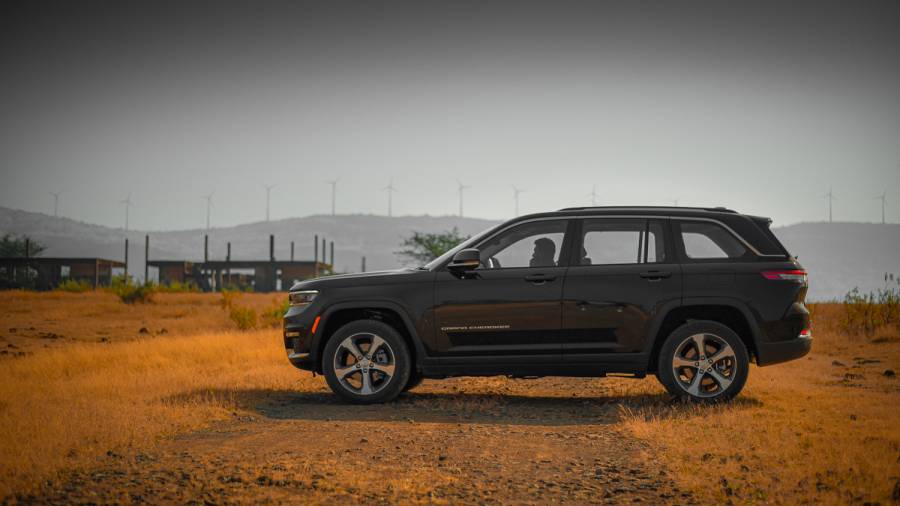 This rather functional aesthetic continues to the sides. The body panels are simple but tempered by a strong shoulder line. It continues with the large but low greenhouse with some style coming from the chrome-lined D-pillar motif. The large 20-inch wheels with their simple but clean design add to this in their typical Jeep square wheel arches.
The rear is much like the front, attractive but not overtly flashy with its condensed taillights and contoured boot. There is a bit more chrome here again as well as a bit more cladding. The Grand Cherokee then does well to carry a sense of gravitas without being overly dependent on flashy design flourishes.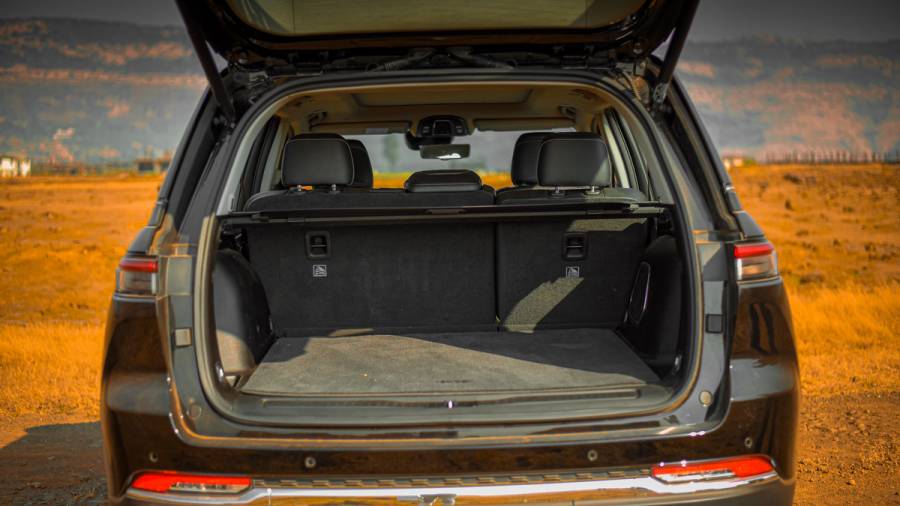 The boot is also quite functional. The load lip is high but flat and the space is wide and deep even with a space-saving spare wheel tucked underneath.
Jeep Grand Cherokee interior, features, functionality
Jeep seems to have gone all out to now make the Grand Cherokee a credible luxury SUV choice. You get this feeling on the inside with a design that is not particularly flashy but manages to feel luxurious. This comes from how Jeep has managed to play different materials in a unified way. So how the dark soft leather on top blends with the gloss black mid layer and the gray wood veneer is crisply done. This works with a modern design with narrow vents, well-integrated screens and a strong accent that runs over.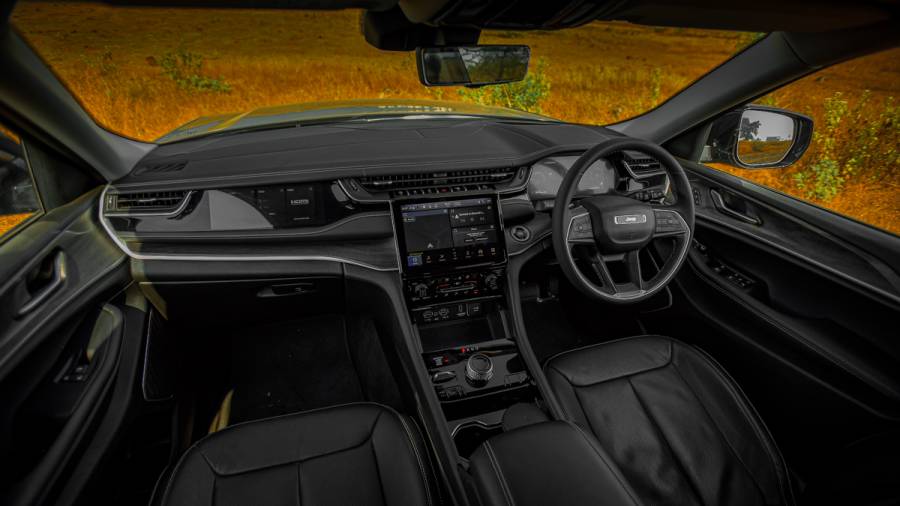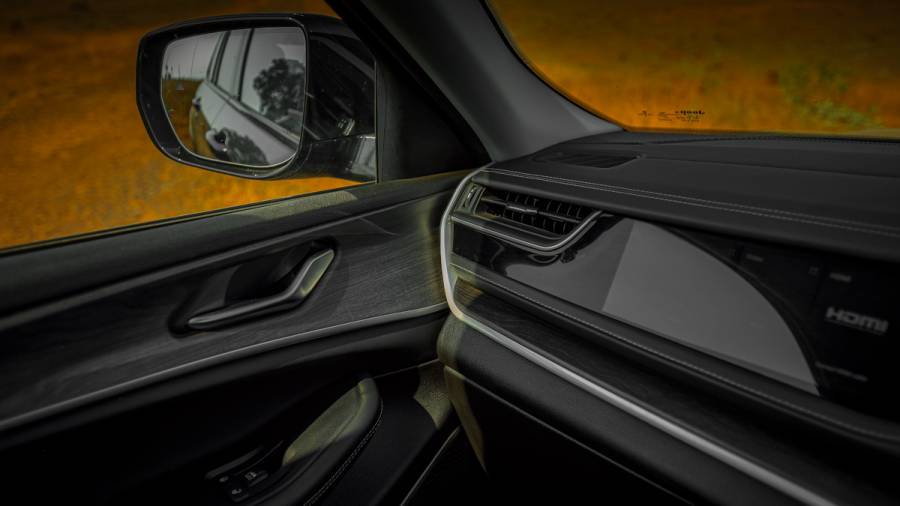 In terms of fit and finish, the Grand Cherokee does pretty well too. The soft plastics cover all the upper surfaces and there is a lot of leather upholstery on the doors. The rack feels substantial and well damped and gives just the right feeling of toughness. If anything, the hard plastics in the footwell could have been of better quality and as well-fitting as the rest of the cabin. The all-black theme could also have been done with a little more contrast while there could have been a more vibrant ambient light package.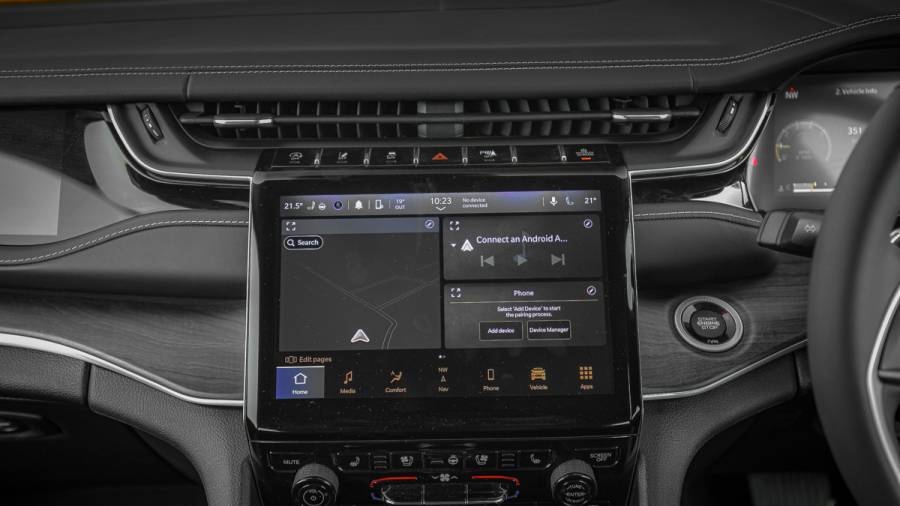 But if you like your screens, the Grand Cherokee has enough to keep the most demanding geeks happy. You get a 10.25-inch instrument cluster with its many layouts, well-thought-out graphics and information. A HUD goes with this although it could have displayed more data given its large 8 inch size. The 10.1-inch touchscreen is the same as in the new Compass, as is the instrumentation, but this is no bad thing. You get wireless Android Auto/Apple Carplay, the responses are good and the menus are intuitive. Even the rear view mirror is a screen with quite a lot of adjustment for angle and brightness so it is easy to get used to.
But the big party trick is the second 10.25-inch screen for the passenger. This is pretty well integrated. The low brightness and polarized glass keep it out of sight of the driver. The passenger can navigate to destinations through this, plug in their headphones for music or even use an HDMI port to stream video content.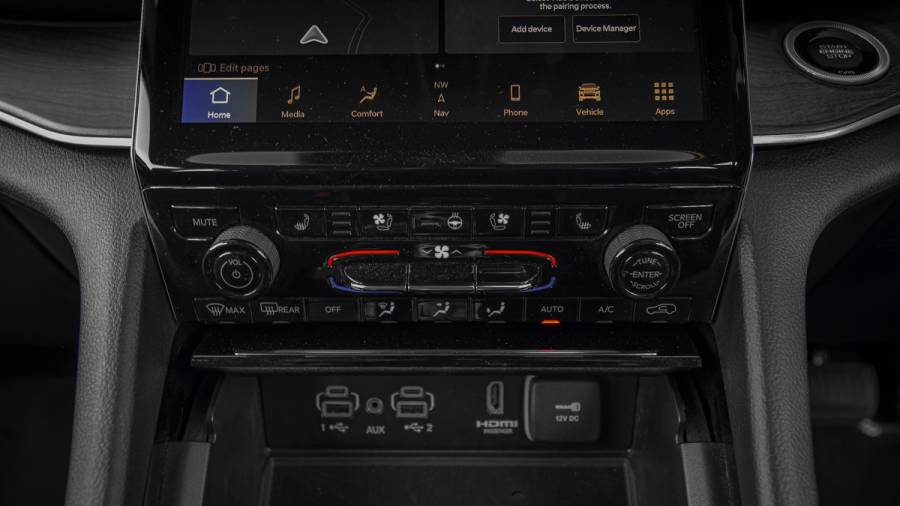 As technical as it is, practicality has not been lost on the Grand Cherokee. The center button bank looks intimidating but provides tactile controls for all the functions you might need on the go such as climate controls, audio controls, heated steering wheel and heated/cooled seats. This comes down to a button to turn off the lane departure system as well as the passenger display.
You even get both USB-C and USB-A ports, a large wireless charger, and some deep center cubes. If anything, we found the rotary gear selector a bit fiddly to use. It tends to slide into park rather than back off during say three-point turns, possibly due to the clicks not being quite as defined as ideal. The front seats are wide and supportive with all possible power adjustments. There's good thigh support so you don't miss the extendable squabs but the cushioning could have been better suited for long stints behind the wheel.
If you're looking at the Grand Cherokee, the back seat may well be the most important part of the SUV for you. The high floor means it's a bit of a climb, but once inside there's good knee, leg and headroom. The wide seat is again great for those with a large frame and there is a comfortable recline function too. Although there could have been more thigh support. The narrow seat and high floor puts you a little high on your knees, which might not be too comfortable over long distances. The large panoramic sunroof and the greenhouse provide an airy space.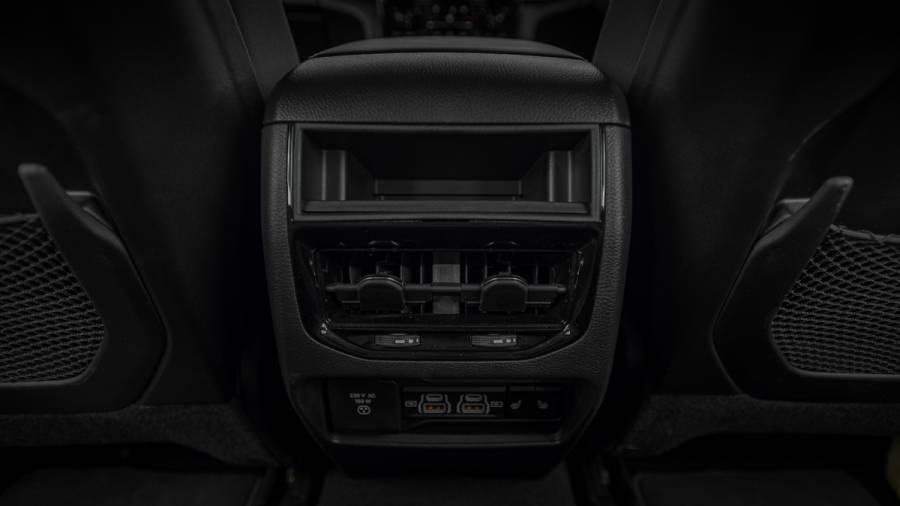 The lack of a separate climate zone is another miss but you do get USB-A and C ports again, a full three-pin socket, useful storage spaces and sunshade.
Jeep Grand Cherokee ADAS, safety features
Jeep Grand Cherokee gets Level 2 ADAS. The adaptive cruise control is quite easy to engage and controls speeds well enough but we found the lane keeping function quite erratic. It didn't seem to follow curves on our highways and there weren't any visual cues at these times either, although the forward collision system isn't too heavy-handed with its interventions. For passive safety, you get a sharp set of 360-degree cameras with trays, 8 airbags, brake assist, TPMS and rear seat belt warning.
Jeep Grand Cherokee driving impressions
India is the first to get the right-hand drive Jeep Grand Cherokee. Unlike the big V6 and V8 mills used in US-spec cars, this version gets the same 2.0-litre turbo petrol as the Wrangler with 272bhp and 400Nm.
Now the outputs may seem adequate, but this little displacement engine needs a little boost before you're fully up and running. The engine feels a bit jerky and hesitant below 2,000rpm which means that progress in stop-and-go traffic isn't as effortless as it should be in a luxury SUV like this.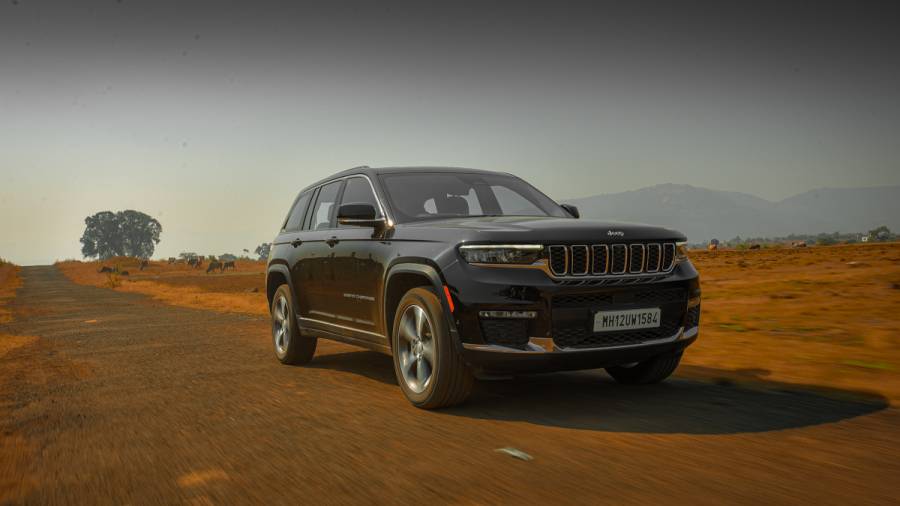 But this improves when the boost comes on, where the 8-speed auto does a good job of keeping the engine going. The power delivery is now quite energetic and there is a distant but moody movement from the engine too. Here you can maintain high speeds easily if not as easily as some 6-cyl rivals. Overtaking is also not a problem.
There's a Sport mode to liven things up a bit that also shows you the Grand Cherokee is more than a competent driver. Far from being a floppy American rig, this Jeep feels pretty light on its feet. There is some pitch and dive but no more than rivals. The roll is well controlled and the Grand Cherokee feels confident and predictable in corners, for such a large 2-tonne SUV. The well-weighted steering helps with this feel, although it could relax a bit more at low speeds.
As with any Jeep, you also have that sense of toughness that comes through from the ride. It even handles low-speed bumps in a firm but subdued manner that then softens into a solid sense of stability and compliance at high speeds. The only difference is that the Grand Cherokee can feel a little bouncy over high-speed dips.
As expected, bad spots or rough trails don't seem to bother the big Jeep. Even on those 20-inch wheels, it drives through these patches largely uneventfully. The solidity here almost feels like a ladder frame architecture. This is the area where it differs from the competition.
In all this you have good vision. The edges of the bonnet are visible and the window sills are quite low. The wide A-pillar and large mirrors can be annoying, but then you have good rear visibility with these and the camera feed. Another great feature is refinement inside. The active noise reduction seems to work, the Grand Cherokee keeps wind and road noise out as well as anything at this price.
Now, we couldn't do any serious off-roading with the Grand Cherokee but we don't think too many owners in India will be too keen on this either. But you get the base Quadra-Trac I 4×4 system for India. We think Jeep could have bundled the more advanced Quadra-Trac II system with its low-level mode, if for nothing more than dinner table bragging rights. Otherwise, you get the off-road modes, back-decent and off-road cameras.
Jeep Grand Cherokee price, verdict
Priced at Rs 77.50 lakh, the Jeep Grand Cherokee undercuts its rivals but only by a small margin. This SUV will always have to struggle with not having a three-pointed star or a blue-white propeller on it. But make no mistake, the Grand Cherokee is an option you can't ignore in this segment. We would have preferred a larger diesel engine and perhaps a little better seating comfort. But aside from this, the Grand Cherokee has it down with its massive features, great styling inside and out, competitive driving dynamics and impressive rough handling.
Text: @tuhinguha
Photos: @anis.shaikh.media
Also read,
5th generation Jeep grand Cherokee launched in India, priced at Rs 77.5 lakh
Jeep Grand Cherokee bookings open, production begins in India ahead of launch
What you can expect from the Jeep Grand Cherokee
Price (Ex-Delhi)
Starts Rs 75.15 lakhs
Displacement
2987cc
Transfer
Automatic
Max power (ps)
243
Max torque (Nm)
570
Mileage
12.8 kmpl
.