It's a battle of old vs. new between these two full size bruisers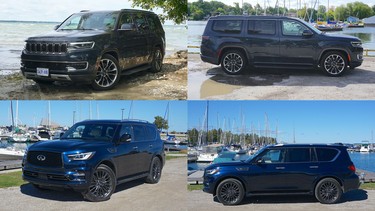 Article content
Overview
Obvious to anyone who drives daily: More than 55 percent of all vehicle sales in Canada are now sport-utes or crossovers. And while the majority of these sales fall into the small to midsize categories, there are those who feel the need to ply the highways and byways in full-size, three-row bruisers that carry both people and cargo, as well as towing trailers that carry all manner of recreational and/or work accessories .
Article content
One of the newest players in this segment is Jeep's Wagoneer, parent company Stellantis which revived the nameplate last year after an absence of nearly 30 years. During its 29-year production history, from 1963 to 1992, the original full-size, body-on-frame Wagoneer — owned during its lifespan by Kaiser, American Motors and finally Chrysler — was, at least externally, little changed. With the new model, "the iconic Wagoneer returns to redefine North American prestige with sophisticated amenities, the latest technology and an unparalleled ownership experience."
Article content
So, yes, Stellantis clearly sees the Wagoneer as a premium product, a cut above the everyday competition (GM's Tahoe and Yukon, Ford's Expedition, et al), while leaving the luxury side of the segment (Cadillac Escalade, BMW X7, Lincoln Navigator , etc.) to the much nicer Grand Wagoneer.
The comparable version, the Wagoneer Series II, comes with a serious price tag — a base MSRP of $80,995, $90,485 as tested. So, how does it stack up against another full-size SUV, one that "oozes luxury from every angle for every occupant." The Infiniti QX80 is the sleeker version of the Nissan Armada. A mature product, this generation has been in production since 2010 – originally as the QX56 – with two significant facelifts (plus a numerical name change) since then. Aside from the fact that it's "a design and engineering masterpiece," one that's "generously equipped with thoughtful details," the flagship QX80 is similarly sized and affordable, with an MSRP starting at $81,695. The top-line QX80 ProActive saves a bit for its sticker at $89,695, the major upgrades include 22-inch dark-finish alloy wheels, dark chrome exteriors, a smart rearview mirror, Hydraulic Body Motion Control, intelligent cruise control, an "advanced" climate control system and adaptive front lighting.
Article content
There is less difference between the Series I and Series II Wagoneers, the latter getting 22-inch gloss black wheels, triple-pane windows with a panoramic sunroof, black exterior accents and some interior upgrades. There's also the topline Series III ($86,495), which adds a standard air suspension, beefier Quadra-Tac 4WD system, heated second-row seats and more.
Both the Wagoneer and QX80 are big, powerful and bulky, and have V8 power to take care of their transportation needs. The Wagoneer has a 5.7-liter engine — rated at 392 horsepower and 404 lb-ft of torque — equipped with an eTorque 48-volt hybrid setup with cylinder deactivation and Variable Cam Timing as standard equipment. An eight-speed automatic transmission sends power to all four wheels through one of three available 4×4 systems: Quadra-Trac I, Quadra-Trac II or Quadra-Drive II with active low range. The tester was equipped with the Quadra-Trac I, a lightweight single-speed transmission designed to promote fuel economy while improving traction by shifting torque to the wheel with the best grip.
Article content
The QX80 is powered by a 5.6L V8 that produces 400 hp and 413 lb-ft of torque paired with a seven-speed automatic transmission and standard all-wheel drive. This system has three modes (Auto, 4Hi and 4Lo), which can be selected depending on the driving conditions. The 4WD gear switch is used to select 4WD mode depending on the driving conditions. A 4WD shifter electronically controls the transmission's operation.
First Drive: 2023 Jeep Wagoneer L and Grand Wagoneer L

Millennial Mom's Review: 2022 Infiniti QX80
Three reasons to choose Wagoneer
Fuel economy:

Prius-like fuel economy from any of these bruisers is a fantasy. That said, the Wagoneer has significantly better city and highway consumption figures than the QX80 — 15.6 L/100 km city and 11.7 L/100 km highway compared to 17.8/12.2 for the QX80, according to NRCan. I averaged 12.2 L/100 in the Jeep and 13.8 L/100 in the Infiniti during my time with the sport brutes. Most of the credit for the Wagoneer's better fuel economy is attributable to cylinder deactivation; at a steady cruising speed, four of the engine's eight cylinders shut down. Another important point: premium gas is recommended for the QX's 5.6L V8 while mid-range 89 octane is recommended for the Wagoneer's eight-cylinder — and regular 87 octane is acceptable.
Rooms and lots of it: The Jeep is larger externally in length (5,433 mm), wheelbase (3,124 mm) and width (2,124 mm) and only a few millimeters shorter in height. This results in more extended legroom and shoulder room for passengers occupying any of the three available rows. Total passenger space in the Jeep is 5,074 liters compared to the Infiniti's 4,319 liters. Ditto load capacity. Behind the third row, the Wagoneer boasts 775 liters of space compared to the QX80's 470 liters. With the third row folded, the Wagoneer's capacity increases to 2,004 liters, the QX80 1,405 liters. And should you feel like hauling out a fridge or something of similar size, folding the Wagoneer's second and third row seats yields 3,304 liters of space compared to the QX80's 2,694 litres.
Better and brighter infotainment: The Wagoneer is available with 50 inches of total digital display area, nearly 45 inches of which spans the length of the dash. Additionally, an available 10.25-in. the passenger display gives the front passenger dynamic touchscreen control at their fingertips. The passenger display has three main functions: Co-Pilot (navigation, device management), entertainment (via HDMI or rear seat entertainment) and the ability to view the external vehicle cameras. Passenger screens both front and rear have an HDMI connector, which allows passengers to connect their phone or tablet, turning the touchscreen into a mirrored extension of their device, allowing internet searches, music and app usage to be projected through the new Uconnect 5 system. Uconnect 5 delivers operating speeds that Stellantis says are five times faster than the previous generation. Meanwhile, the 2022 QX80 has been upgraded with a widescreen, high-resolution 12.3-inch Infiniti InTouch display that includes wireless Apple CarPlay and USB-based Android Auto compatibility. Widescreen navigation with lane guidance is also standard, including five years of free access to premium traffic and MapCare. A Wi-Fi hotspot for connecting multiple devices is included, and a rear-seat entertainment system with dual eight-inch screens offers entertainment on the go.
Article content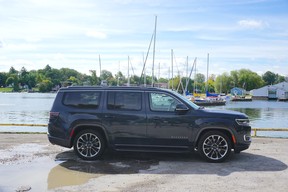 Which version to choose
While the Wagoneer Series II is certainly well-equipped for most family needs, I'd buy the $87,495 Series III. Why? Two things; Quadra-Lift air suspension that provides a smoother ride and up to 10 inches of ground clearance, and the much beefier Quadra-Trac II 4×4 system, which comes with standard Selec-Terrain with five settings — Auto, Sport, Rock, Snow and Sand /clay. The heated second-row seats, available McIntosh 19-speaker entertainment system and head-up display are just bonuses.
Three reasons to choose the QX80
It runs "lighter": OK, both of these behemoths weigh more than three tons; in fact, the Wagoneer weighs more than three tonnes — and at 2,808kg, it's 232kg heavier than the Infiniti. That might explain why the Jeep feels so much heavier when driving around town and why, despite substantial brakes, it feels like it needs even bigger discs and calipers to stop with confidence. Still, the Infiniti, a husky SUV in its own right, is easier to handle at lower speeds.
Traditional luxury: If you like a high-tech cabin environment, then the Wagoneer is your jam. But if you want a better sense of traditional luxury – such as quilted leather seats and door panels – the Infiniti has a more regal air.
Appearance: Once you get beyond its distinctive grille, the Wagoneer is no looker, which, from someone whose family drove them for more than 20 years, is painful. The new model's styling was inspired by a box of Kleenex. Hell, the Ford Flex is positively aerodynamic by comparison. The QX80 has a lean, muscular feel, the way sports should be. See the way, own the way!
Article content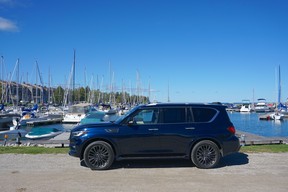 Which version to choose
Infiniti makes it easy; $81,695 Luxe or $89,695 ProActive. The Luxe is very well equipped for the price, with such features as semi-aniline leather seats in all three rows, 20-inch alloy wheels, a 12.3-inch InTouch screen, climate-controlled front seats, available second-row captain's chairs that tilt up for easier access to the third row, a Bose 17-speaker premium sound system, a power tailgate and a rear-seat entertainment system. The ProActive extensions have previously been described. If driving long distances is a normal part of your routine, the intelligent cruise control and hydraulic body movement system – which minimizes body lean and smooths the ride – may be worth the extra coin. Other than that, the Luxe should do the trick.
Conclusion
Let's get straight to it: The Wagoneer is the best all-around deal. Being much newer than the Infiniti, it comes with all the benefits of newer technology built-in. It's also roomier in all three rows, has more cargo space, gets better fuel economy on lower-grade gas, and tows more (10,000 pounds when properly equipped compared to the QX80's 8,500). The QX80, which arguably drives better and is decidedly more of a looker, is otherwise in need of a complete overhaul to be competitive in the large luxury segment.