More than 10 years have passed since GM released the second-generation pickup siblings – the GMC Canyon and Chevy Colorado, and after selling over a million units between both models, they're finally coming back with all-new trims and completely redesigned interiors for the 2023 model year.
While the GMC Canyon and its Chevy Colorado counterpart were quite similar in their base forms, things are about to change for the 2023 model year, and the GMC Canyon aims to provide a more luxurious experience than the Colorado. So expect to find more standard equipment along with a slightly steeper starting price. Both vehicles will compete directly with the likes of the Ford Ranger, Honda Ridgeline and Toyota Tacoma.
GMC hasn't fully revealed every specific detail about the upcoming Canyon, but from what we do know it's shaping up to be a worthy buy with extensive capabilities.
Related: Here's How Jeep and Ram Trucks Plan to Electrify SEMA 2022
2023 GMC Canyon gets new powertrain options
If the 2023 Chevrolet Colorado is anything to go by, we can expect the new GMC Canyon to get the same engine option – a turbocharged 2.7-liter inline-four with different output depending on the trim level selected. It's already confirmed that the top-of-the-range AT4X off-road models will put out 310 horsepower and 430 pound-feet of torque, while lesser trims will likely offer 237 horsepower and 259 pound-feet of torque — just like the low trims of the Chevy Colorado.
There may also be a mid-range engine that produces 301 horsepower and 390 pound-feet of torque, but which engine is available for each trim remains unconfirmed. Acceleration times are also unknown at this time, but all versions of the 2.7-liter inline-four are more powerful than similarly priced trims from most competitors, including the Toyota Tacoma and Honda Ridgeline.
Additionally, the GMC Canyon will be able to tow up to 7,700 pounds, which is better than most — if not all — rivals.
Related: 10 things we love about the Chevy S10 pickup truck
The 2023 GMC Canyon's new cabin offers plenty of standard technology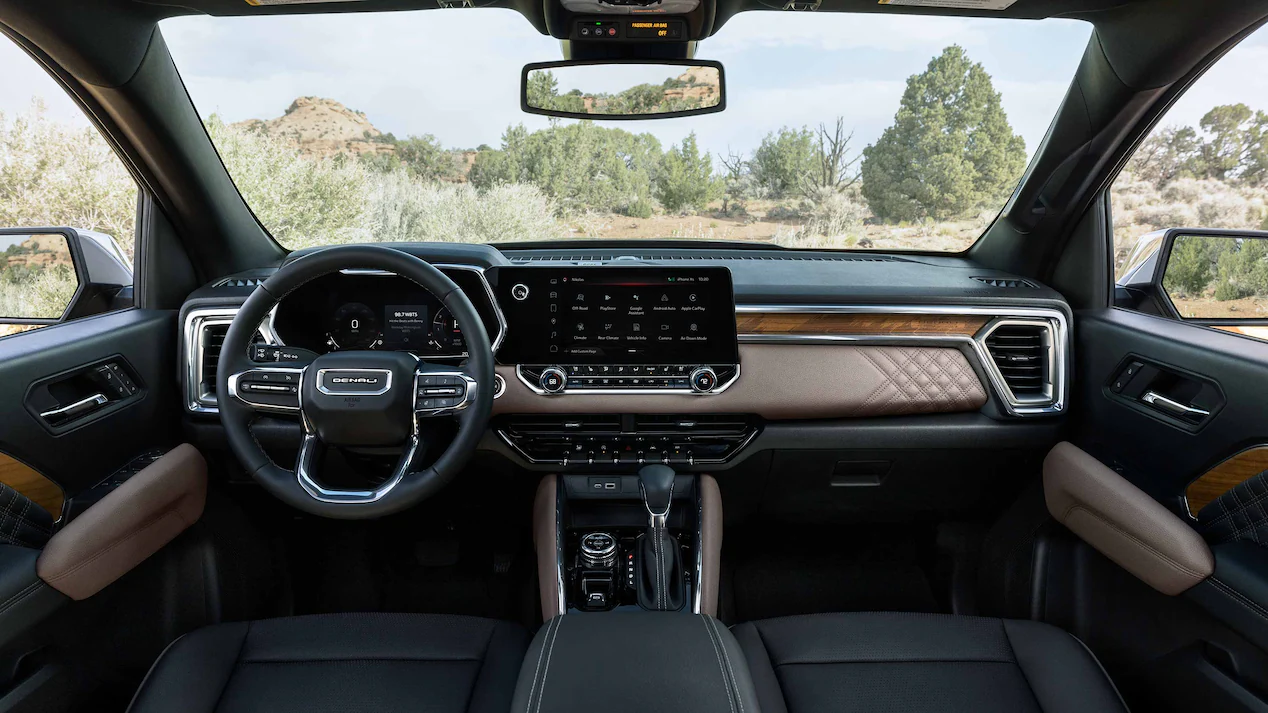 The biggest difference between General Motors' GMC Canyon and the Chevy Colorado happens inside, and the Canyon comes with more standard technology than its cheaper sibling. Canyon kicks things off with the Elevation trim, which will come standard with a massive 11.3-inch diagonal center infotainment touchscreen with wireless Apple CarPlay and Android Auto, an 8-inch digital driver display, an off-road performance display, as well as a rear camera with hitch view and 18-inch wheels with off-road tires.
Upgrading to the Canyon Denali unlocks an exclusive carbon black interior, leather and wood trim, a larger 11-inch digital driver display, a 6.3-inch heads-up display, and 20-inch diamond-cut aluminum wheels. It also offers options for up to 10 different camera views, which include front and rear undercarriage cameras. GMC will only offer the Canyon in a four-door crew cab configuration, which offers plenty of room in the back row as well as a 5.5-foot bed.
Related: The Chevrolet Silverado 1500 Black Widow by SCA Performance is the ultimate Bro Truck
GMC provides two capable off-road Canyon trims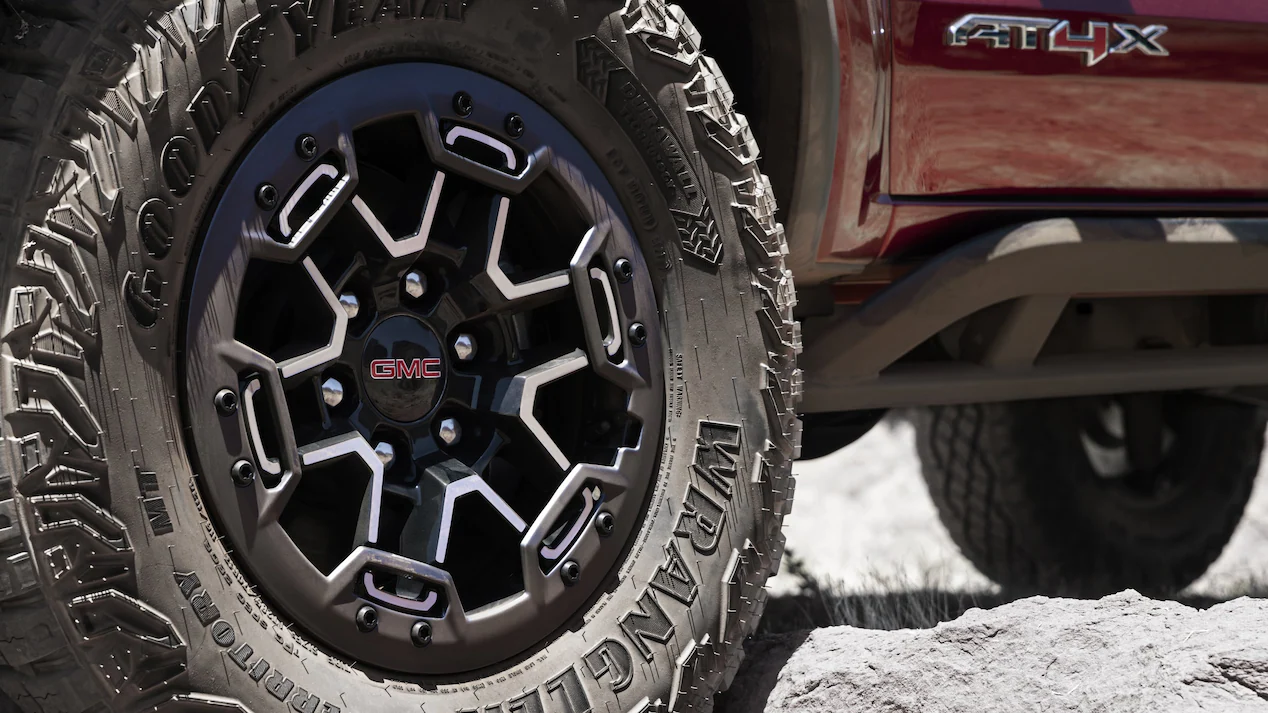 For those interested in taking their midsize truck off-road, GMC offers 3 top trims that get the job done. The entry-level off-roader comes in the form of the Canyon AT4, and it has standard 4WD and automatic rear diff, advanced reverse control and a 2-speed AutoTrac transmission. Inside, it is expected to offer the same amenities as in the Canyon Elevation.
Next up is the Canyon AT4X; it offers an exclusive obsidian interior with white accents as well as the same Denali technology. Mechanically, it provides upgraded dampers, font and rear electronic locking diffs, and an exclusive Baja ride mode. It can also unlock the 10-way camera setup with lower body angles, but those will cost extra. Finally, there's the top-spec AT4X Edition 1. It comes standard with a front bullbar, reconfigurable bed rails, a front grill light beam, a COMEUP winch and all 10 multiview cameras.
Related: 5 Reasons Why You Need a Pickup Truck (5 Reasons Why a Hatchback May Be a Better Option)
The new GMC Canyon looks amazing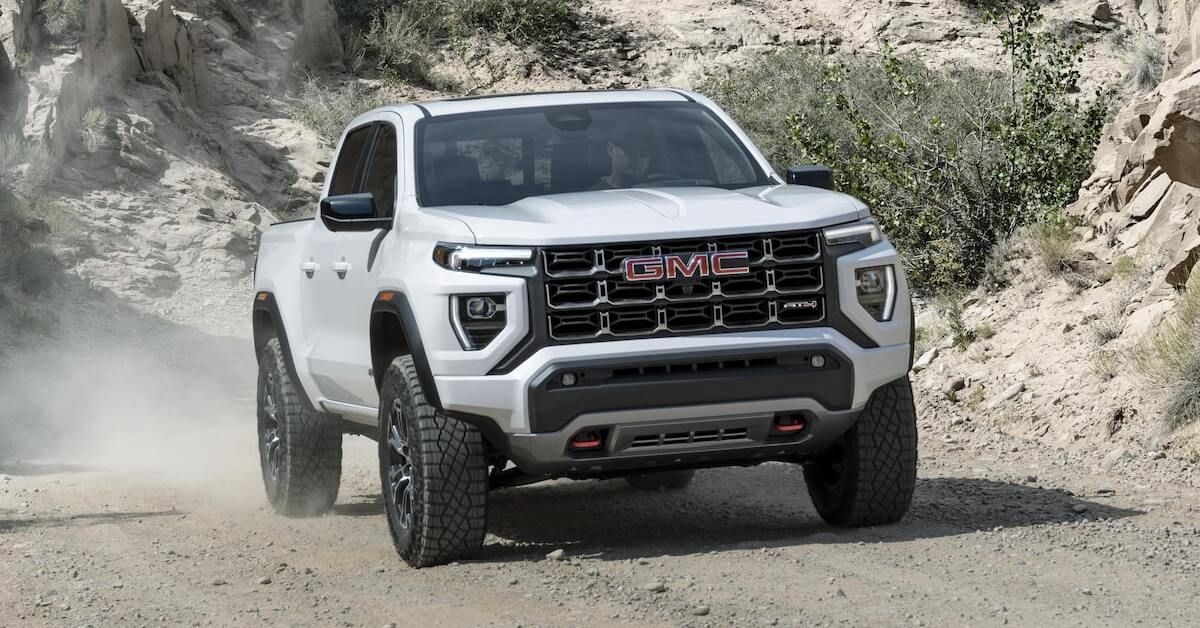 The 2023 GMC Canyon also gets a completely redesigned exterior, now boasting more rugged edges and smarter accents in what makes for one of the most attractive midsize pickups in the segment. Up front, it showcases a new two-way headlight and running light design and a massive front grille, which can be further enhanced with a front skid plate and the optional bull bar. At the bottom of the side, Canyon bends wide plastic fenders with integrated lights, step bars and optional chrome trim.
That's about all we know about the upcoming GMC Canyon, including some safe speculation that could still change before release. Regardless, we know for sure that the new generation GMC Canyon will be a massive upgrade from the outgoing model, and it just might be one of the best options in the entire segment.