say hi to Jeep Compass Trailhawk. This family SUV is comfortable, stylish and great for some off-road fun – all with a respectable price tag that maintains its foothold in the niche mid-size SUV market. This amazing beast is best suited for those who love a bit of comfort and luxury, but still need a vehicle that can handle some rough terrain on a regular basis.
The attractive new Jeep Compass Trailhawk brings an extra dose of wow factor in the way of off-road capability, in an industry where SUVs are rather dominated by road-oriented midsize family vehicles.
With the Trailhawk trim at the top of the Compass line-up, its design adds a touch of off-road hardware and a rugged makeover. It's quite a special vehicle and unique in its class – all thanks to a diverse mix of off-road ability, compact size and a reasonable price of $39,704, which will equip you with a hefty amount of kit. We love the Jeep Compass Trailhawk, and here's why.
Related: Jeep's plans for the 2023 Grand Cherokee Trailhawk are shocking
The Jeep Compass Trailhawk has a rugged design – and it's awesome
17-inch all-season tires, a raised suspension, underbody skid plates and a striking bright red rear tow add to the Jeep's beefy look. Let's not forget the massive front and rear bumpers to round off the beefy look. The Jeep Compass manages to carry that rough look, while keeping its design sleek and modern. The overall styling of the Trailhawk has a slimmer look compared to previous Jeeps. The taillights don't seem as bulky and in your face as the previous model.
Open its doors and you'll be greeted with a respectable amount of headspace. Yes, it's slightly less roomy than the Ford Bronco Sport, but it's still acceptable for its taller occupants. The infotainment touchscreen is the main feature to cover the dashboard, but with this top trim there is also a full digital display, which allows the driver to feel like they are sitting in a futuristic capsule. A mega-modern 10.1-inch touchscreen sits proudly in the center of the front cabin, which is compatible with wireless Apple CarPlay and Android Auto. Black carbon fiber and leather are the materials used to cover the Jeep's interior, with a subtle red trim outlining the doors and main dashboard.
The Jeep Compass Trailhawk isn't shy about features. Heated seats, panoramic sunroof, power lift gate, surround camera and heated steering wheel are just to name a few. If you're not already impressed, let's check out the Jeep's handling.
Related: See the Jeep Renegade Trailhawk take on the Ford Bronco in a mini off-road SUV comparison
The Jeep Compass Trailhawk has an engine that challenges its competitors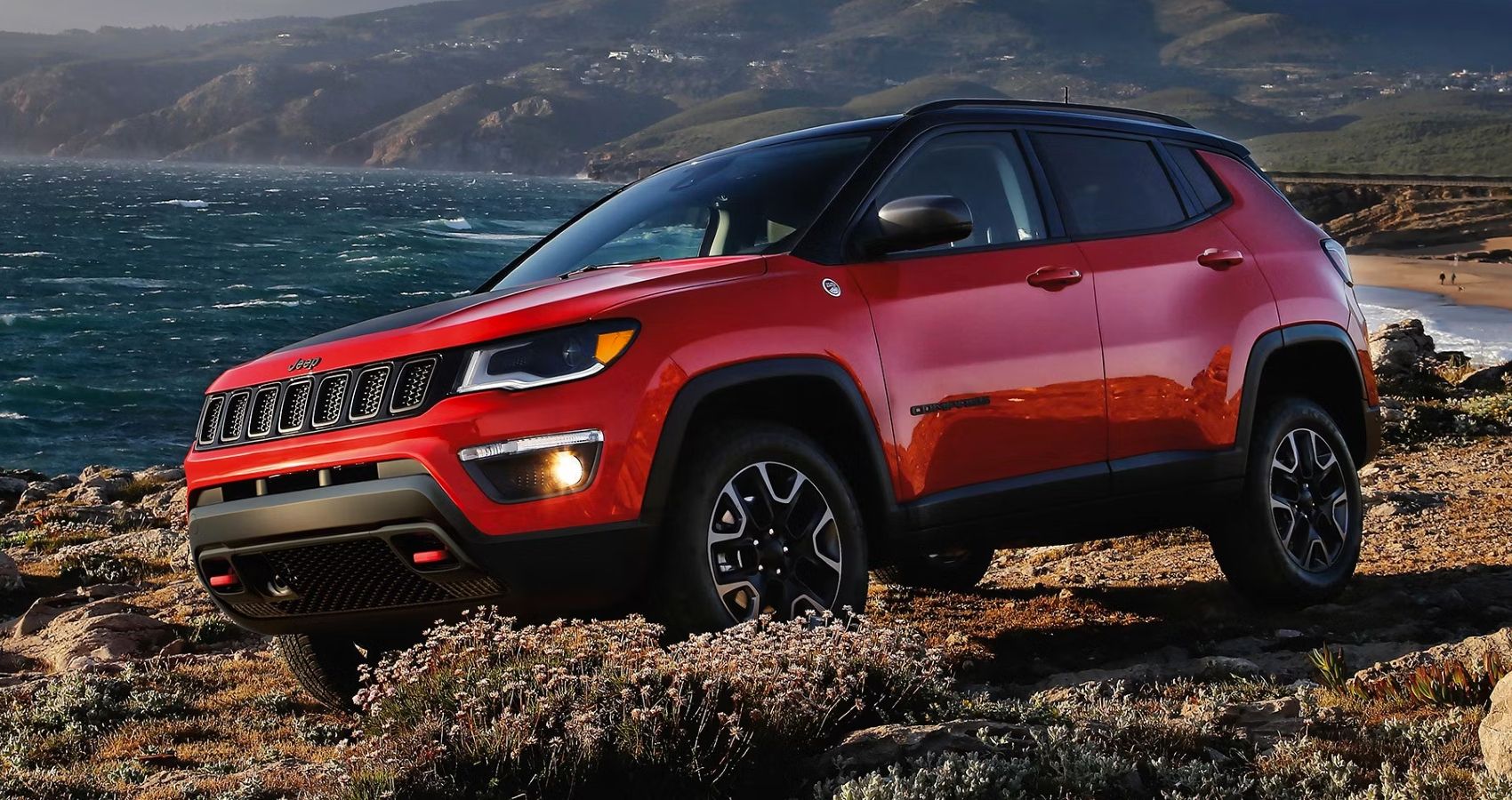 Under the Jeep's hood is a 2.4-liter naturally aspirated 4-cylinder engine that cranks out 177 horsepower and 172 lb-ft of torque. It may take a little revving to get up steep hills and rough trails, but it will take anything in its stride. Both front-wheel drive and all-wheel drive variants are available, with 6-speed and 9-speed automatic transmissions. Freeway driving you say? Trailhawk has you covered when it comes to cruising. Zipping in and out of the city will achieve 21.8 mpg, and cruising on the highway will achieve around 30.1 mpg, which is better than its competitors. Different modes are available when it's time to head off the beaten track. Snow, Sand, Auto, Mud and Rock are all available for the driver to choose from, depending on where they are driving. An impressive feature of the Jeep is hill control, which helps the driver on more difficult descents. These different characteristics allow the Compass Trailhawk to change its ride mode to provide different traction depending on the trail surface it's shaking over.
Related: A closer look at the Jeep Grand Cherokee Trailhawk 4xe Concept
The Jeep Compass Trailhawk is one of the best SUVs on the market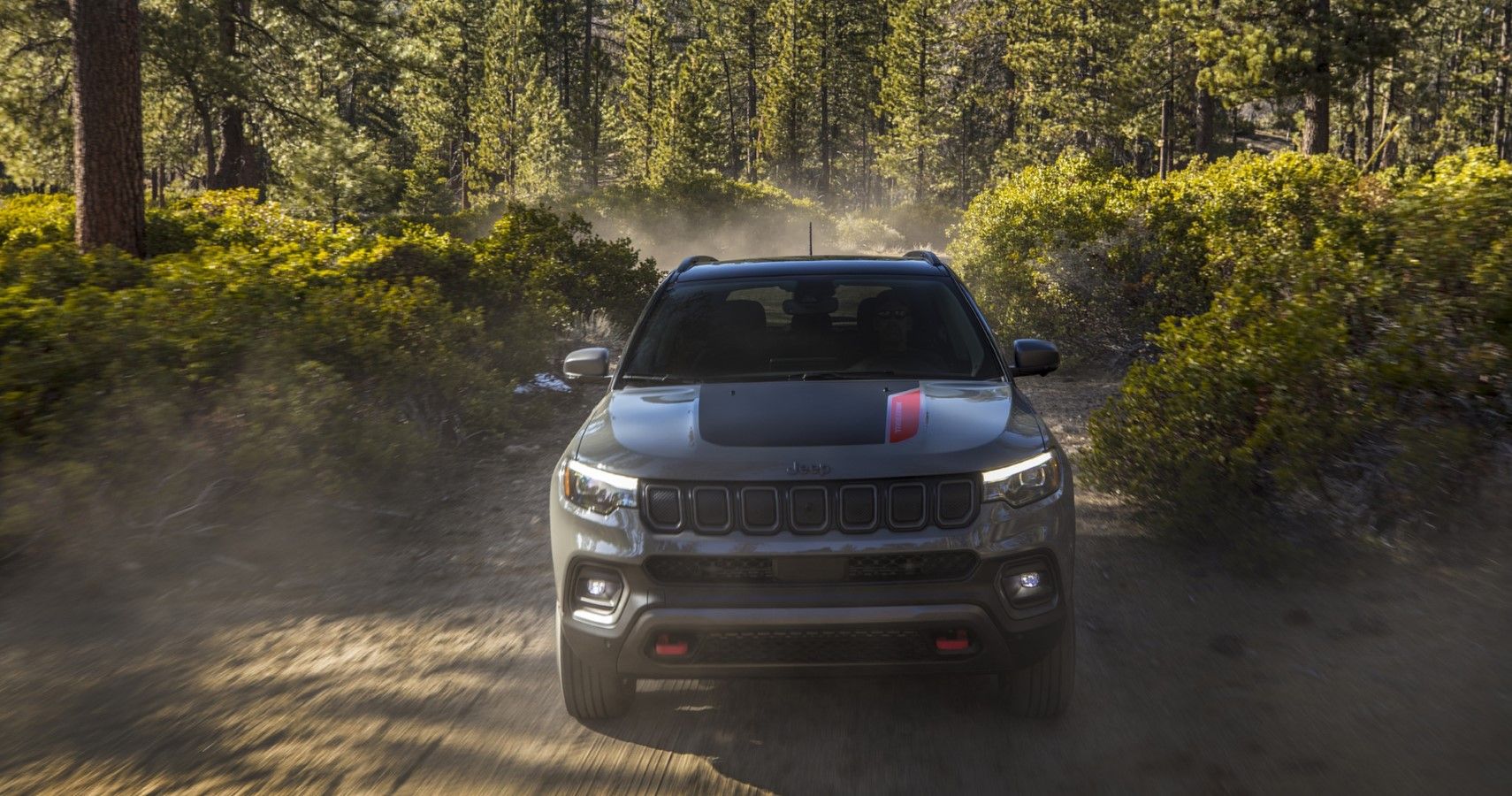 It's virtually impossible to think of an SUV on the current market that can handle off-road driving better than the Jeep Compass Trailhawk can. Yes, its on-road performance specs easily match those of other SUVs, but when we turn to off-road talk, it's a whole different story. The Jeep's closest rivals, the Land Rover Discovery Sport and Range Rover Evoque, don't offer anywhere near as much off-road capability as the Trailhawk does – and let's not forget the tonnes of kit it comes with. The Jeep is an absolutely stunning machine, not only does it offer great off-road driving, it can be tamed back to enjoy smooth highway cruising, in extreme comfort. If you happen to be looking for an all-around SUV that can handle all kinds of conditions, the Jeep Compass Trailhawk is a great choice — and we absolutely love it.
Sources: Jeep