Jeep has been making beastly SUVs for a long time. One of their most outstanding performance SUVs came in the '90s in the form of the 1998 Grand Cherokee with 245 hp. While this number may seem regular by today's standards, it was not that common at the time. With other manufacturers topping their SUVs' horsepower, Jeep decided to use the Challenger Hellcat's 6.2-liter supercharged engine for its Grand Cherokee Trackhawk. The new engine has been a hit and the Trackhawk is getting lots of love for its abundant power.
Jeep plans to offer electric versions of all its models by 2023, and there was speculation that the Trackhawk would be phased out. Increased emissions regulations for automakers also added to the speculation. But when Jeep announced a 2022 Grand Cherokee Trackhawk was coming, gearheads were ecstatic.
But while we wait for Jeep's all-new performance SUV, here's everything that makes the 2021 Trackhawk so awesome.
9/9

Modern interior

Like the previous model, the 2022 Trackhawk features both leather and suede seats with a leather-wrapped dashboard. The seats are electrically adjustable with heating and ventilation functions available for both front and rear seats. To improve driver comfort, the Trackhawk comes with a telescopic steering wheel.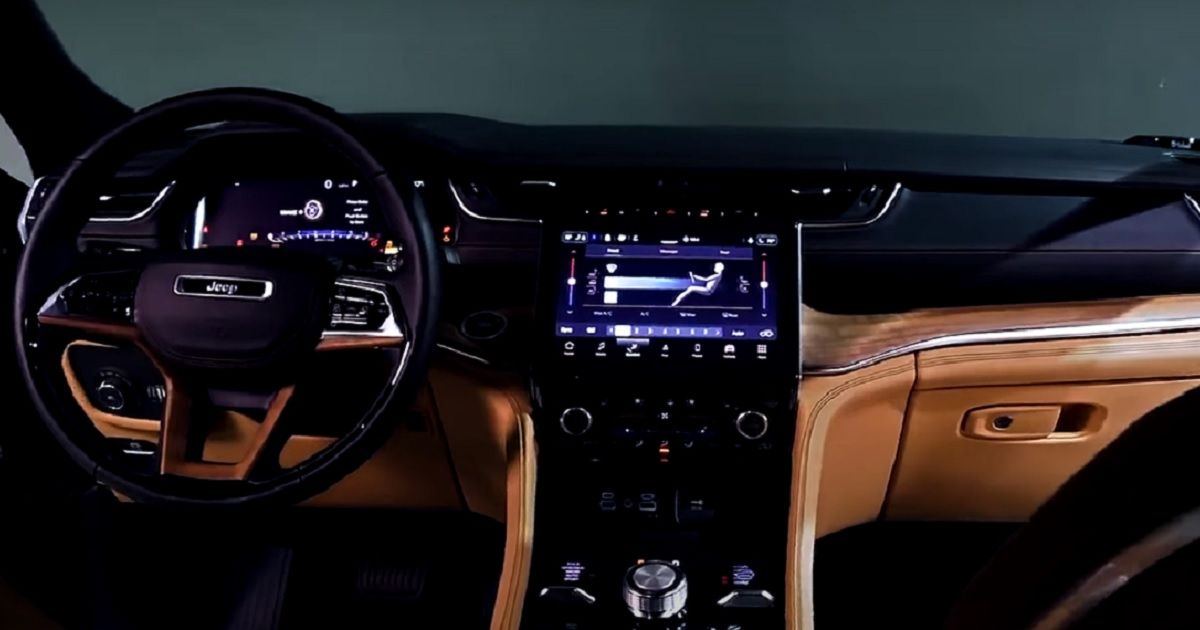 Air conditioning and the reading light in the rear seats are included as standard. There are also features like voice-activated climate control and four-way power lumbar support, all of which make the Trackhawk's interior modern.
8/9

Powertrain options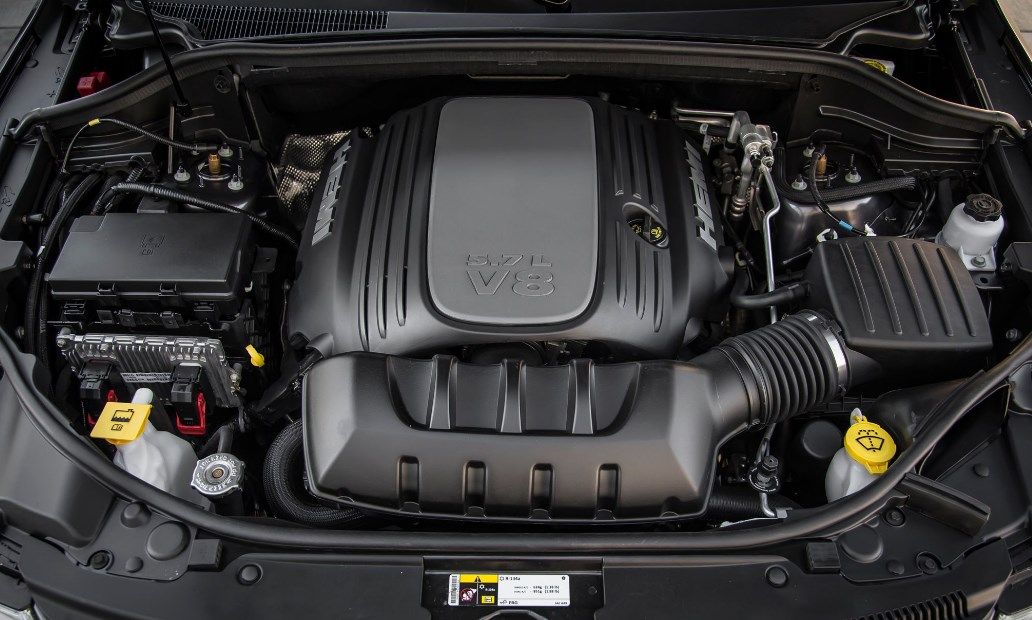 The Trackhawk only has one engine option, but it's not your average SUV engine. Jeep's Grand Cherokee Trackhawk returns with the 6.2-liter supercharged Hellcat Hemi V8 engine. The V8 produces 707 horsepower at 6,000 rpm and 645 lb-ft of torque.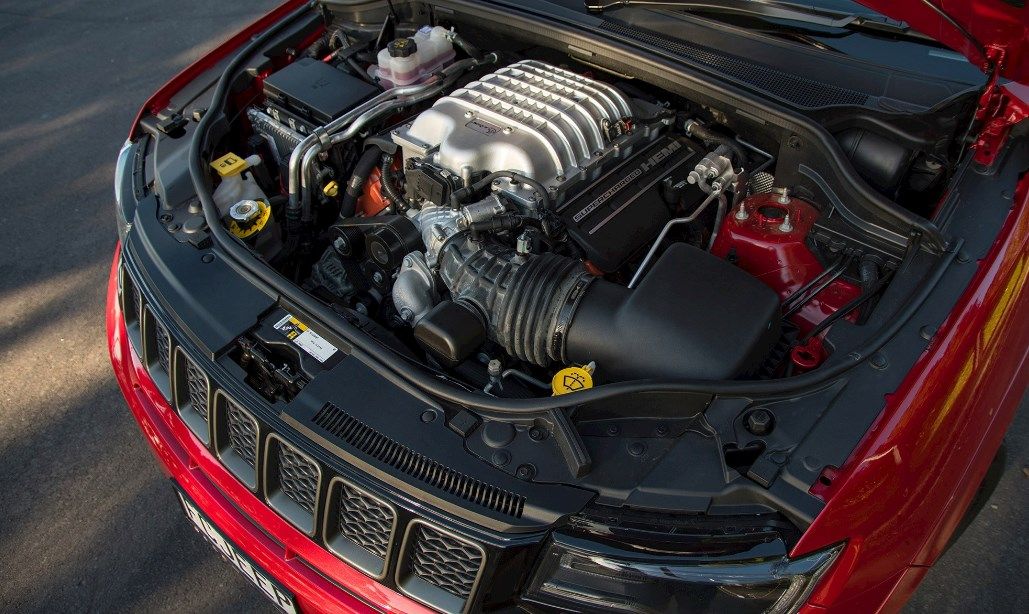 Compared to engine options from other SUVs in its class, the Trackhawk tops the list. By comparison, one of its closest rivals, the 2022 Range Rover Sport SVR will use a 5.0-liter supercharged V8 rated at 575 horsepower and 515 lb-ft of torque.
RELATED: Jeep Cherokee vs. Grand Cherokee: Find out which is right for you
7/9

Unforgiving Jeep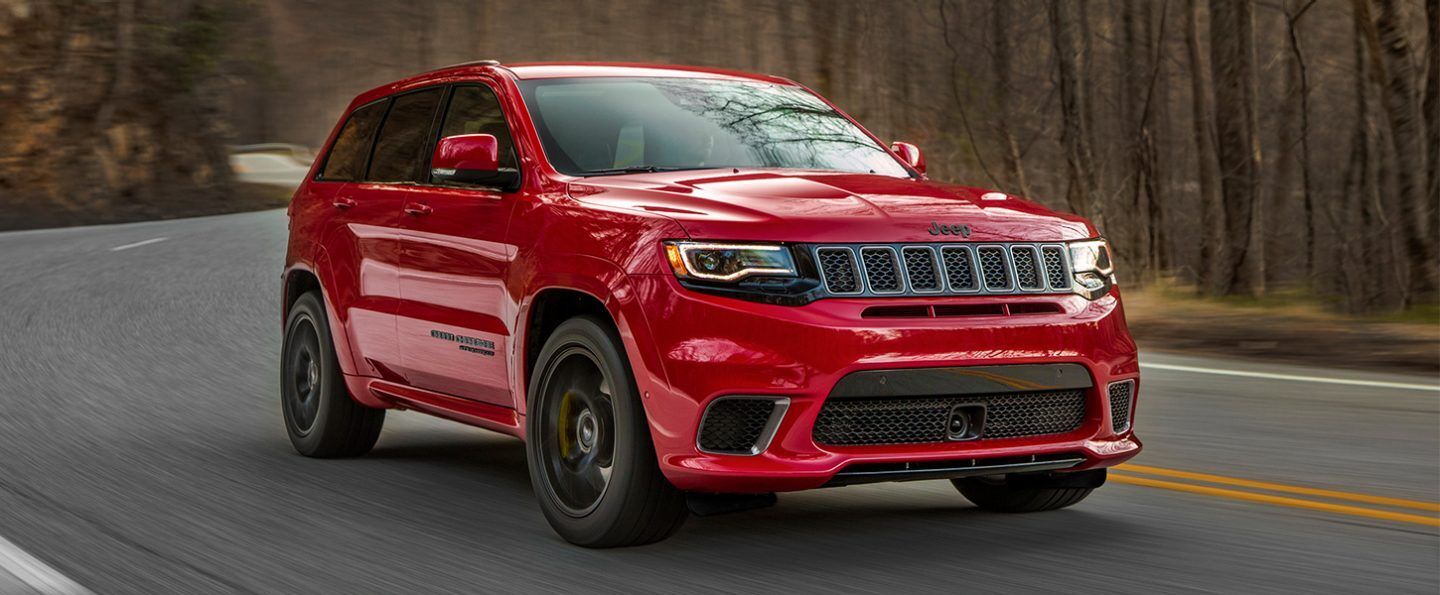 A constant in Jeep models is their design architecture and because of this the brand's models are instantly recognisable. Some Jeep models for the 2022 model year have seen exterior modifications. The 2022 Jeep Compass unveiled at the 2021 Chicago Auto Show looks a little different than the previous model.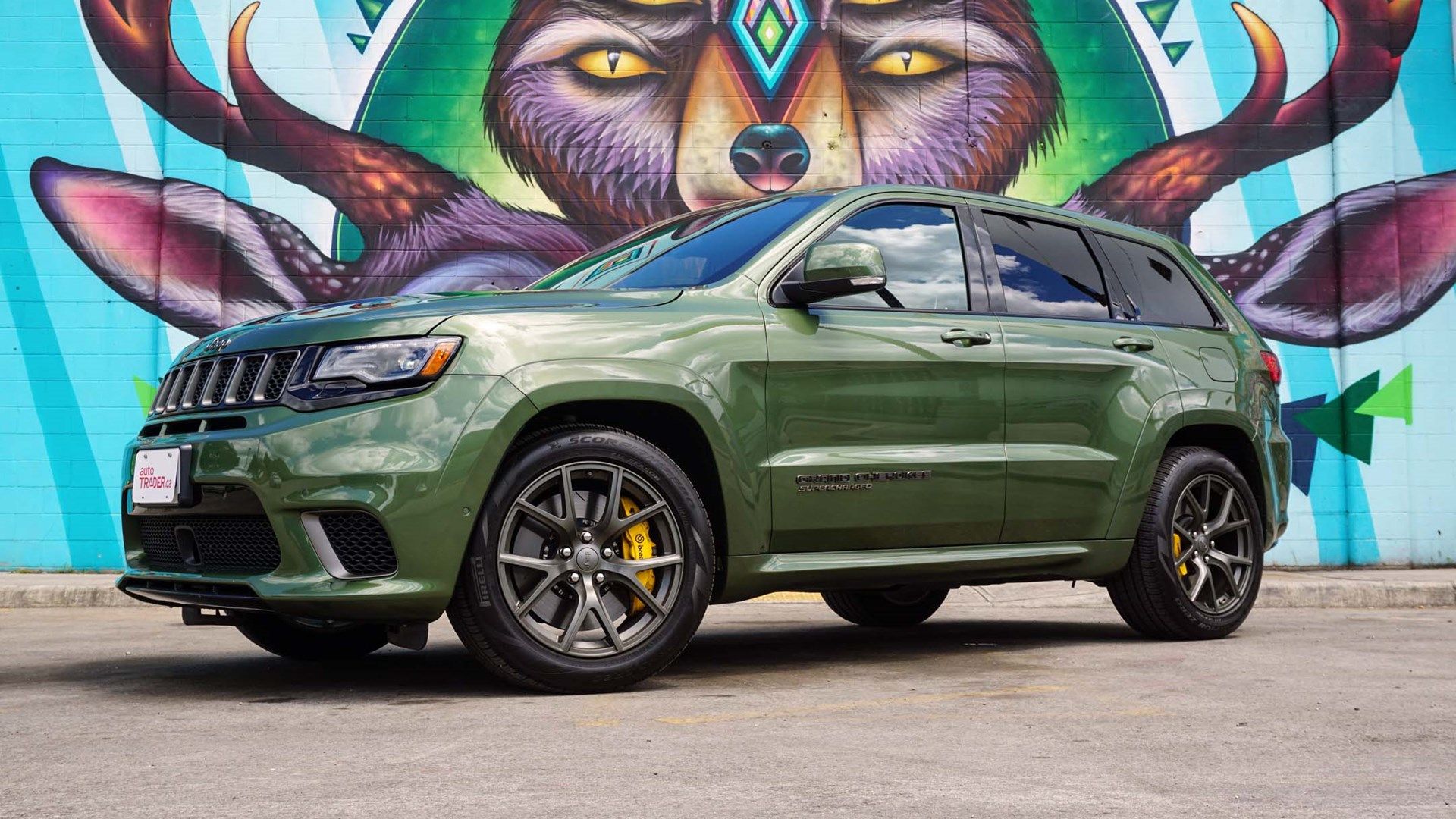 The same is the case with the Trackhawk. Although the originality is still there, some areas have been tweaked. Of course, Jeep's seven-slot grill remains with 20″ wheels to support the SUV. The rear has a lip spoiler and a power tailgate.
6/9

Improved driver assistance and safety features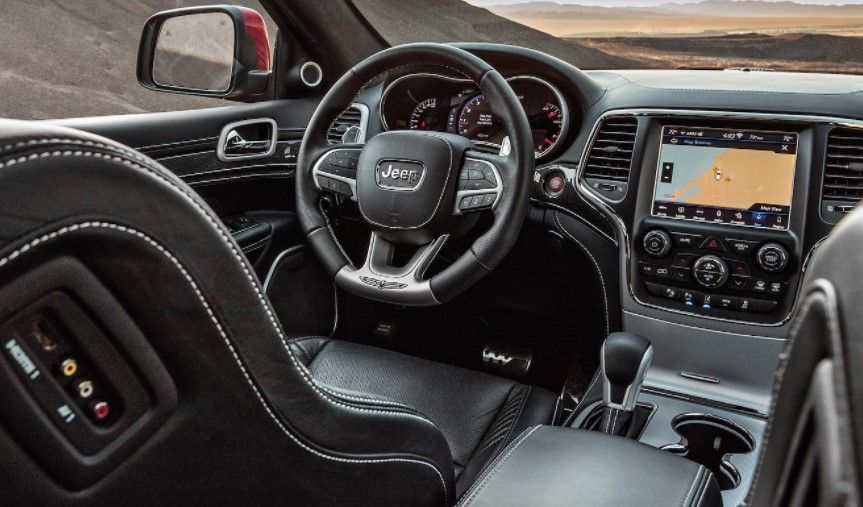 Most driver assistance and safety features in the Trackhawk are standard. These include adaptive cruise control, remote engine start, autonomous emergency braking, electronic stability control, roll stability control, automatic parking sensors, lane departure warning and more.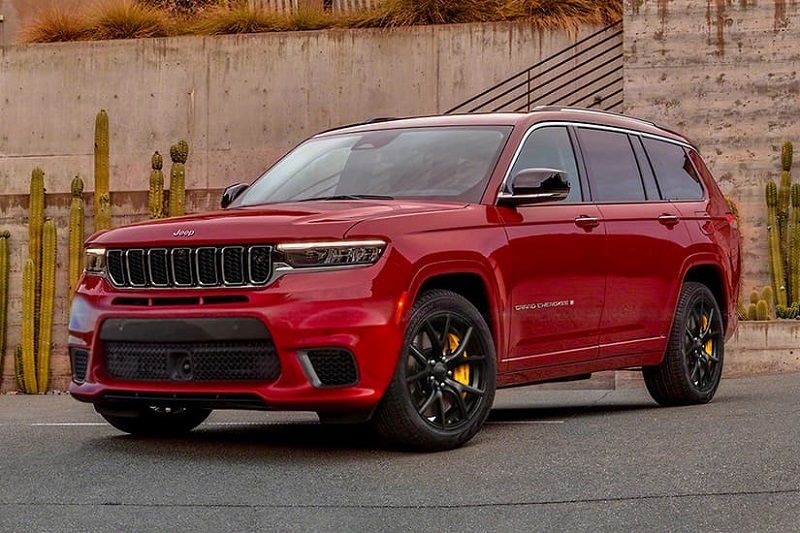 Apart from the many standard features, some other features such as collision warning plus have been improved. Ratings from safety organizations aren't yet available, but we expect the new Trackhawk to have something close to, or even better than, the 2021 Jeep Grand Cherokee IIHS rating.
RELATED: Find out what's updated for the 2022 Jeep Grand Cherokee L
5/9

Massive load and towing capacity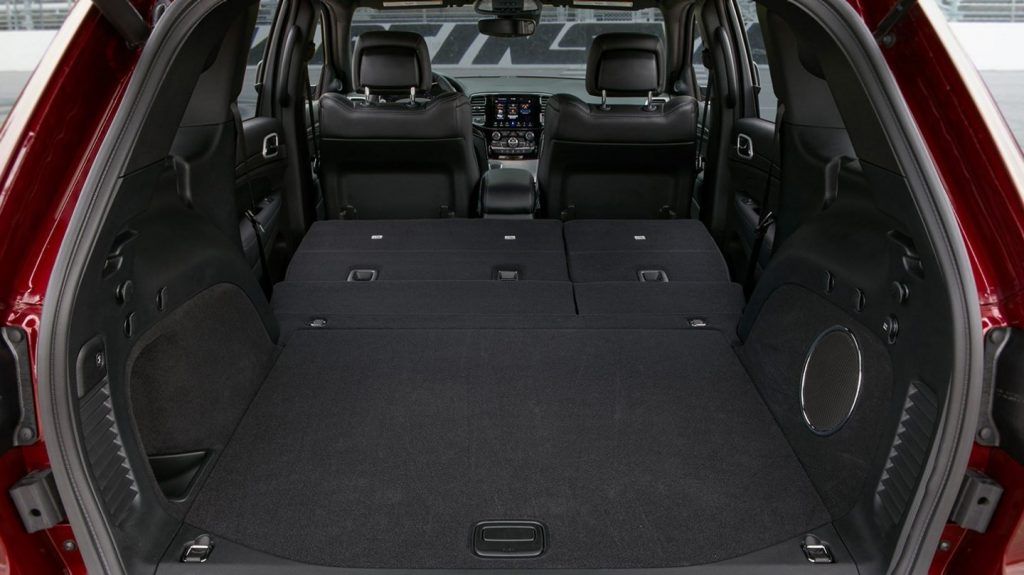 Since the Trackhawk is an off-road vehicle, it makes sense that the driver would want enough cargo. The SUV comfortably seats five adults with enough headroom and legroom. Without folding the rear seats, the Trackhawk has 36.3 cu-ft, and with the seats folded, space increases to 68.3 cu-ft.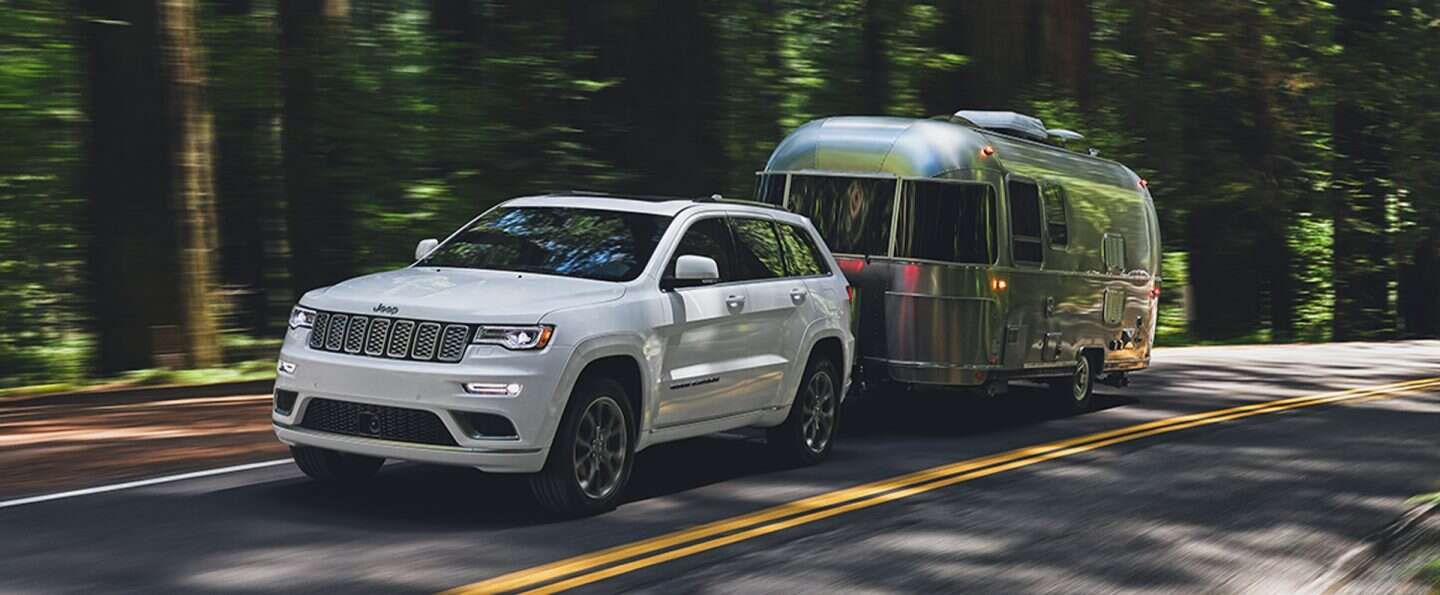 Additionally, the trunk has 36 cu-ft, and the SUV can tow a maximum of 7,200 pounds. As for how the Trackhawk stacks up against the competition, it has 9 inches more cargo than the Range Rover Sport SVR and 15 cu-ft more space than Porsche's Cayenne Turbo.
4/9

Driving modes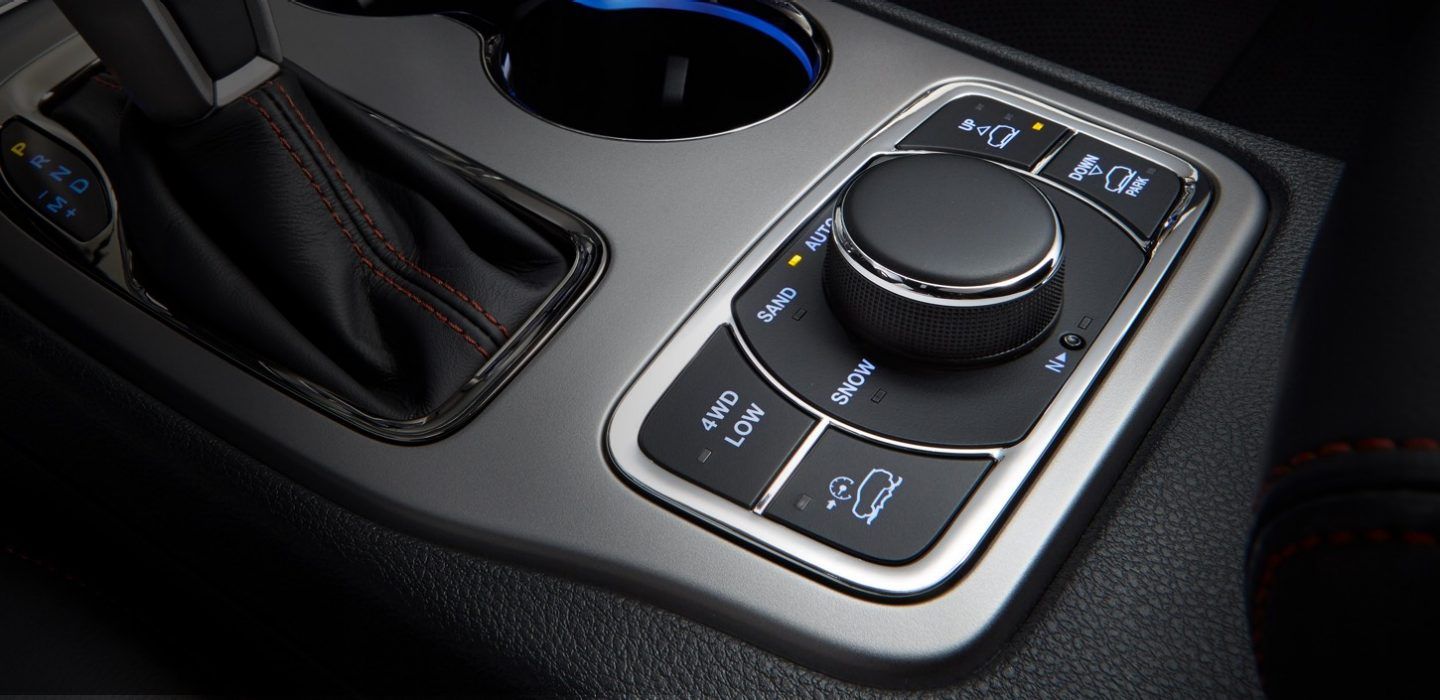 The Trackhawk is easy to customize and this makes it easier for drivers. Auto, Snow, Track, Tow, Sport and Launch modes are all available on the Trackhawk. Jeep will likely repeat some drive mode features from the latest Trackhawk. If so, drivers will be able to customize their launch control and choose where they want it to start.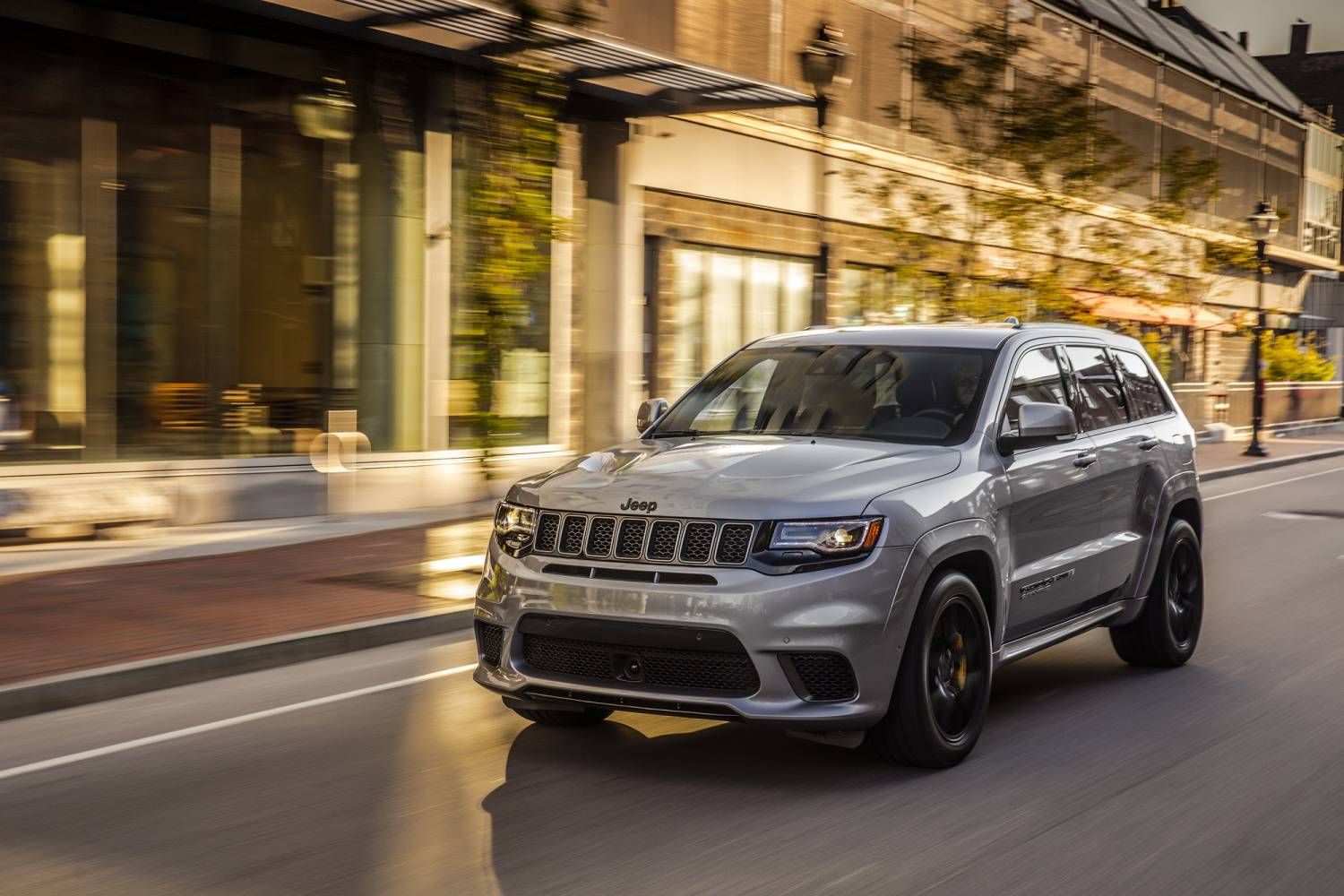 The transmission will also have street, sport and track options. Drivers will also be able to control the paddle shifters, select stability options and even customize their steering wheel.
3/9

Infotainment and connections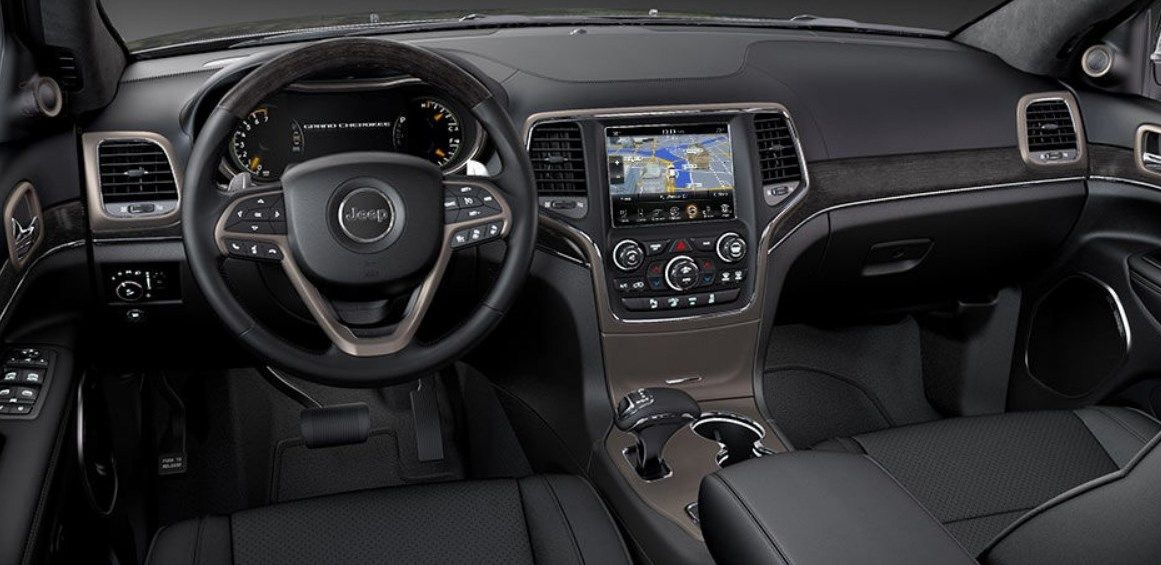 For infotainment, Jeep offers similar features to the previous model. The media screen is an 8.4-inch touchscreen with a positioning typical of all Jeep models. There's a 9-speaker Alpine audio system, UConnect navigation and even voice-activated commands.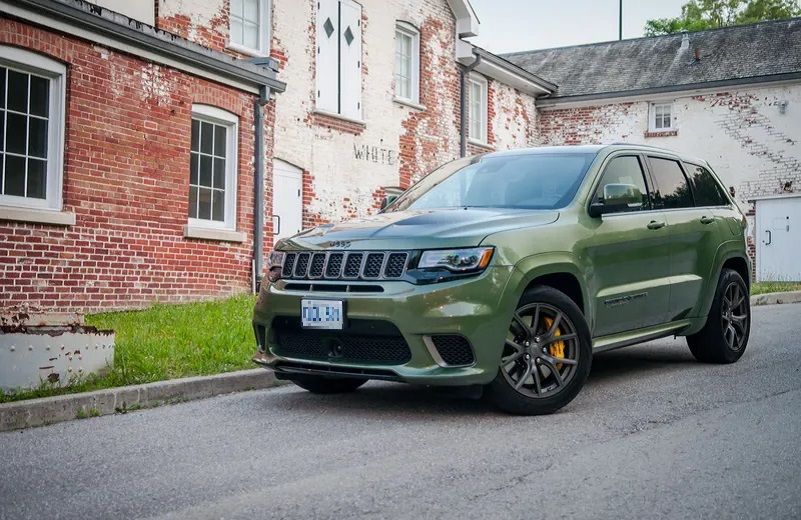 Auxiliary audio input, Bluetooth audio, USB ports, Wi-Fi hotspot and Sirius XM are all standard on the Trackhawk. Of course, the infotainment system has both Apple CarPlay and Android Auto compatibility.
2/9

Guarantee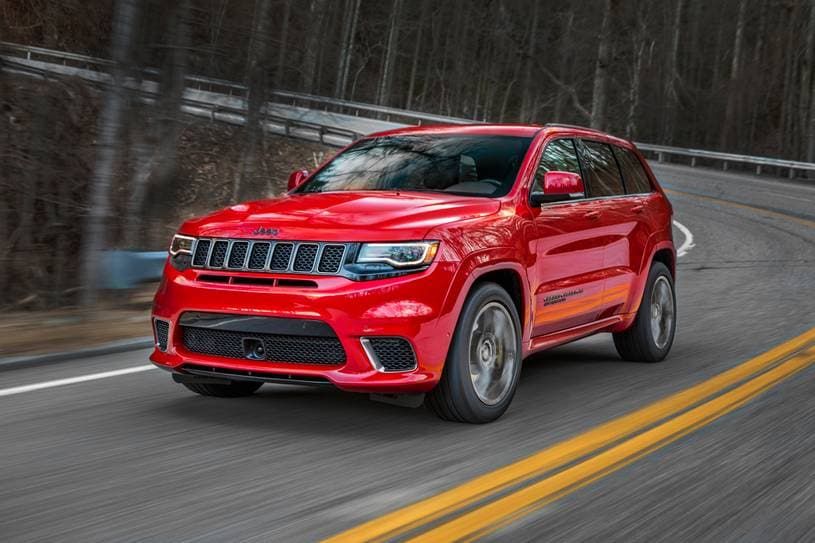 The Grand Cherokee Trackhawk has a basic warranty that lasts for 3 years or 6,000 miles. Then there is a corrosion guarantee that is valid for 5 years. The driver train warranty is valid for 5 years or 60,000 miles. Because the Trackhawk is high performance, drivers can get an extended warranty.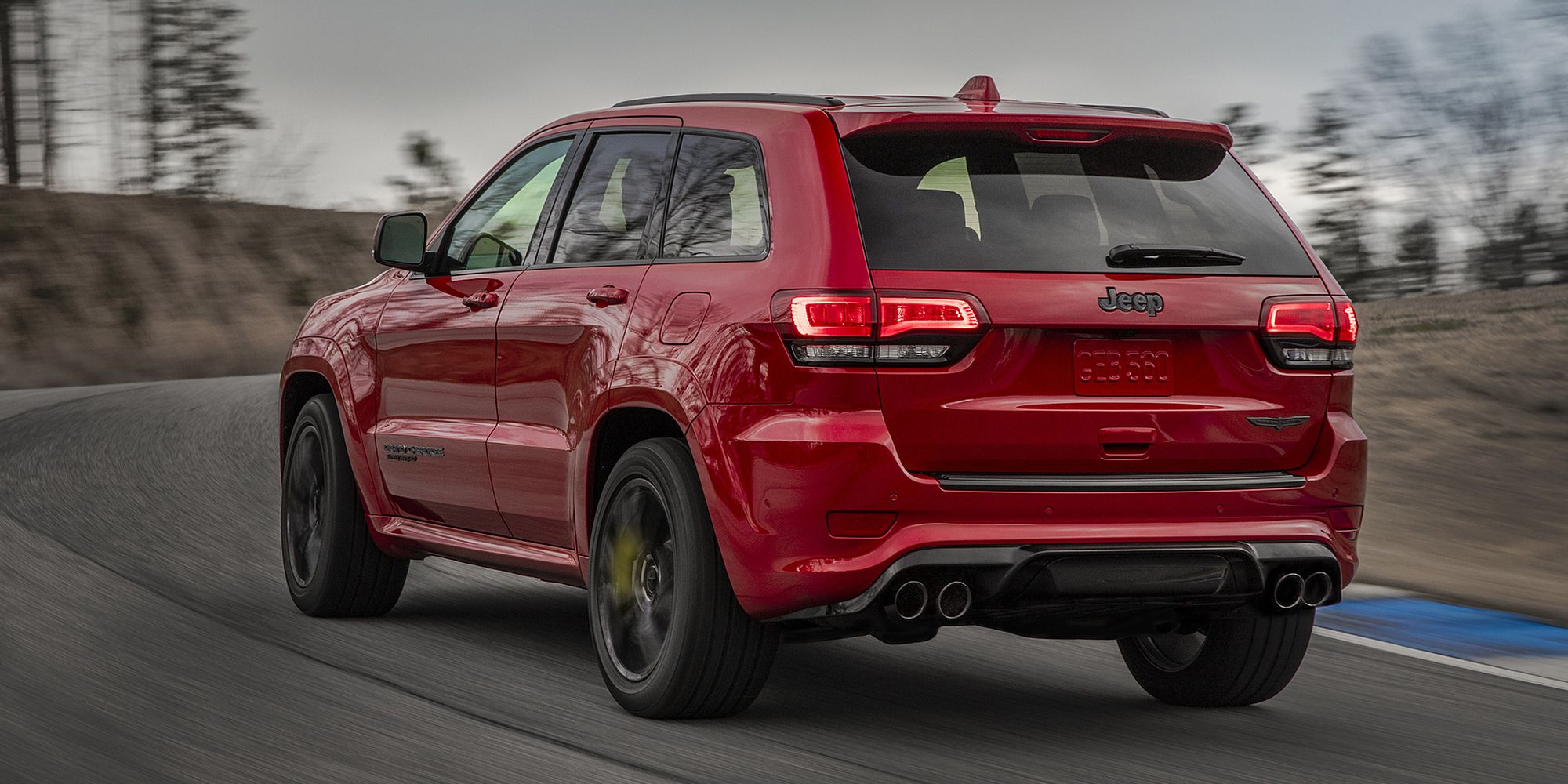 Usually, the extension is offered at the dealer for a price. If you buy a used Trackhawk, you can also get a warranty extension. However, the price will be much higher.
1/9

Fuel efficiency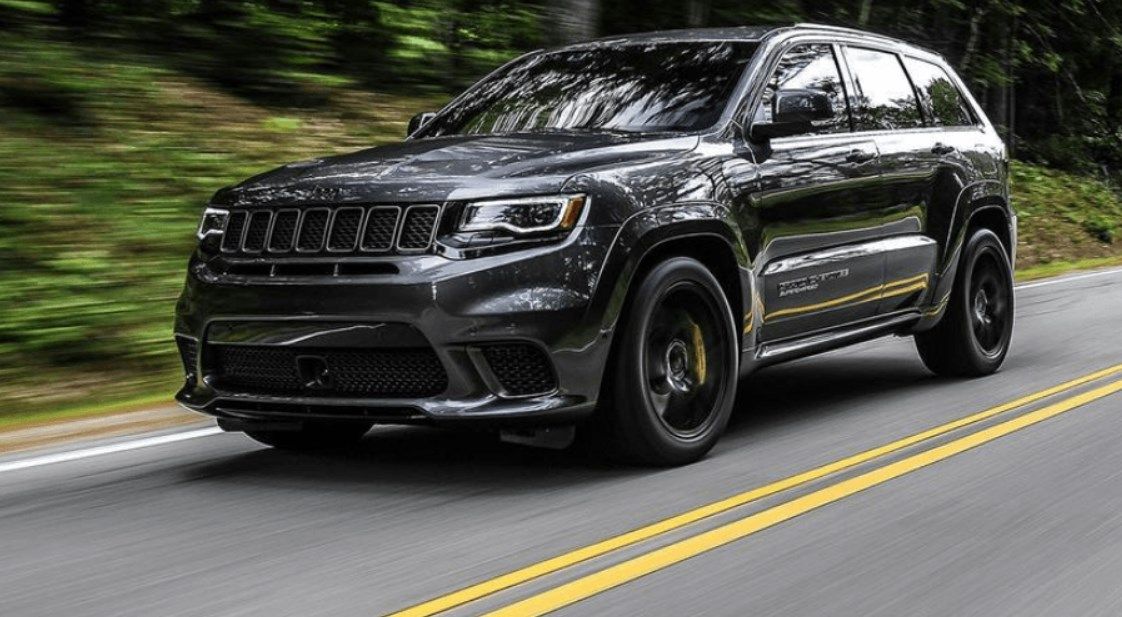 With its high power and speed, the Trackhawk may not be the most fuel-efficient SUV. In 2018, the large SUV received an EPA fuel economy rating of 7.7 gal/100 miles. The 2020 Trackhawk had fuel economy of 11 miles per gallon in the city, 17 miles per gallon on the highway, and a combined economy of 13 mpg.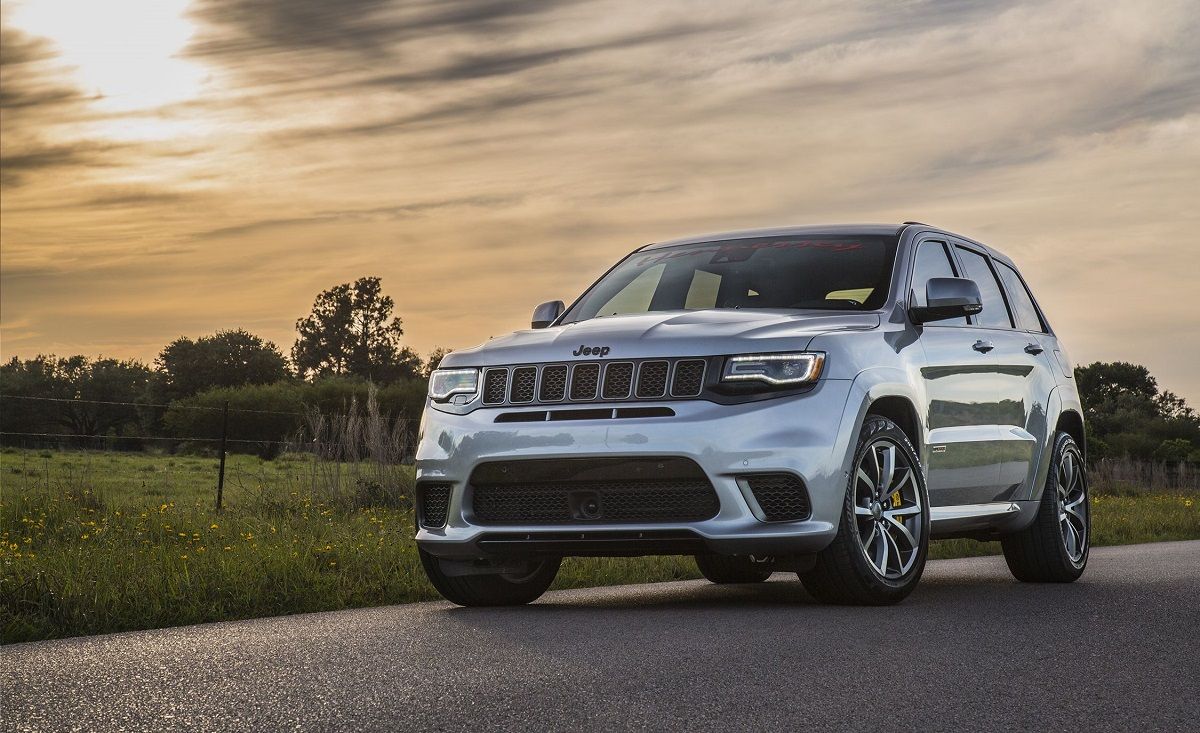 For the new model, speculated fuel economy is 13 mpg in the city, 20 mpg on the highway, and a combined economy of 20 mpg. The numbers just keep getting better.