What do you do when you are one of the richest people on this planet with billions of dollars at your disposal? Obviously, you can stop spending frivolously to fulfill all your desires without thinking twice, right? Well, at least that's the case with Sheikh Hamad bin Hamdan al Nahyan who spent a lifetime collecting hundreds of rare and odd car creations, including some that hold world records. Sheikh Hamad is a member of the ruling royal family of the United Arab Emirates and is said to have a personal net worth of over $20 billion.

His family has ruled Abu Dhabi for more than three centuries, and most of his wealth comes from his family's control of Abu Dhabi's oil fields, which make up 95% of the UAE's oil. While the billionaire sheikh prefers to stay relatively under the radar, his extravagant spending to build some wild creations often ends up grabbing headlines. It seems the 74-year-old loves to live by the 'go big or go home' motto, which is evident from his massive car collection spread across four museums spread across the UAE and Morocco. Here are some crazy but fascinating facts about Sheikh Hamad.
An odd request that earned him the nickname "Rainbow Sheikh"
Sheikh Hamad seems to be a big fan of all the colors of the rainbow as you'll find many cars from his collection decorated in a distinctive rainbow livery, including a Fiat 500. But in the early 1990s, he famously asked Mercedes to build a whole fleet of S- class finished in all the colors of the rainbow as a wedding present, which ended up earning him the nickname Rainbow Sheikh. Sheikh Hamad apparently takes this nickname very seriously and you will find rainbow paintings in various places in his museums.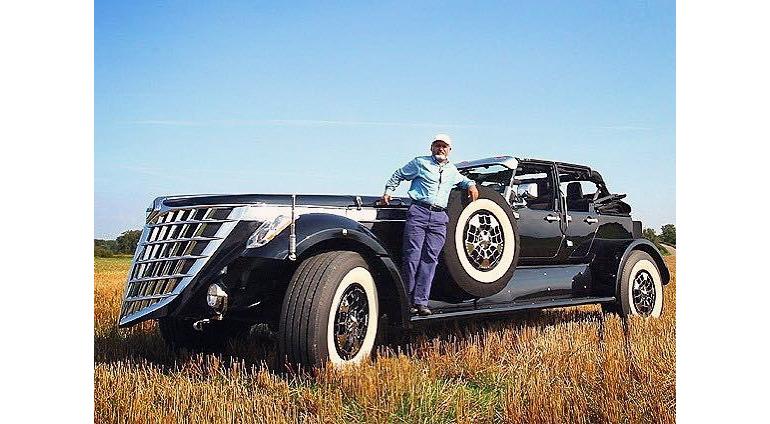 Sheikh Hamad's gigantic car collection does not have a single supercar
Although the billionaire sheikh owns countless cars that are displayed in four different museums, you will be surprised to learn that his huge car collection does not have a single supercar. The only sporty car in his collection is a first generation Porsche Boxster. That's right! He can afford the world's rarest and most expensive supercars but he chooses not to indulge in them. Instead, Sheikh Hamad loves quirky off-road vehicles, super-sized replicas, American classics and Mercedes-Benz cars. What's fascinating is that a third of his collection is made up of Mercs while he doesn't own a single car built by Audi or BMW.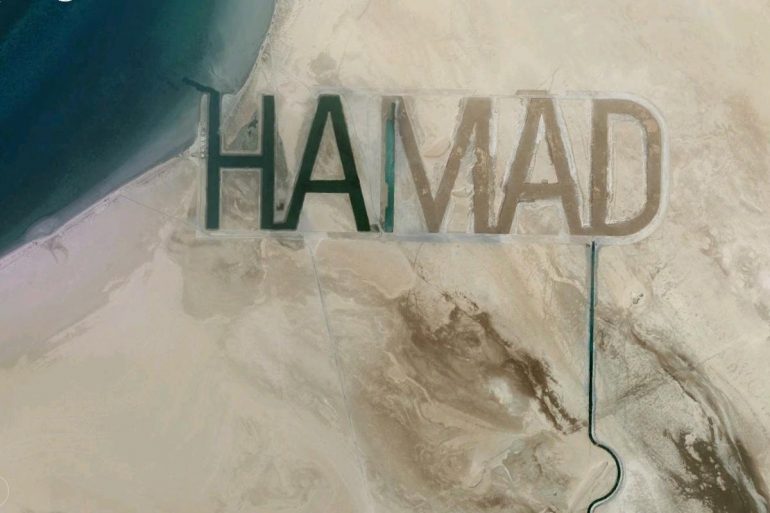 An obsession with supersizing that went beyond cars
Sheikh Hamad has an obsession with making things big, which is clearly shown by some of the gigantic replicas of various cars. But more than a decade ago, his interest in supersizing shifted to a completely different kind of project. The billionaire sheikh had people carve his name on a mostly uninhabited island near Abu Dhabi called Al Futaisi, forming watercourses in the sand.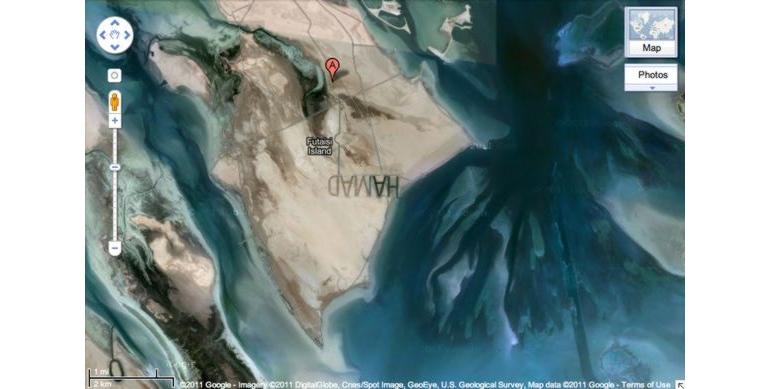 The winding series of canals were carved into the southern end of the island to spell out his first name. The inscription was nearly two miles long and was so large that it could actually be seen from outer space. But the letters mysteriously disappeared a few years later. It is still unclear why Sheikh Hamad hastily removed it.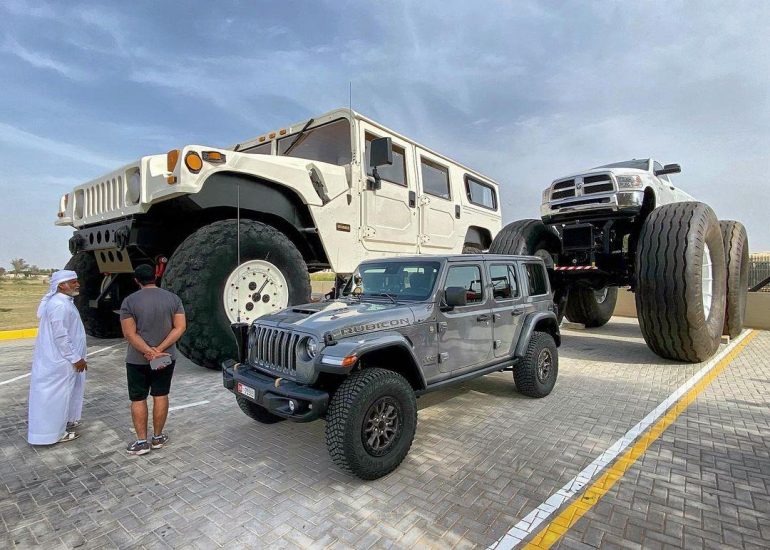 A creator of some of the most unique cars on this planet
Sheikh Hamad holds several world records to his name, which include the Guinness World Record for the largest collection of 4×4 vehicles with 718 cars. While his pyramid-shaped Emirates National Auto Museum houses more than 200 vehicles, he also built a dedicated off-road vehicle museum in Sharjah where you can find some of the craziest automotive creations designed and built by the billionaire sheikh himself. Here are some of them: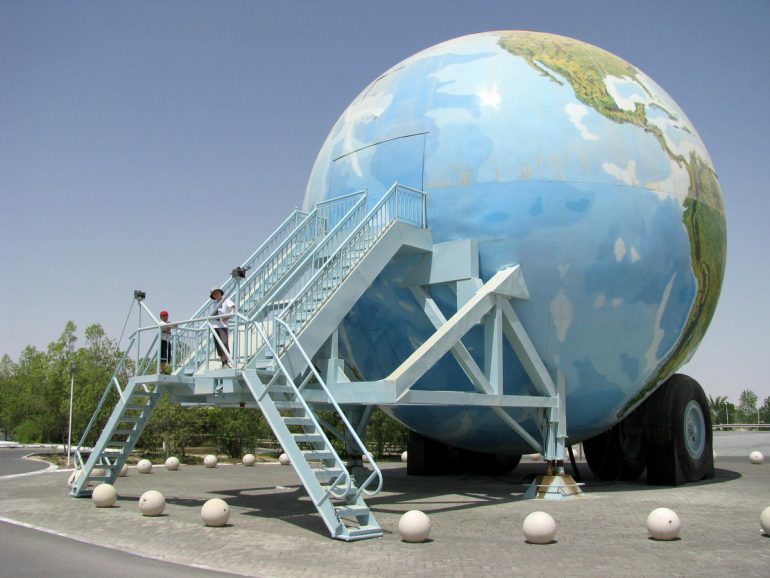 1. Replica of the world
One of the most bizarre creations included in the Sheikh's collection is a giant globe caravan. You can either think of it as an oversized model of our planet with wheels or a 1:1,000,000 replica of the world. It is not self-propelled and needs a towing vehicle to be moved around. But what's even more remarkable is that there are nine guest rooms and nine bathrooms inside the round caravan.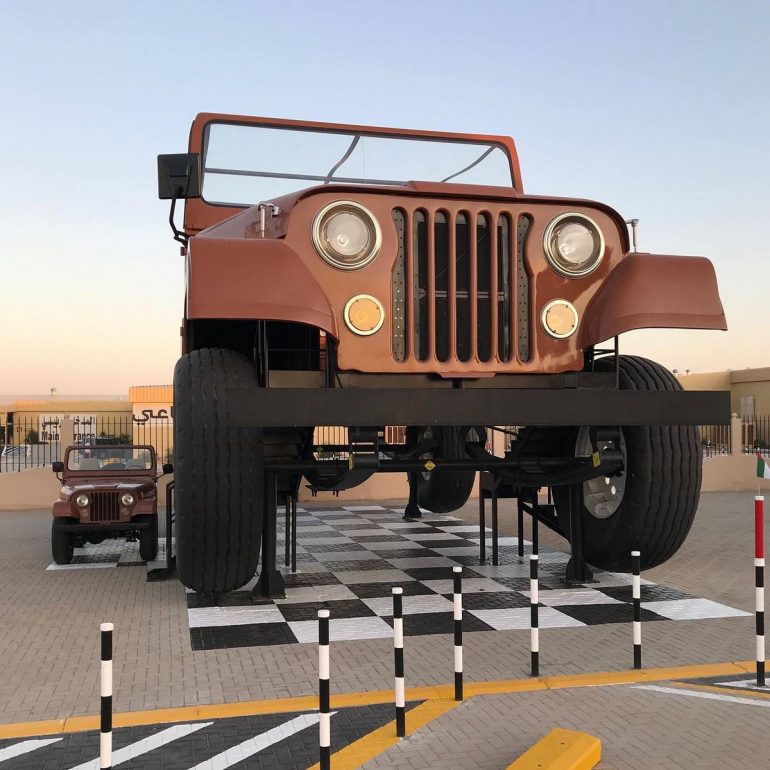 2. The world's largest running jeep
Sheikh's eclectic collection includes a giant replica of a World War II Willys Jeep that was crowned the world's largest motorized car by Guinness Records in 2010. It stands 21 feet tall, making it too large to fit inside the pyramid-shaped museum. Although the exact specifications were never published, it is powered by a relatively small engine that can be seen behind the grill.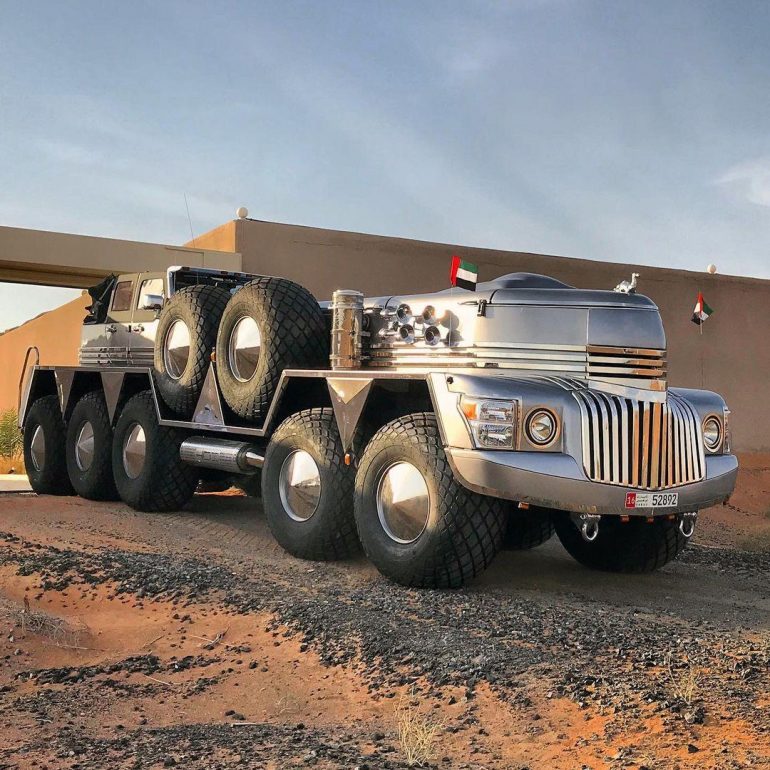 3. The world's largest SUV
In addition to the world's largest motorized car, Sheikh Hamad's bizarre collection is also home to the world's largest SUV. Called the Dhabiyan, it's a 35-foot, 10-wheeled piece of vehicular art that was hacked together from several different commercial vehicles and a military truck. It is so large in size that it can make a Ford F-150 look like a toy car.
4. The world's largest pickup truck
Apparently, Sheikh also owns the world's largest pickup truck, which is a supersized replica of a 1950s Dodge Power Wagon that's only eight times the size of the real thing. Interestingly, the scale of the construction was limited only by the size of the wheels the sheikh could get. It rides on wheels that were used on a machine to transport oil rigs. The truck is also a rolling luxury villa with four large, air-conditioned bedrooms, a living room, bathroom and even a patio.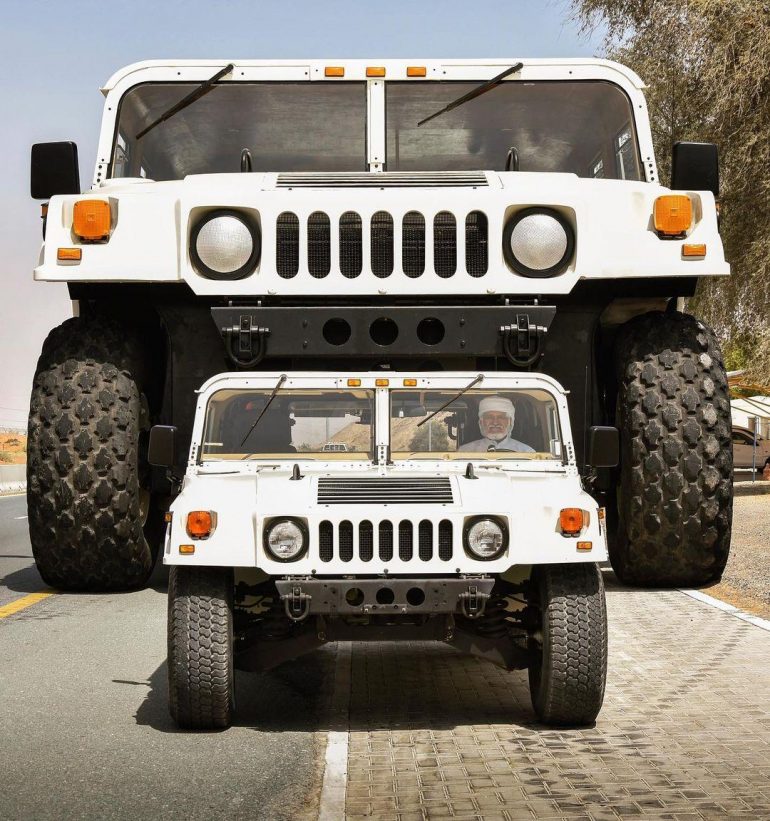 5. Supersized Hummer H1
I'm sure no sane person will find the Hummer H1 small in size. However, Sheikh Hamad's obsession with making things bigger led to the creation of a gigantic replica of the SUV with military roots. The incredible vehicle was revealed earlier this year and was awarded the world record for the largest Hummer in existence. It is three times larger than a normal Hummer H1 in scale and 27 times in volume.