Little did Jeep know that when they decided on the Wrangler's nomenclature before it was launched in 1986, it would result in major, er, arguments with rivals, rather than referring to a cowboy rounding up cattle. Jeep and Indian automaker Mahindra haven't had windy walks together for a while now, with the current Thar row following the Roxor battle earlier.
Named after the desolate desert of northwest India, the Thar is available as a two-door with the option of either a soft top or a hard top. Now, India isn't the only country with a copycat product (China's BAIC BJ40 is another), and the fact remains that while these 4x4s are visually almost identical, their technology is actually worlds apart. With the universe between their pricing.
RELATED: 2022 Jeep Wrangler Rubicon 392 – Performance, Price and Pictures
Wrangler vs Thar
A front 3/4 studio shot of a Jeep Wrangler two-door
Where the 2022 Jeep Wrangler's pricing starts at $31,000 plus change, the Mahindra Thar starts at a little over half that in India, just over $16,600 for the base model. Cue Billy Idol's Shock To The System. This is due to reasons such as lower labor costs, complete indigenization of parts and production, and significantly lower R&D expenses. Well, Mahindra hardly needed to enlist their famous ownership of design house Pininfarina to conceptualize this SUV – it was already out there! Yeah, let's just change the grill, shorten it once, round off the rear wheel arch, and hey, we got ourselves an Indo-Wrangler.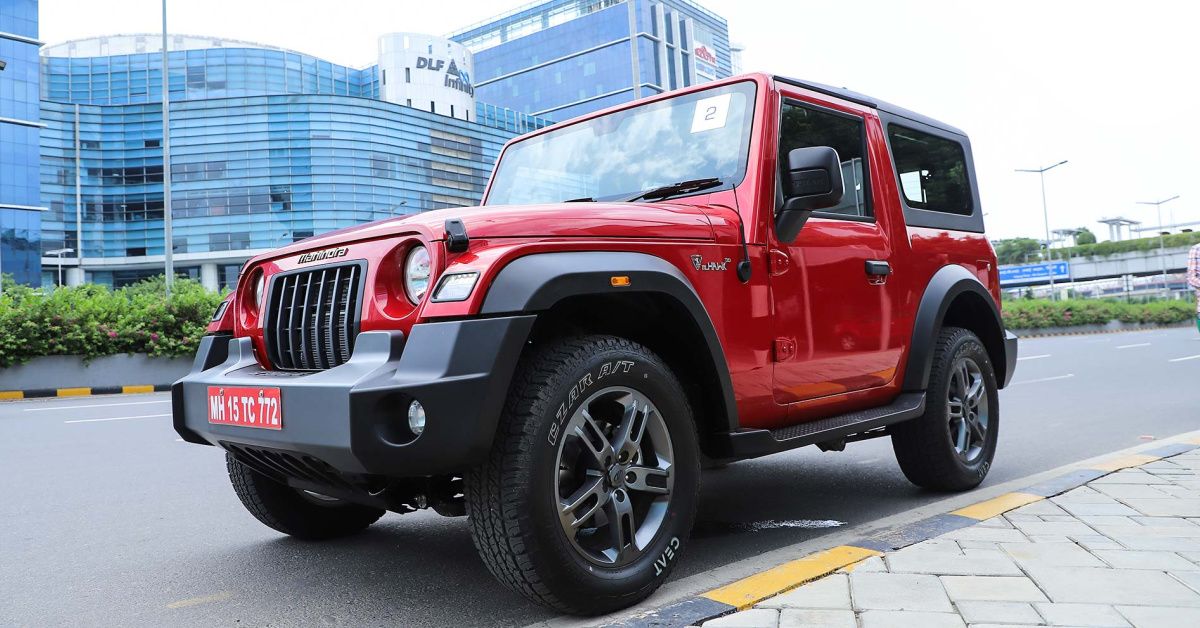 A front 3/4 view of a 2020 Mahindra Thar
Okay, now that might be a bit harsh though, as India put a lot of effort into making this stand out as a quality product in its home market. And while we don't know if the US market will ever open up to the Thar, we're pretty sure Mahindra will get this 4×4 on container ships leaving the subcontinent sooner rather than later.
RELATED: Top 10 Off-Road Upgrades and Modifications for Your 4×4
Engine And Juice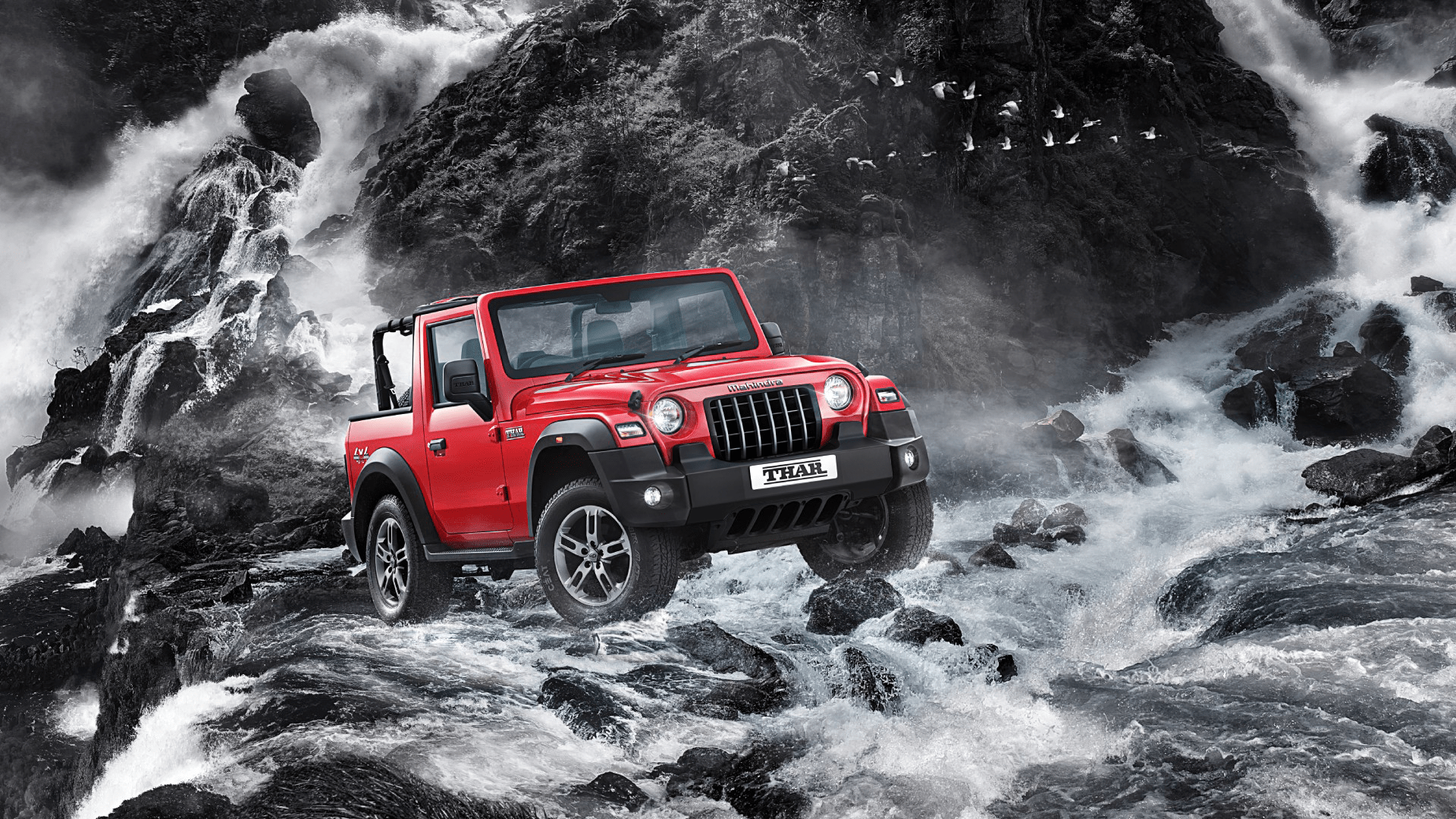 A front 3/4 view of a 2020 Mahindra Thar with the removable hood
Why do we say "quality product" with such faith then? That's because, as mentioned earlier, the Wrangler and Thar's similarities end after their styling. The Indian version's powertrain has fully localized diesel and gas engine options – the 2.2-liter diesel produces 130 horsepower at 3,750 rpm and the 2.0-liter gas equivalent, 150 horsepower at 5,000 rpm, with both engines developing identical 221 pound-feet of torque ft. at slightly different rpm. That might not sound like much, but it seems to be enough for now, with local quad enthusiasts already swearing by the Mahindra's off-road prowess.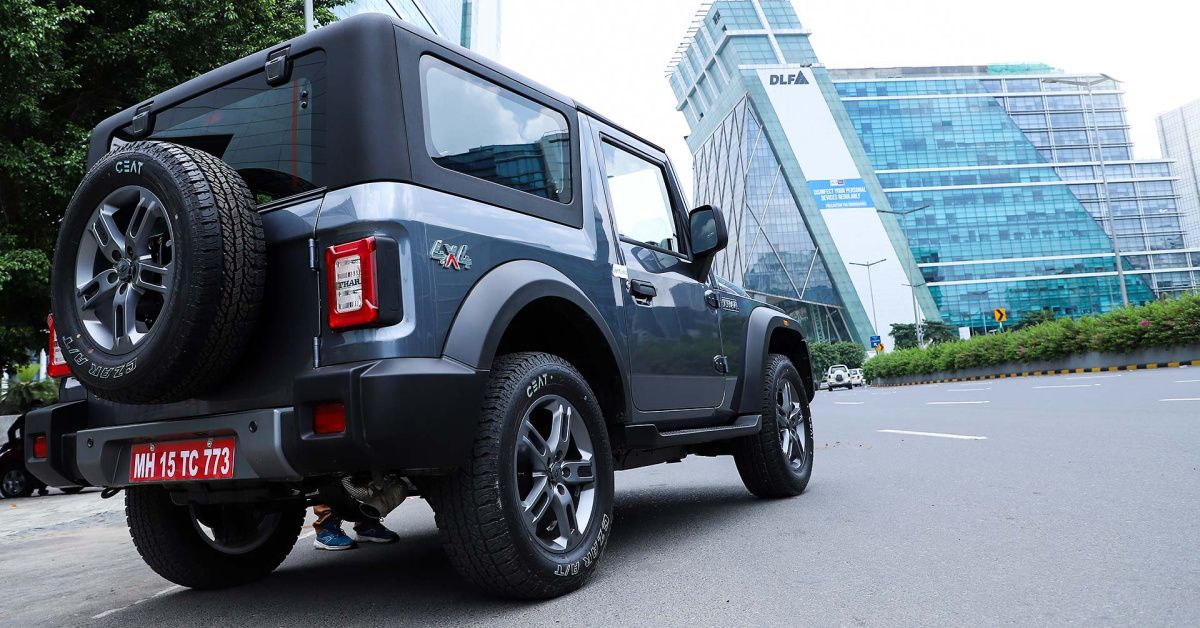 "But you're just the same" – The Thar's similar rear profile
But while the power is just about enough for India's budget Jeep compared to the base model Wrangler's 270 horsepower, both 4x4s have close curb weight figures – the Thar is only 90 lbs lighter, so a drag race will be just that, quite a drag, with power- to weight ratios that are eons apart. But the Thar's torque bests the Wrangler's by 30 pound-feet, which is probably why it's so capable on the rough stuff. That said, something like the Wrangler 392 with 470 ponies under the hood, is another league entirely. As for gearboxes, you can either choose between a six-speed manual or an automatic.
RELATED: Every Two-Door Jeep Wrangler on Sale in 2022
"The tension fits, B."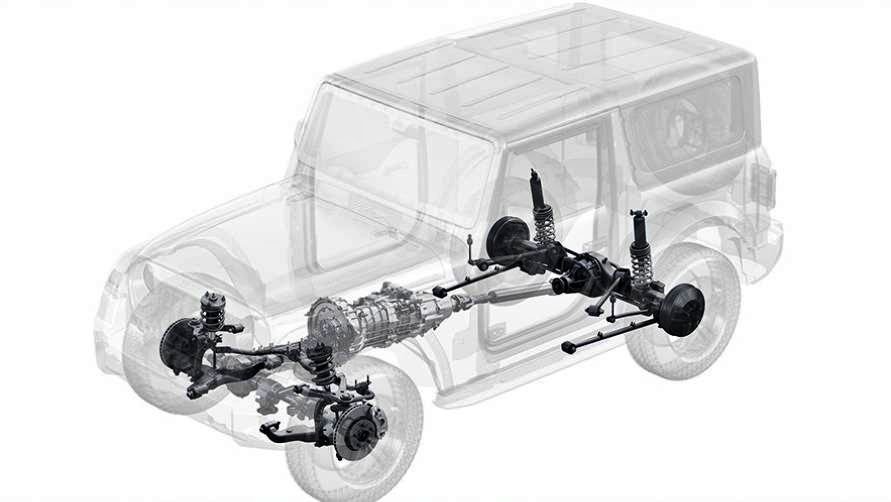 A picture of the Mahindra Thar's brake locking differential
The suspension of the Thar is very different from the Wrangler, which is a mixed bag of opinion because while the former's independent front coil spring setup allows for a quieter ride on tarmac, we know some solid axle and Jeep enthusiasts would scoff at this not being "real " or "genuine" hardcore 4×4 personality. Still, since most buyers don't venture off the beaten path, this setup is a win for the majority of owners. Incidentally, the rear also has coilovers, although it's attached to a solid axle – the Thar's ride is actually decently comfortable on highway jaunts, definitely more so than the Wrangler.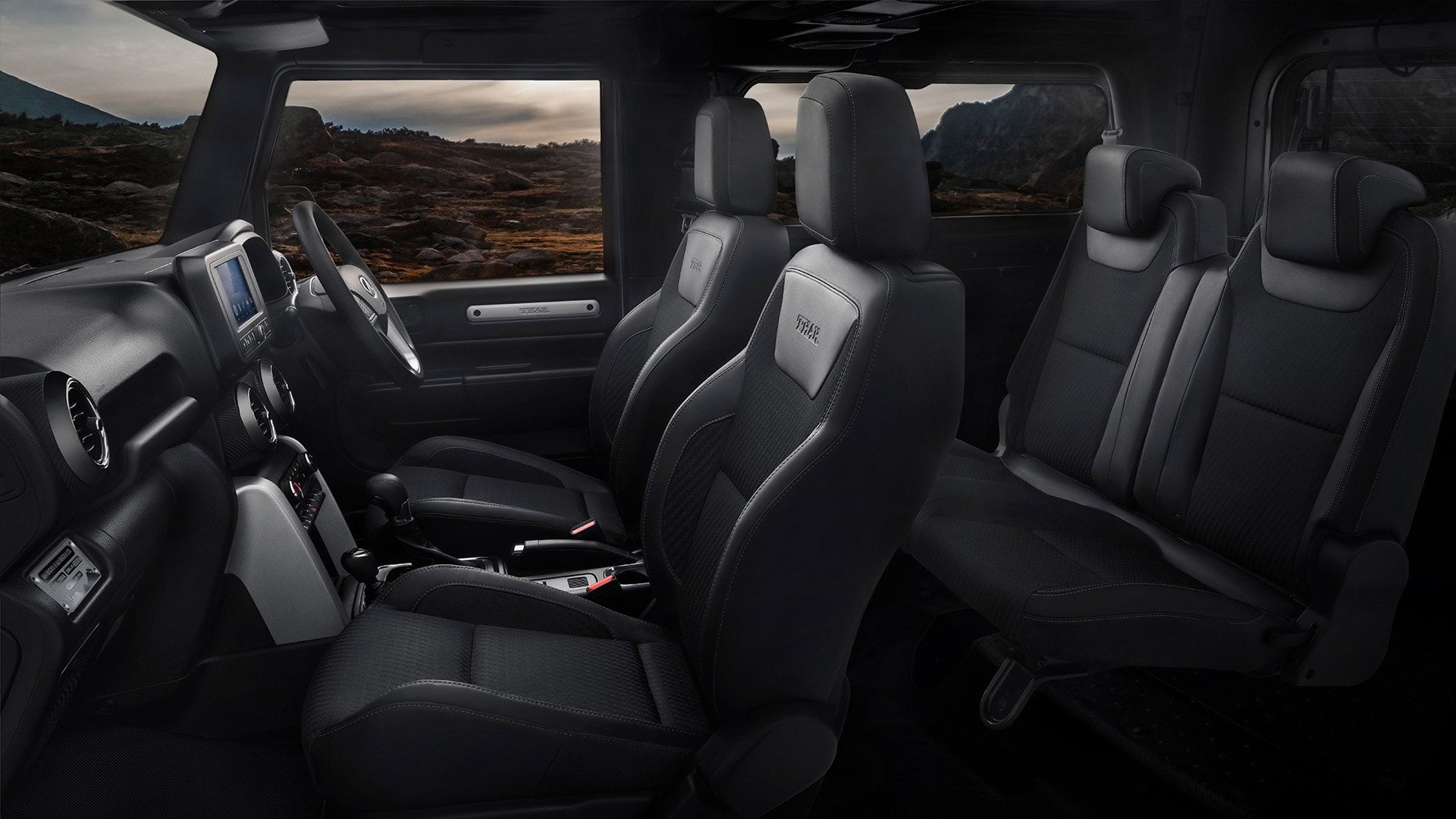 An image of the cabin of a 2020 Mahindra Thar
In terms of crash ratings and passenger safety, the Indian 4×4 is an impressively safe model to drive and travel in, with a four-star Global NCAP rating. There was quite a buzz from the Indian media in 2020 when the Thar was initially crash tested as it surpassed the then previous generation Wrangler's passenger safety score by quite a bit. But when the 2022 Wrangler earned a four-star IIHS rating, it apparently simmered down on that front.
RELATED: Why the Jeep Wrangler Rubicon is the Most Capable 4×4 on the Market
Fender Ender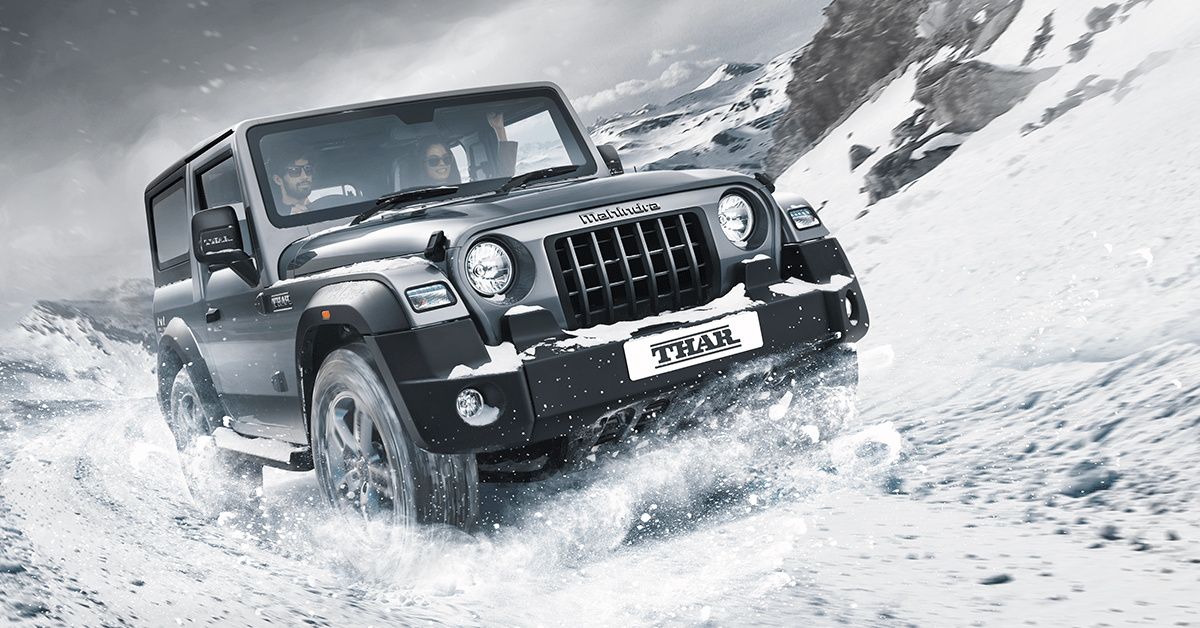 An action shot of a Mahindra Thar driving in the snow
Yes yes, we know you Jeep faithful are still on the road "Why, Mahindra, why?" And we have to agree with that sentiment for the most part, because Mahindra, being the massive automaker that it is (with even the legendary Pininfarina on its beck), could easily have created something original and completely new, right?
But the Wrangler's shoe fit, and even a half-decent rip-off would have been a success in India, especially given the previous generation Thar's rudimentary refinement and handling. So while Mahindra obviously aped Jeep, at least they did it convincingly, with the Thar's sales charts burning showroom roofs down in the domestic market. Yes, the iconic Wrangler will always be the OG of the two, but for a long time, the ahem, 'Wrongler' will be running in India, by the looks of it. Beep beep, talk is Jeep…