Gone are the days when trucks used to be just machines for transporting people and equipment from one place to another. Lately, trucks have become much plusher and more luxurious. While even the basic ones come with a decent set of creature comforts, a few push the boundaries and come with things usually found in luxury cars from premium brands. The most notable of which is GMC with the Sierra Denali. The GMC Sierra Denali comes with a host of luxury features, but GMC decided to step it up a notch with the Denali Ultimate, and here's why it's redefining the luxury pickup segment.
Plush, rich materials inside the cabin
GMC has pushed the envelope with the Sierra Denali Ultimate in offering a sumptuous cabin. It follows an Alpine Umber theme with full-grain leather trim and open-pore Paldao wood accents.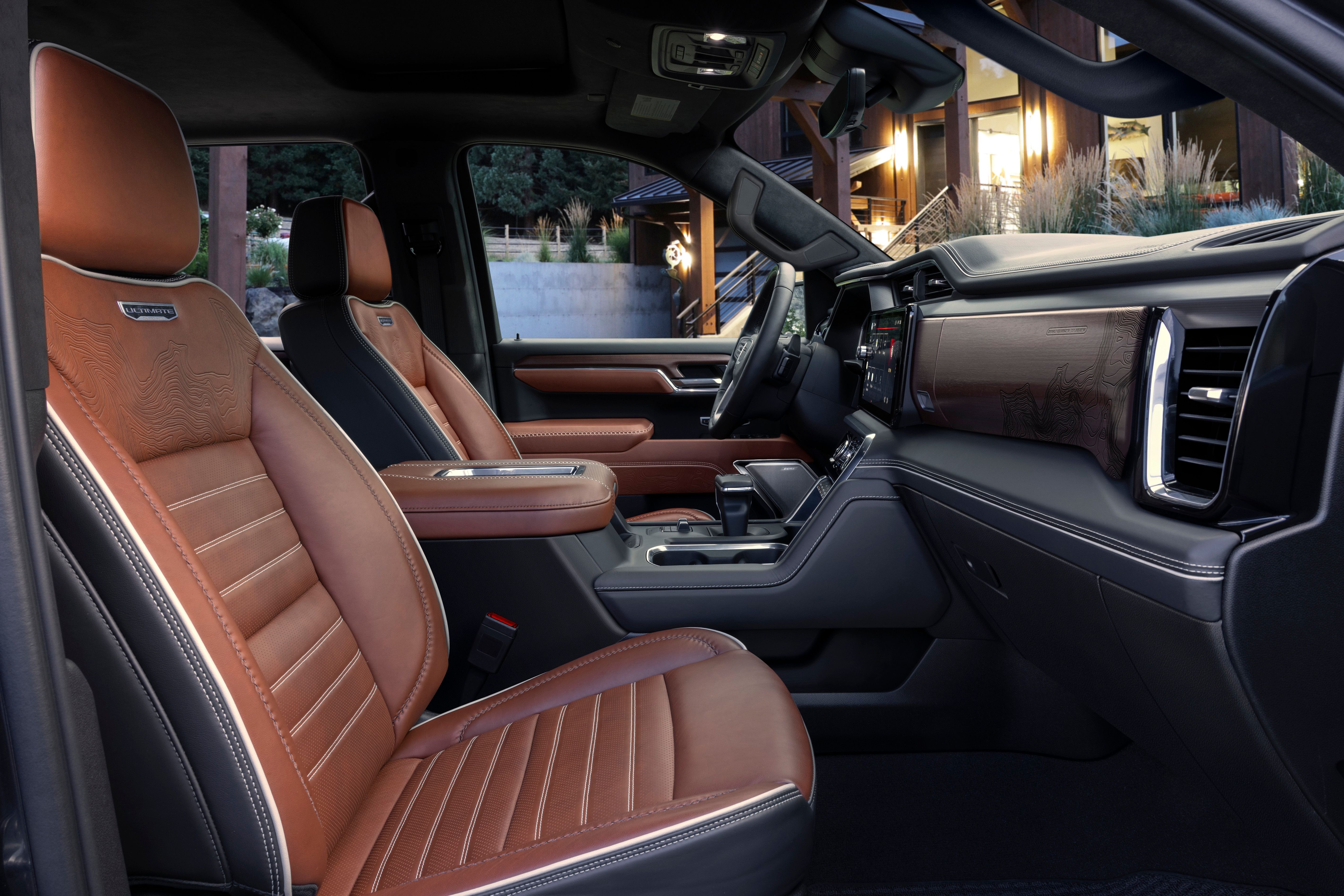 The automaker has opted for full-grain leather-covered seats, door panels and console lids. There's also a leather-trimmed instrument panel and micro-suede upholstery that makes you feel like you're sitting in a car from a luxury brand.
Loaded with technical features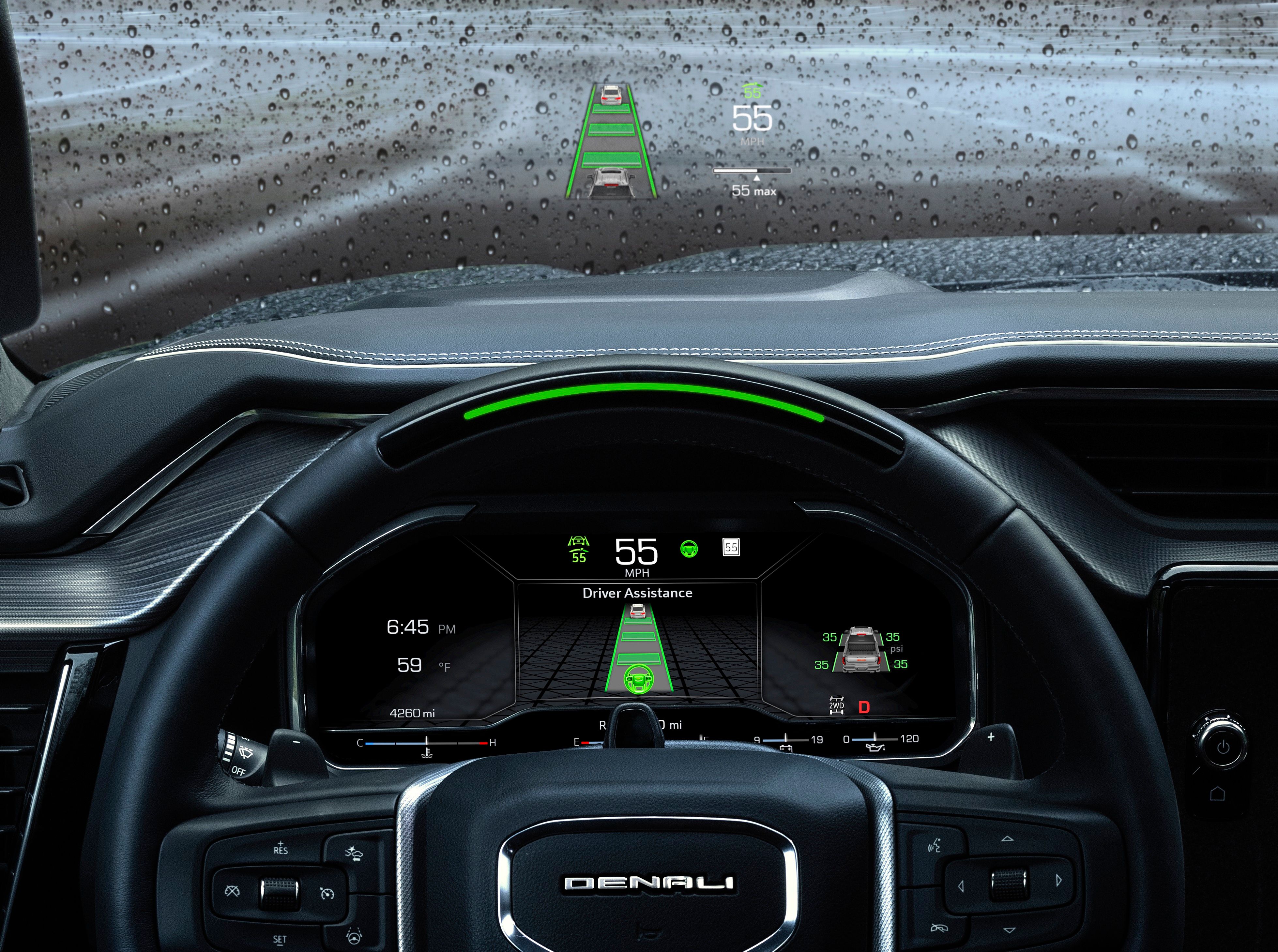 GM's Supercruise hands-free technology has also made its way into the GMC lineup. It can be used on 200,000 miles of compatible roads in the US and Canada. The technology even supports Automatic Lane Change. To make it even better, the technology is compatible with trailering as well.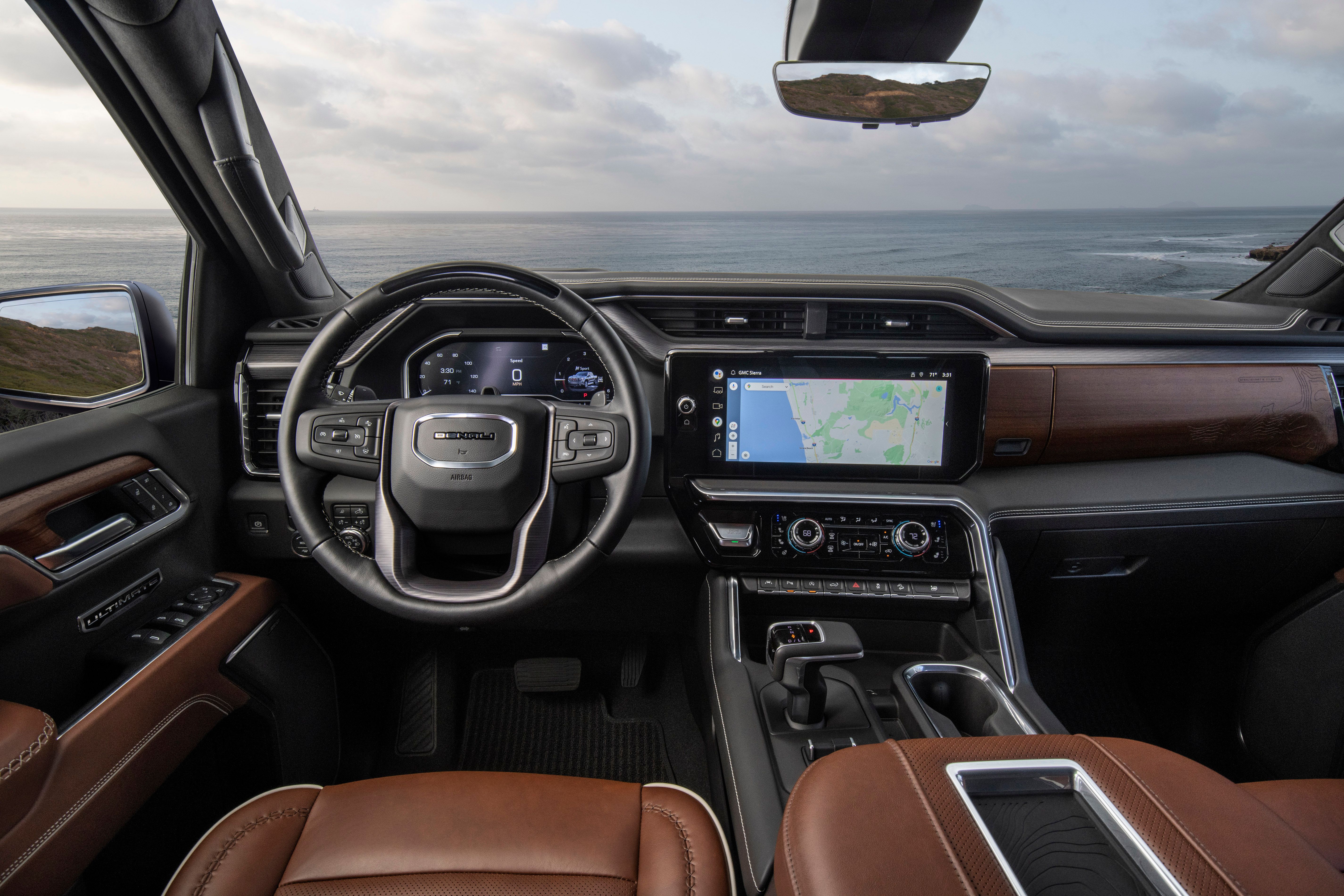 A 12.3-inch digital instrument cluster comes standard on the GMC Denali Ultimate. The center console is adorned with a 13.4-inch touchscreen infotainment system. Some other features you get here include a 15-inch diagonal multi-color Head-Up Display, a 16-way power adjustable front seats that also come with a massage function, a Bose Premium Series sound system with 12 speakers and a power sunroof,
Exquisite appearance on the outside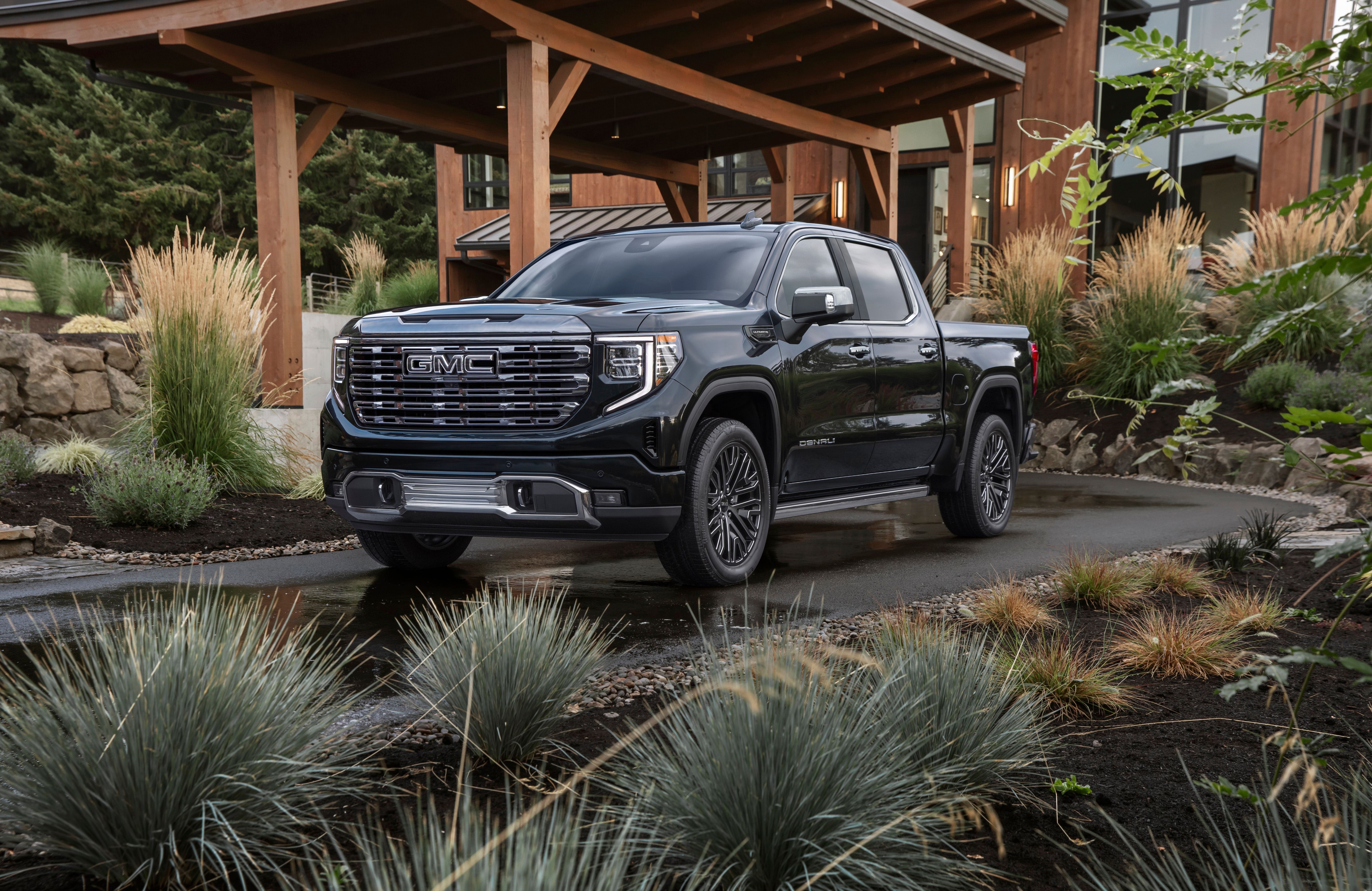 The Sierra 1500 Denali Ultimate looks opulent on the outside. It comes with a unique Vader chrome grille to differentiate it from the other models. It rides on 22-inch low-gloss black wheels with machined accents. There are topographic map patterns and GPS coordinates for Mount Denali on the outside and inside.
MultiPro tailgate for improved versatility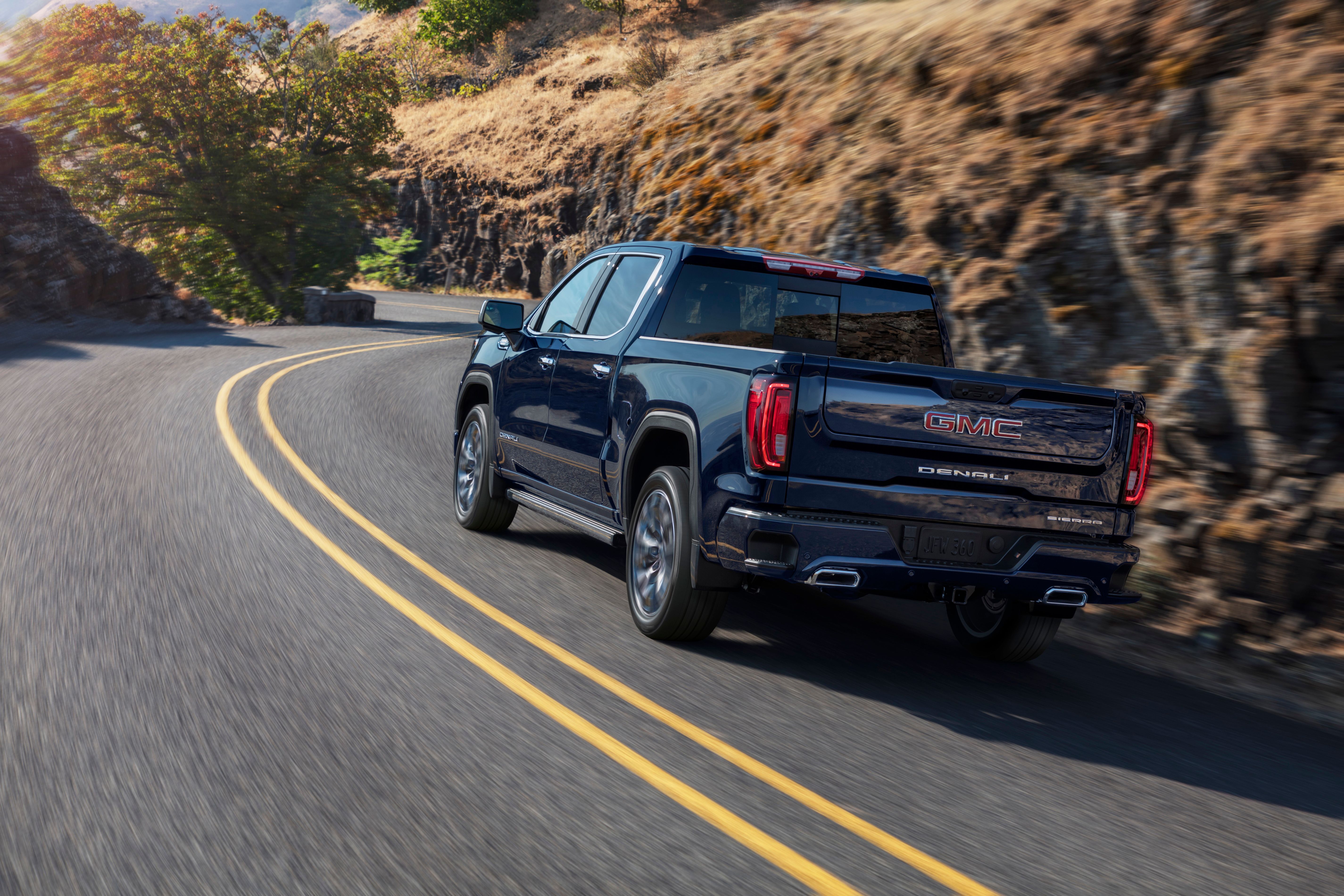 Multifunction tailgates are the new norm. GMC introduced the MultiPro tailgate back in 2019 on the Sierra 1500. It can be operated in six different ways for six different purposes. Unlike Ram's MultiFunction tailgate which comes with swing doors, the MultiPro tailgate has another small tailgate with the main tailgate that can be used for a variety of purposes.
First of all, it can be operated like a conventional tailgate that can be folded down. When the gate is opened at a 90 degree angle, you can open the inner cargo stop for the tailgate and it helps prevent items from sliding out. In this way, you can also access the bed without having to open the entire tailgate. In this position, it also acts as a work surface and can be used for loading on the second level.
Additionally, this small inner tailgate can also be used as a step to climb into the bed when the main tailgate is opened even further, acting as a retractable step. It can hold up to 375 pounds of weight.
CarbonPro Cargo Box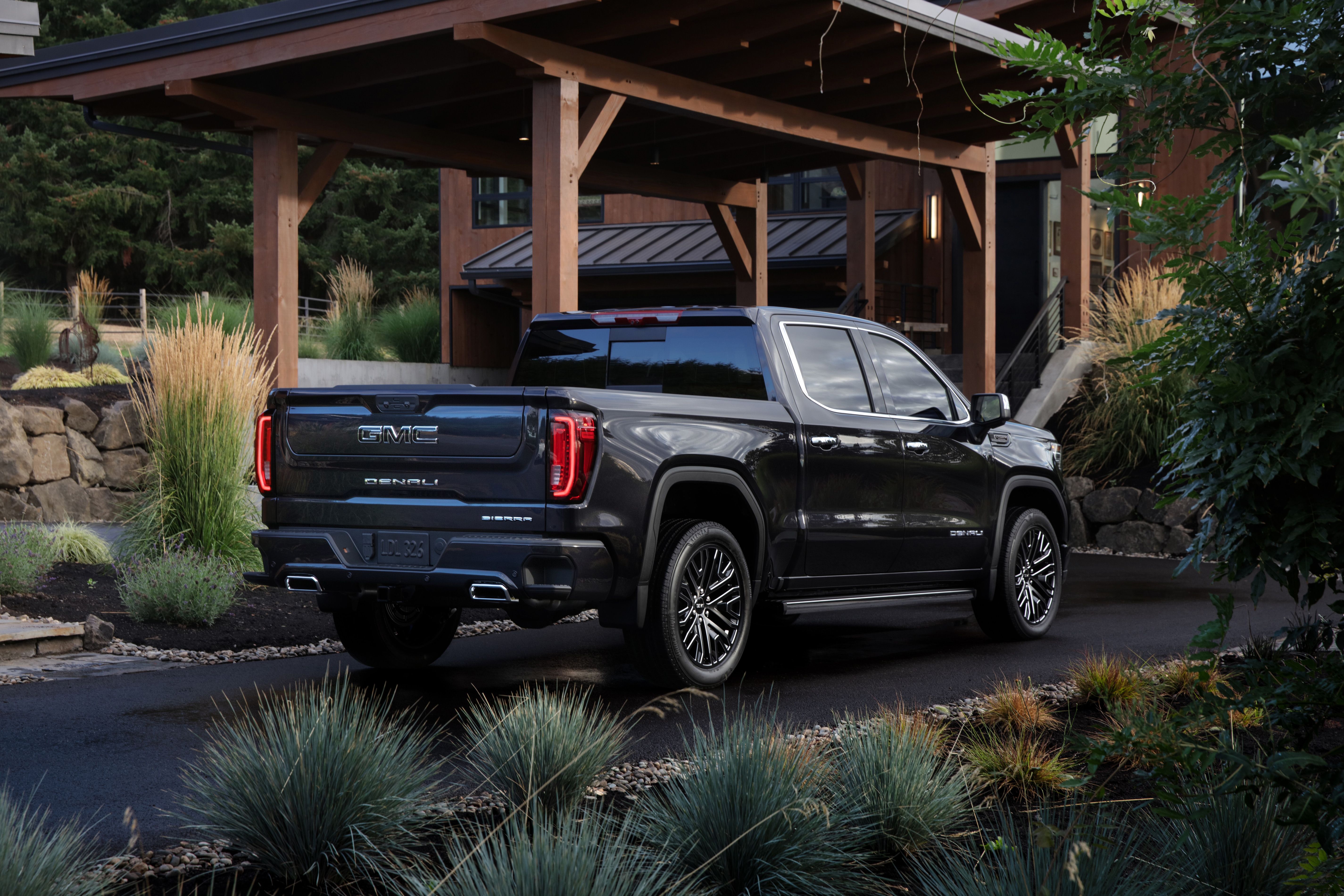 The 2022 GMC Sierra 1500 Denali Ultimate also has a CarbonPro composite cargo box, which isn't exactly new, but is incredibly useful. Given that this is a luxury truck, there is very little chance that the truck will be abused or used for commercial purposes. But GMC still offered this carbon bed on the Denali Ultimate, which is more about bragging rights than utility, you'd think. When the automaker launched the Denali CarbonPro a few years ago, engineers tested it by dropping cinder blocks from various heights, throwing 450-pound steel drums and 1,800-pound gravel and water-filled steel drums, and even had a 250-pound man ride a snowmobile into the bed. But the CarbonPro bed took it. While it may not be used to its limits in Denali, it's still a good option to have.
Driveline options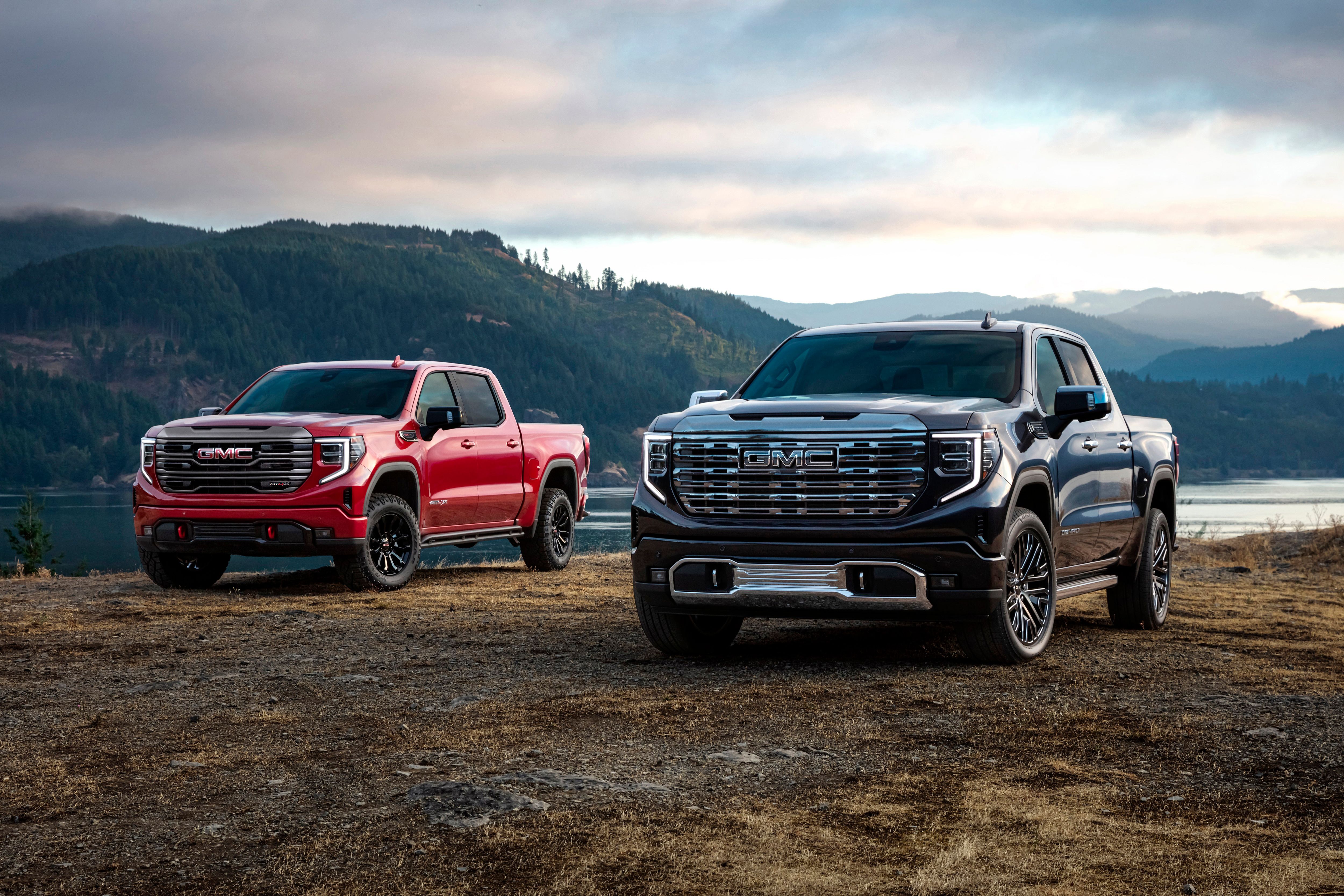 The GMC Sierra range is offered with four different engine options. The first is the 5.3-liter V-8 that makes 355 horses at 5,600 rpm and 383 pound-feet of torque at 4,100 rpm. GMC has paired this with a 10-speed Hydra-Matic automatic transmission. Next up is the 6.2-liter, V-8 that makes 420 horses at 5,600 rpm and 460 pound-feet of torque at 4,100 rpm. A 10-speed Hydra-Matic automatic transmission drives the wheels in this case as well. An all-wheel drive system and electronically controlled two-speed gearbox are included as standard.
The other two options available are the 3.0-liter six-cylinder turbodiesel and the new 2.7-liter four-cylinder turbo mill. The diesel mill makes 277 horses at 3,750 rpm and 460 pound-feet of torque at 1,500 rpm. Power is routed to the wheels via a 10-speed Hydra-Matic automatic transmission. The 2.7-liter, four-cylinder turbo engine generates 310 ponies at 5,600 rpm and 420 pound-feet of oomph at 3,000 rpm, and is mated to an eight-speed Hydra-Matic automatic transmission.
Luxury offer, premium prices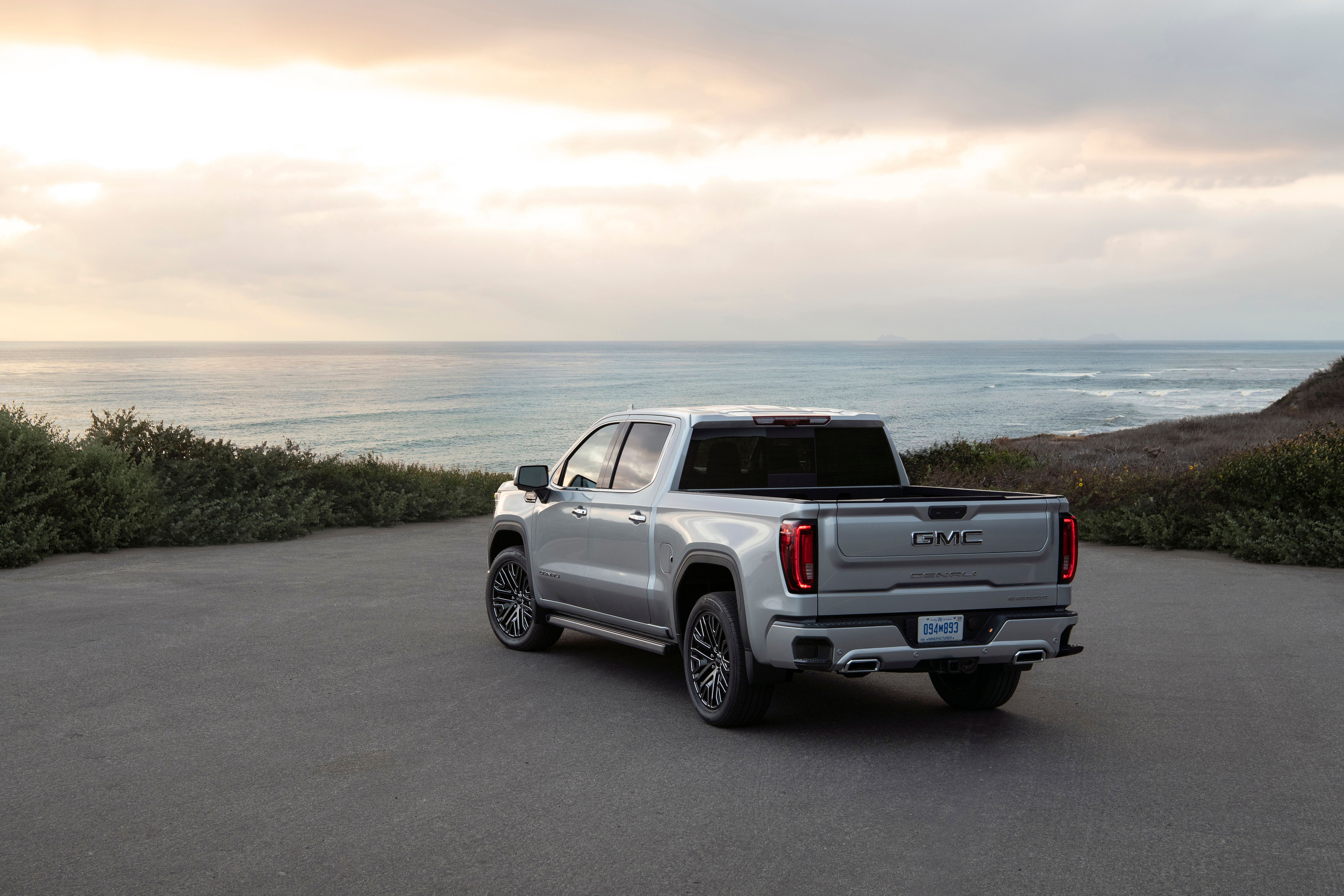 The 2022 GMC Sierra Denali starts at $67,895, while the GMC Sierra Denali Ultimate starts at $81,195. These aren't exactly affordable trucks, but with the stuff on offer, they weren't expected to be cheap in the first place. Expect the truck to creep closer to six figures with optional goodies and packages.
FAQ
Q: How much does a GMC Sierra cost?
The 2022 GMC Sierra 1500 starts at $37,195 and goes all the way up to $83,695.
Q: Are GMC Sierras a good truck?
The GMC Sierra is one of the top four trucks, which also includes the Ford F-150, Chevrolet Silverado 1500 and Ram 1500. It comes with its unique set of pros, such as offering best-in-class 4WD diesel towing capacity of 13,000 pounds, the most powerful diesel engine in class, front and rear e-cabinets, and available Super Cruise hands-free technology, among others.
Q: Is GMC better than Chevy?
Although seen as Chevy's sidekick, GMC vehicles are arguably more stylish and luxurious. They are also built to look much more muscular and carry a lot of character.
Q: What is better a Denali or Sierra?
Denali and Denali Ultimate are the incredibly luxurious and advanced models of the Sierra pickup. They are inherently better than the regular Sierra models in every way.