MOPAR fans have enjoyed the Hellcat engine for nearly a decade, while Dodge still plans to bring us powerful V-8 Hemi engines, they are headed for extinction. Be that as it may, the supercharged V-8 is still there and this Jeep Grand Cherokee Trackhawk featured on That Racing Channel is a perfect example of what the Hellcat engine is capable of once you get out there and modify it. This one is a perfect example of what advanced construction, along with some interesting decisions, can do.
Making a case for a 5,400 pound behemoth on the drag strip
The TRC Invitational is where this modified Jeep Trackhawk shows what it's got. The curb weight of 5,400 pounds (2,450 kg) and the brick-like shape is an obvious drawback, especially compared to the competition, which is a BMW S1000RR motorcycle. The Bavarian squat rocket has a 999 cc, inline-four engine that develops 205 horsepower (151 kilowatts) at 13,000 rpm and 83 pound-feet (113 Nm) at 11,000 rpm.
The bike has an obvious aerodynamic advantage and also has a wet weight of just 434 pounds (197 kg), which is almost 12 times lighter than the Jeep. However, the Jeep has eight times more power and an endless supply of torque and traction thanks to its all-wheel drive system and fully built eight-speed automatic transmission, built by Pure Drivetrain Solutions.
The biggest achievement of the Grand Cherokee is, of course, the engine. The 6.2-liter Hellcat V-8 has been modified by EMP Performance and now has 411 cubic inches (6.73 liters) of displacement. The engine has been completely rebuilt and features a custom twin turbo setup, consisting of two 68mm precision turbos, low hidden. "They are also so hidden when you want to work with them," adds the owner.
A controversial modification that is for the better
If you're a MOPAR fan, you might find the owner's decision to swap out the stock 2.4-liter supercharger for a twin-turbo setup a little odd. While the iconic supercharger vine is gone, the twin-turbo setup comes with its own set of great sounds minus the parasitic effect. Out of the box, the Trackhawk is faster than most people would ever need. With 707 horsepower (527 kilowatts) and 645 pound-feet (875 Nm), the Trackhawk manages a sprint from 0 to 60 mph (97 km/h) in 3.5 seconds to a top speed of 180 mph (290 km/h).
This modified example, as you can see from the video, completes the quarter mile way under the standard model's 11.7 second time and 187 km/h (116 mph) top speed. Not only is the twin-turbo setup better for peak power, but in this particular case it operates at 25 Psi (1.7 bar), which is more than double the Hellcat engine's 11.6 psi (0.8 bar ) gain.
The Demon Mod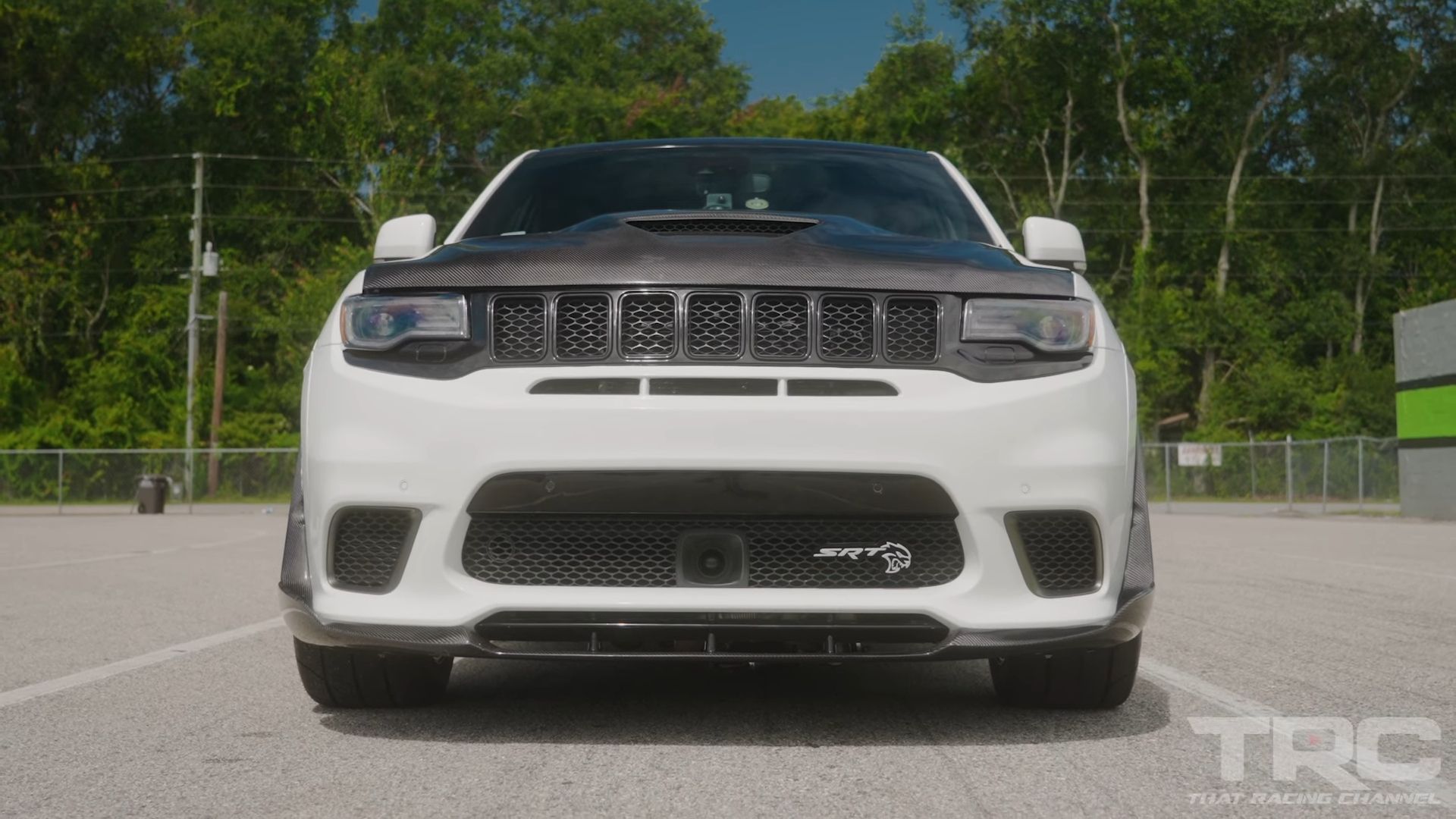 When the Dodge Demon came out, it came with a lot of cool features. We won't mention the obvious things like out-of-the-box wheelie capability or the 9.65-second quarter-mile time, as I'm sure those are facts you're well-acquainted with. However, this Trackhawk has a modification that is standard on the Demon. A/C can be used to cool the air entering the engine, instead of cooling the interior of the car. This Jeep Trackhawk has a similar mod that allows the A/C to bypass the interior and cool the engine instead.
The five-spoke weld wheels and Mickey Thompson tires suggest that this Jeep will likely never see a dirt road in its foreseeable life. The lowered stance and carbon fiber additions like the front splitter, rear spoiler and front hood further distance the Grand Cherokee from its ancestral roots. Other must-have mods for this high-horsepower build include a beefier nine-inch rear axle, carbon fiber driveshaft, built transfer case, larger injectors, upgraded intercoolers, and even a rear seat removal, to name a few.
Typically, this is a project that is not yet finished. The owner believes it can go even faster as it currently runs a street map and not a more radical race map. Braking power has been entrusted to a set of Brembo brakes. The modified Jeep Trackhawk certainly makes all the right sounds. It's fast enough to beat a crouching rocket in the quarter mile and still has a full interior (sort of), technically making it a very quick family car that packs Bugatti Chiron levels of power. As the Hurricane inline-six slowly worm its way into the engine bays of Stellantis models begs the question, could the new twin-turbo engine replace the old V-8 Hemi?