Moab, Utah isn't Jeep's historical home, but it just might be its spiritual one. Thousands of feet of red sandstone mountains have been carved by millions of years of wind and water. The thinly populated spec on a map is as isolated as a visitor wants it to be.
In recent years, the town has boomed thanks to outdoor enthusiasts who are willing to spend money on house rentals and hotels instead of camping. Four-wheel drive is as prominent as boots covered in a murky layer of dirt and dust.
This is where Jeep brought automotive journalists to test the next generation Grand Cherokee. Perhaps the most important model in the company's lineup, the fifth generation builds on tones already set by its forebears, as well as the latest Jeep family member, to create a compelling package.
Now sold in just one two-row variant (the three-row Grand Cherokee L is a different, but similar beast), the Grand Cherokee has a lot more going for it than just a nicely appointed interior and up to 11.3 inches of ground clearance.
The exterior has received a reboot in line with the Grand Cherokee L. It is attractive and plays with the SUV's new architecture to make the Jeep more aggressively positioned but at the same time passively tuned.
The Grand Cherokee is available in seven trim levels with the buyer's choice of two- or four-wheel drive in all but the top-of-the-line Grand Cherokee Summit Reserve and mid-level Trailhawk where 4×4 is standard.
Right now, buyers can get their Grand Cherokee with either a 3.6-liter V6 engine or a 5.7-liter V8 engine. A plug-in hybrid variant, the Grand Cherokee 4xe is coming soon. The V8 is more powerful, making 357 horsepower and 390 pound-feet of torque to the V6's 290 horsepower and 257 pound-feet of torque.
The trade-off with the V8's more satisfying pulling power is fuel economy. Its EPA-rated to achieve 14 mpg city and 22 mpg highway compared to the V6's 19 mpg city and 26 mpg highway numbers. For a two-row SUV, those numbers aren't great. But that's a hole the Grand Cherokee 4xe will likely fill when it hits the market.
The time behind the wheel is exactly as expected. There's nothing particularly sporty or engaging about the way the Grand Cherokee handles, but it performs its pavement duties acceptably and generally behaves.
Off the beaten track, the SUV tackles rocks, trails and steeps with ease, just as expected, with varying degrees of capability based on the suspension and powertrain chosen.
You don't need a specially equipped Trailhawk model to conquer most terrain with Jeep's wide range of four-wheel drive options making the Grand Cherokee more capable than most of its competitors.
In the most well-equipped models, this means that the Grand Cherokee feels both heavy and robust. Its weight gives the occupants a sense of protection, but it also means the Jeep isn't as obviously nimble as other two-row SUVs. The bulkiness of the design also interferes with sight lines.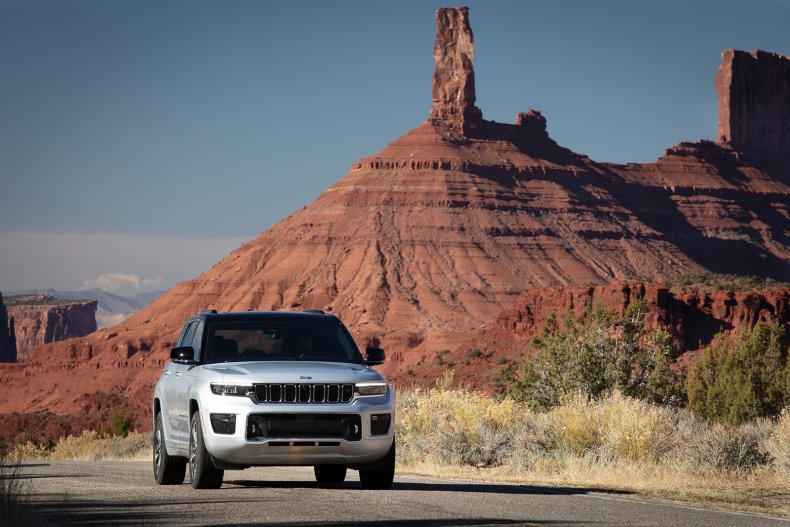 Opting for a trim that gives drivers a forward-facing camera helps, but latency between what's ahead and what's displayed, as well as issues with depth perception and contrast, make it unwise to rely on the technology for any length of time. Still, it's much better than similar cameras in the Subaru Outback and Nissan Pathfinder.
The SUV features a 19-speaker McIntosh audio system, available on the top-of-the-line Grand Cherokee models, and it offers a premium listening experience better than that found in almost any other SUV on the market. It's a boon for Jeep, not only because of the sound quality, but also because of the speaker placement. McIntosh and Jeep co-designed the soundscape from the ground up rather than retrofitting it to the model, and it shows.
Jeep also wins for having comfortable seating for four adults (five people total) in its Grand Cherokee and finally upholstered and appointed surfaces that would traditionally be much more at home in an SUV with a luxury price tag. From available supple, honey-colored leather to real wood and metal, the company's designers have once again outdone themselves and raised the bar for a two-row Jeep SUV.
It has a good amount of cargo space for its size. Small item storage in door pockets and the center console is also adequate.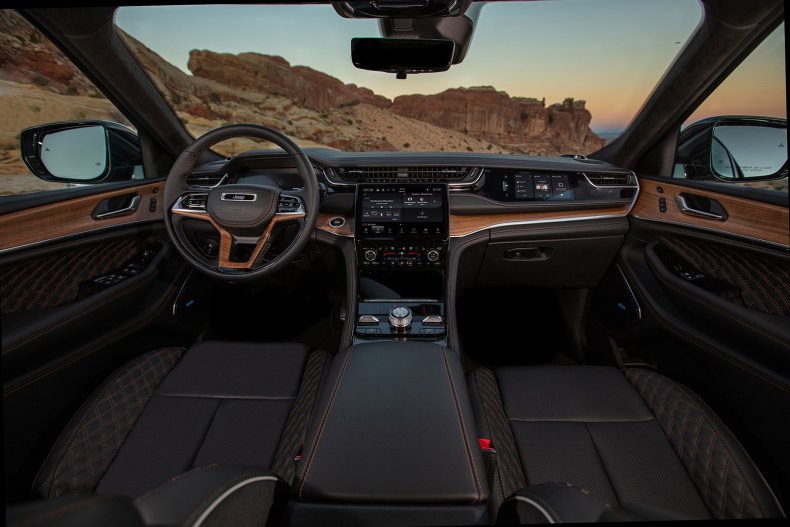 The automaker has loaded up the Grand Cherokee with a long list of desirable standard features that more than befit its price tag. Dual-zone automatic climate control, a 10.25-inch all-digital gauge cluster, an 8.4-inch infotainment touchscreen, USB ports, Bluetooth, a Wi-Fi hotspot, tethered Android Auto and tethered Apple CarPlay are on the list.
It comes with a 10.1-inch infotainment touchscreen, a 10.25-inch passenger-side touchscreen, navigation, satellite radio, wireless smartphone charging, wireless Apple CarPlay and wireless Android Auto.
The company's Uconnect 5 infotainment operating system isn't just easy to look at – it's easy to use. The tech team has outdone themselves and made an Android-based system that allows users to customize their experience and keep priority features a tap away.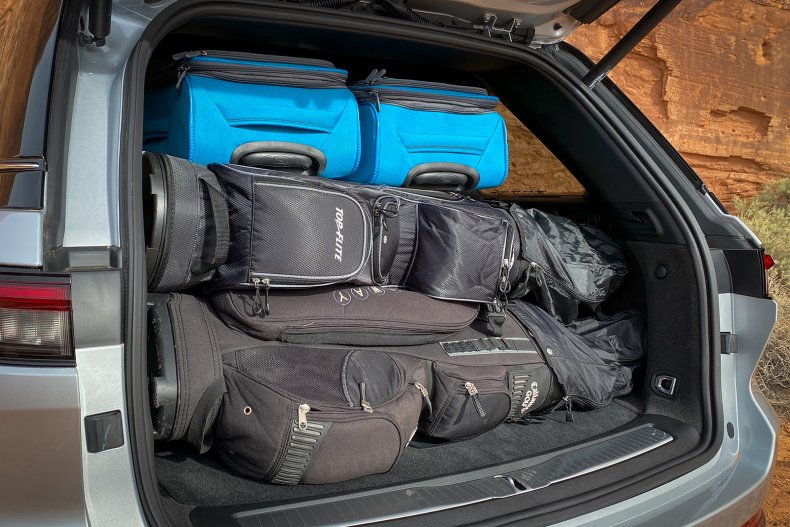 Nevertheless, some of the infotainment technology is still problematic. Switching between navigation and Apple CarPlay seems to be a particular sore spot, causing the screen on more than one occasion to black out or freeze, requiring a reboot via a session sitting on the side of the road. This number has also been featured in the Wagoneer, Grand Wagoneer and Grand Cherokee L.
Unlike other automakers' safety and driver assistance systems, the Grand Cherokee's practical driving technology isn't intrusive or difficult to get just right. Its intuitive operation and guiding hand make long-distance journeys a lighter burden but don't take away the nuances of the driving experience.
The easiest way to get to Moab is by plane, straight into the airport 20 minutes outside of town where visitors collect their bags through an opening in a metal fence generously labeled as Baggage Claim.
The more difficult way to get there, although much more scenic, is a drive down from Salt Lake City, up from Phoenix, or over from Las Vegas, with not much between the starting point and destination on either route.
On the road is this Grand Cherokee's natural environment, a place where it must put its power, agility, comfort and high-tech features to the test. The Jeep would be right at home on the long drive into Moab as well as on the trails around the area. It's a sweet spot for a pretty sweet ride.