Tucson is the best choice. Superb engine, gearbox, Hyundai backing, comfortable, features etc. Second hand choice Compass Diesel AT.
Hyundai Tucson 2022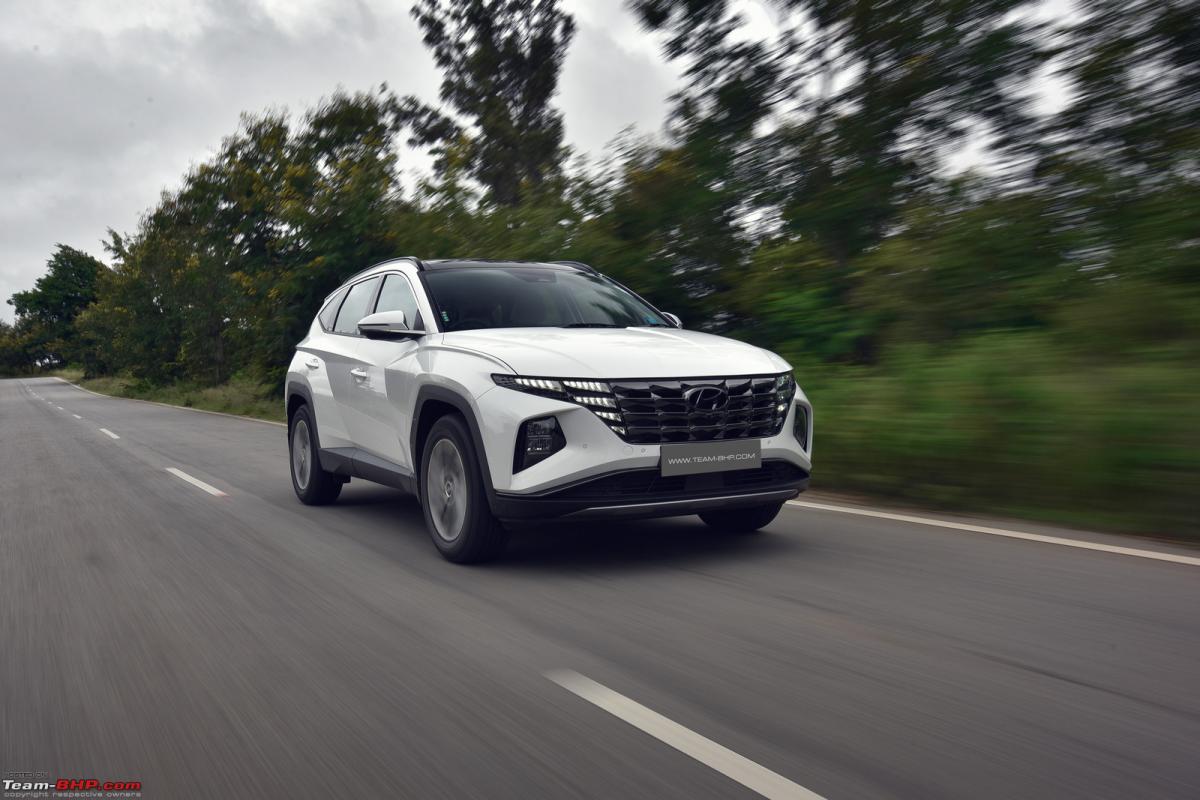 Hyundai Tucson pro
A futuristic looking, well engineered premium SUV
Complete urban package with comfortable suspension, light steering and smooth automatic transmission
The 2.0L diesel engine is not only refined, but powerful as well
540 liters of luggage space is enough to transport holiday luggage
ADAS safety features like autonomous emergency braking, blind spot monitor and lane assist are cool and work reasonably well
Loaded with features like panoramic sunroof, multi-air mode AC, ventilated and heated front seats, connected car technology, wireless charging, front seat boss control etc.
5-star Euro NCAP rating. 6 airbags, ESC, VSM, downhill brake control, TPMS, 360-degree camera and more
Hyundai Tucson Cons
Edgy looks & funky styling may not be to everyone's taste
At ~43 lakhs on the road for the top model, the Tucson is expensive!
Not as engaging to drive as the Kodiaq or Tiguan
Natural gasoline is not as powerful as competitors' turbo gasoline units
Other crossovers and SUVs offer a 3rd row of seats. The Tucson is only a 5-seater
Some missing features like paddle shifters, rear sun visor…
The Hyundai brand lacks the snob value that many 40 lakh rupee customers are looking for
Link to review
Jeep compass
Advantages of Jeep Compass:
Handsome Cherokee-inspired styling and loads of character
Solid construction. Feels very robust, just like a Jeep should
Powerful 2.0L diesel. Good drivability in town, fast on the open road
1.4L turbo petrol produces 161 hp! Provides fast performance.
Mature suspension setup, nicely tuned EPS and rock solid stability
Capable AWD available (unlike some competitors)
City-friendly: Compact size, higher seating, smooth shifting, smooth clutch and low NVH
Top-class safety: Powerful disc brakes, a host of electronic aids and 6 airbags
We think the compass is well priced for what it offers. The driving experience and the overall package feel first class
Jeep Compass Disadvantages:
Small size for the price! A sentiment echoed by most who saw it in person
Suitable for 4 adults, not 5. The boot is also small
Inexplicably, only the AWD Diesel gets 6 airbags! All other variants have 2
Small dealer network. In addition, aftermarket quality and long-term reliability are unknown factors
The AWD's premium is over 2 lakh rupees on the road. Includes 4 extra airbags, but is still too much
Turning radius of 5.65m is wide. Also, 17º approach angle is too low
Missing goodies (forms on the steering wheel, automatic dimming IRVM, automatic wipers and headlights, lumbar adjustment, folding rear seats)
Link to review
Link to review – The Petrol AT
Link to Report – The Trailhawk
Citroen C5 Aircross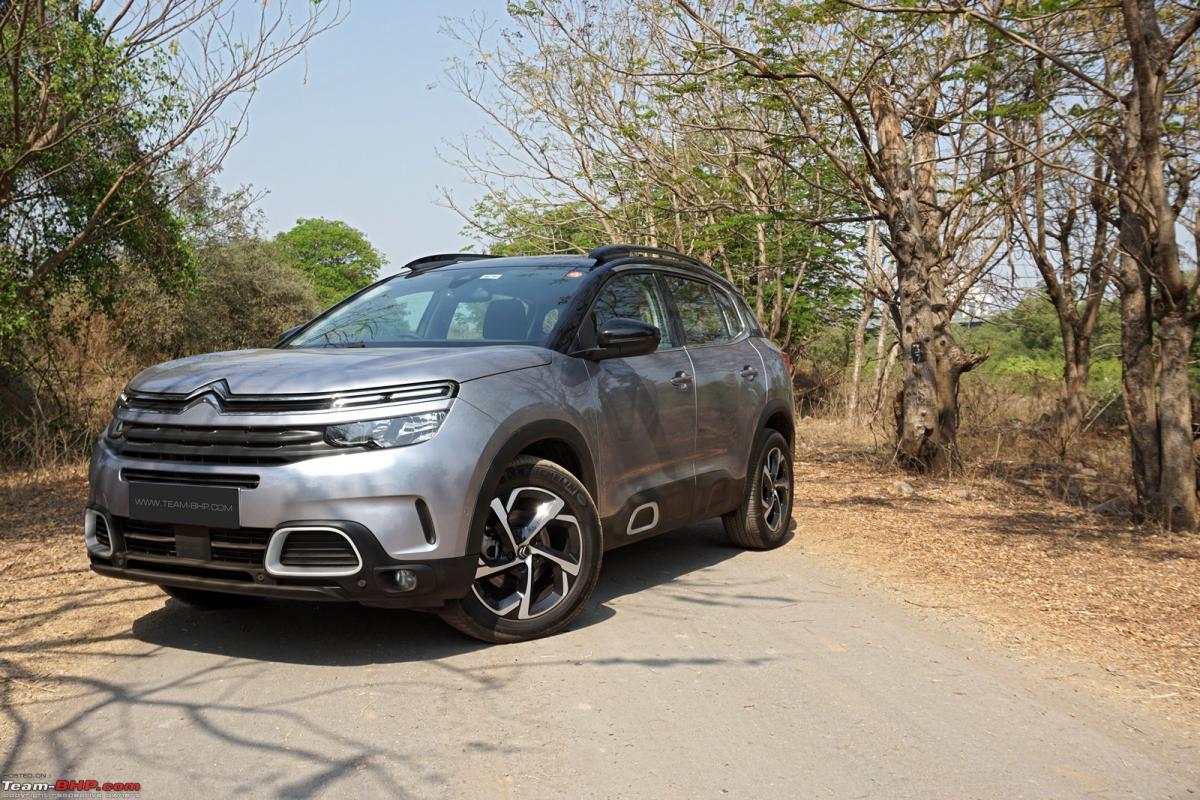 Citroen C5 Aircross Pro:
A superbly engineered and accurate premium crossover
Very stylish exterior & interior! We love the design. It's matched with solid build quality
Good quality cabin with comfortable seats, lots of storage & great insulation
The 2.0L diesel engine is fast, efficient and extremely refined
Smooth 8-speed AT gearbox impresses
Excellent ride comfort and mature road condition. High speed behavior is also sorted
Large, shapely 580-litre boot devours holiday/flight luggage
Loaded to the gills with features like a panoramic sunroof, hands-free tailgate opening, customizable dashboard, dual laminated front windows, off-road modes…
4-star rating in Euro NCAP crash test. 3-point belts for all five passengers, 6 airbags, blind spot monitoring system, ESP, hill hold, hill descent control and more
Citroen C5 Aircross Disadvantages:
The legroom in the back is absolutely sufficient. Two 5'10" adults can sit behind each other, but not two 6-footers
No turbo petrol engine (big miss), no AWD for tourers and no manual gearbox for MT fans
Not really sporty to drive. Cars like the Compass are more fun
Missing some features we expect today (connected car technology, wireless charging, ventilated seats, 360-degree camera, subwoofer…)
The reinforcement of the 3 individual rear seats are suitable for slim passengers, not heavier ones
The sound quality is okay, but nothing special that you would expect in a premium car
Many competing crossovers and SUVs offer a 3rd row of seats, which the C5 Aircross does not have
The LHD orientation for many controls (shifter, e-brake, hood release, engine start button)
Long-term reliability and aftermarket service quality are big unknowns
Link to review
Volkswagen Tiguan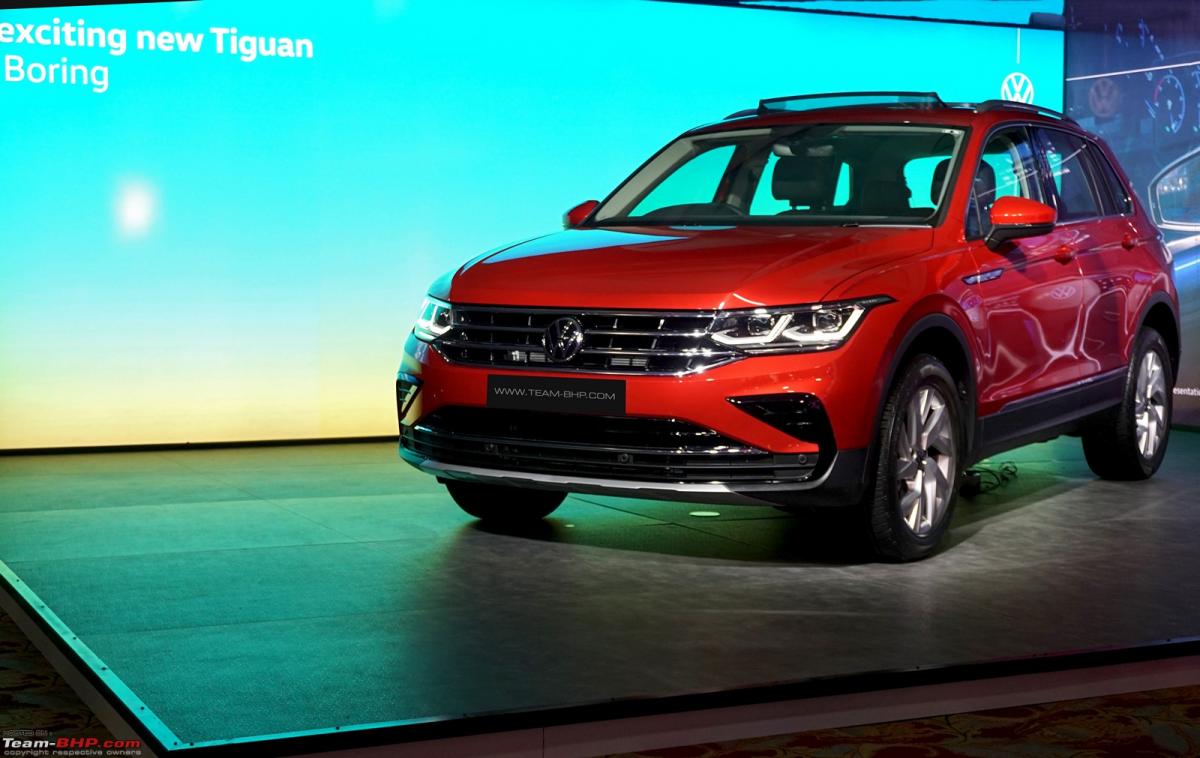 Link to review
Skoda Kodiaq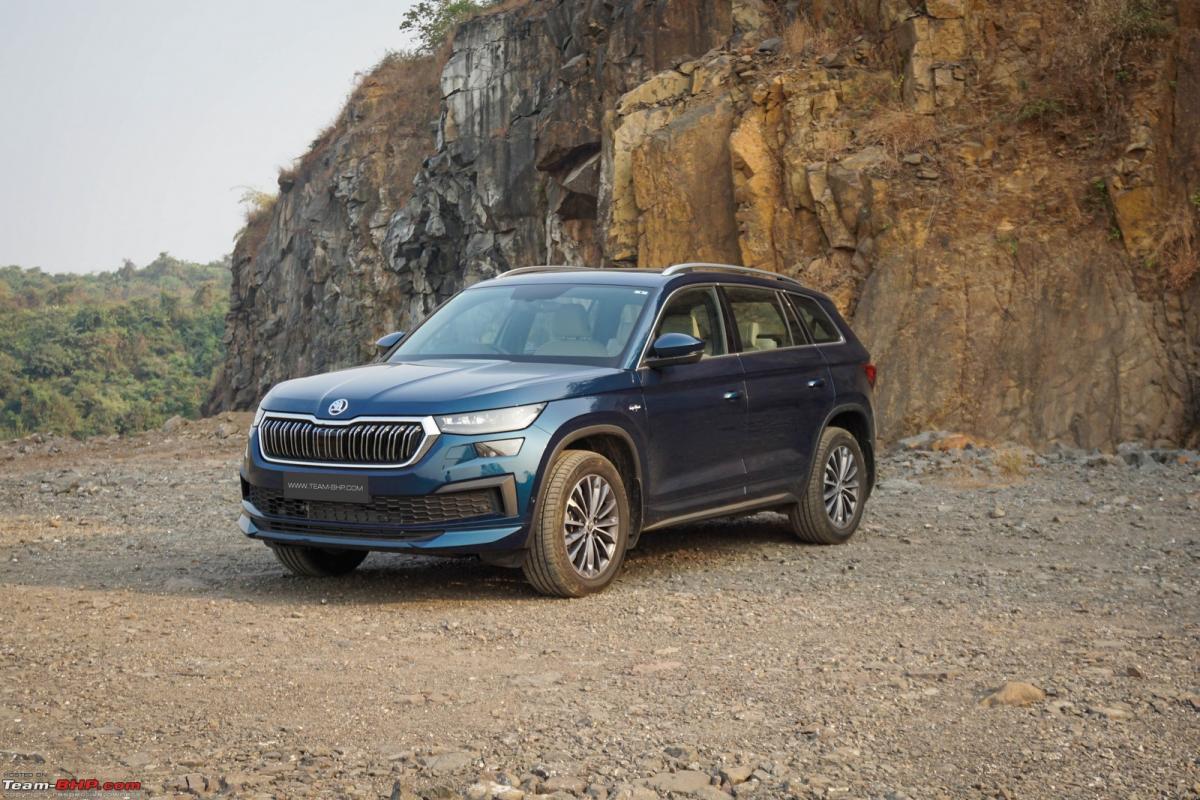 Skoda Kodiaq advantages:
The ultimate "currency luxury" SUV! Stylish style, solid construction and superb quality
The cabin offers space, functionality and lots of intelligent features
Impressive 2.0L turbo petrol is mated to a fast 7-speed DSG automatic
Soft ride quality in "Comfort" mode (L&K variant)
Sorted handling and road conditions in "Sport" mode. Adjustable suspension is a USP for L&K
The 3rd row of seats is an advantage compared to some 5-seat competitors
Massive boot with 3rd row of seats down. The boot is also usable with the 3rd row of seats up
Impressive kit (12-speaker Canton ICE, panoramic sunroof, 360-degree camera, automatic parking…)
AWD is available to get you out of tricky situations. Tourers will love it
5-star safety rating and equipment (9 airbags + a host of electronic aids)
Skoda Kodiaq Disadvantages:
The Workhorse 2.0L turbodiesel is no longer available. Heavy users will miss its low operating costs
Single-digit fuel economy for the turbo-petrol AT in the city. Drops drastically if you drive aggressively
Its sibling, the VW Tiguan, is priced a couple of lakhs cheaper
Expensive! Even worse, Skoda increased the Kodiaq's pricing within days of its launch
Cramped 3rd row seats are strictly for small children. A 5+2 SUV, not a 7-seater
Styling looks Estate-ish from some angles. Doesn't have much street cred or presence
We feel the 'Sportline' variant should have been offered with DCC and other L&K features
Skoda's infamous dealer network and after sales horror stories
Skoda's spotty long-term reliability track record (including, but not limited to, DSG)
Stupid feature removals from older Kodiaq (rear door sills, 1 umbrella, 1 blanket, chrome tip on power window buttons, removable flashlight in trunk, red warning lights on front doors…)
Link to review
Jeep Meridian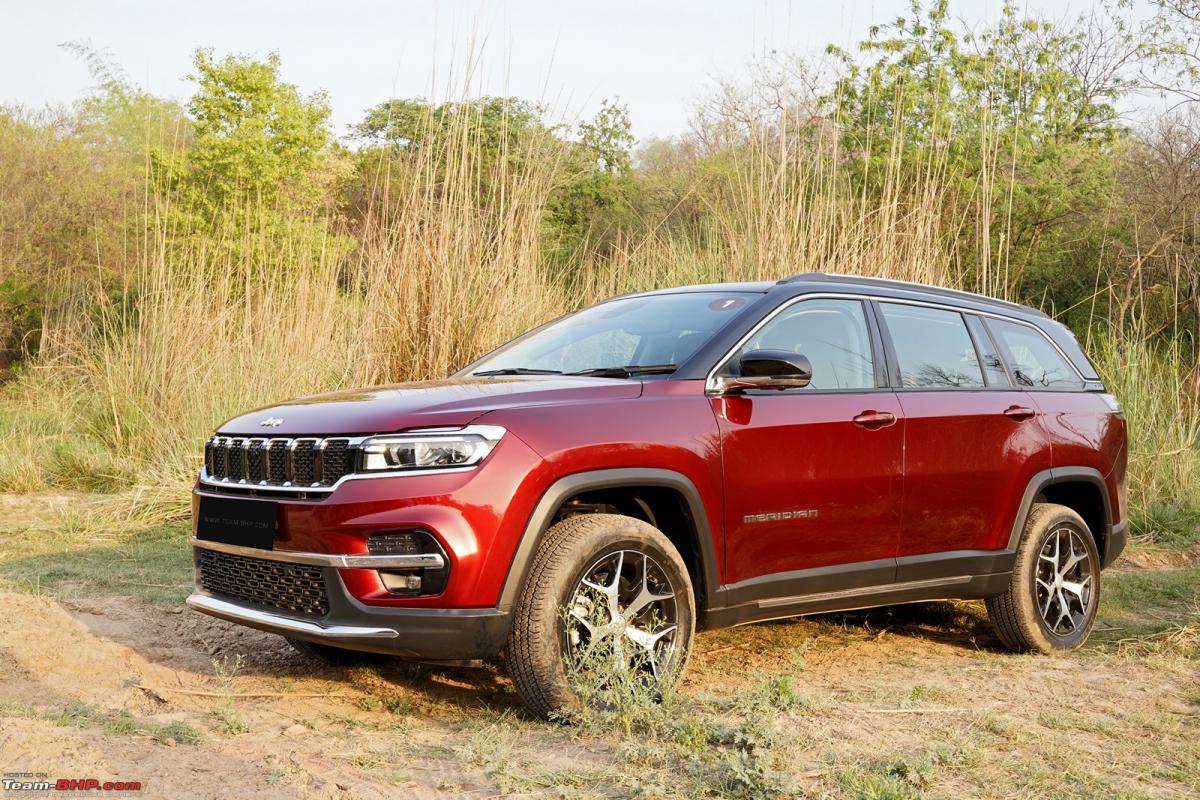 Advantages of the Jeep Meridian:
Handsome unmistakable Jeep styling and loads of character
Robust build quality. Feels very solid, just like a Jeep should
The elegant cabin now has versatile 5+2 seating and better accommodation compared to the Compass
Competent 2.0L diesel. Good drivability in town, fast on the open road
Mature suspension setup, nicely tuned EPS and rock solid stability
Capable AWD available, with 214mm of ground clearance
Packed with features: electric front seats (driver memory), panoramic sunroof, 360-degree camera, power tailgate, LED projector headlights…
Topnotch safety kit: Powerful disc brakes, a host of electronic aids and 6 airbags
Diesel AT is now also available without AWD, making it more accessible to city dwellers (Compass Diesel AT only available with AWD, 5 lakhs more OTR)
Jeep Meridian Disadvantages:
The cabin has limited width, can feel cramped for larger passengers. The 5th passenger (in the second row) will feel unwelcome
3rd row is strictly for children and small adults
Should have had more power for the price. The same 2.0L diesel available in SUVs from a segment below
No petrol engine in a market that is switching to petrol in a big way. Delhiites will be disappointed
The 9-speed automatic transmission is competent, but not brilliant
We would have liked to see front parking sensors, paddle shifters, gearbox "sport" mode, a sliding center row, more connected tech features (it's very basic at the moment)
At low speeds, the firm ride quality always keeps you aware of the road quality you're driving on
Jeep India's dealer and service network remains limited
Only the higher Limited & Limited (O) variants at launch. Not sure when smaller variants will follow
Link to review
Mahindra Alturas G4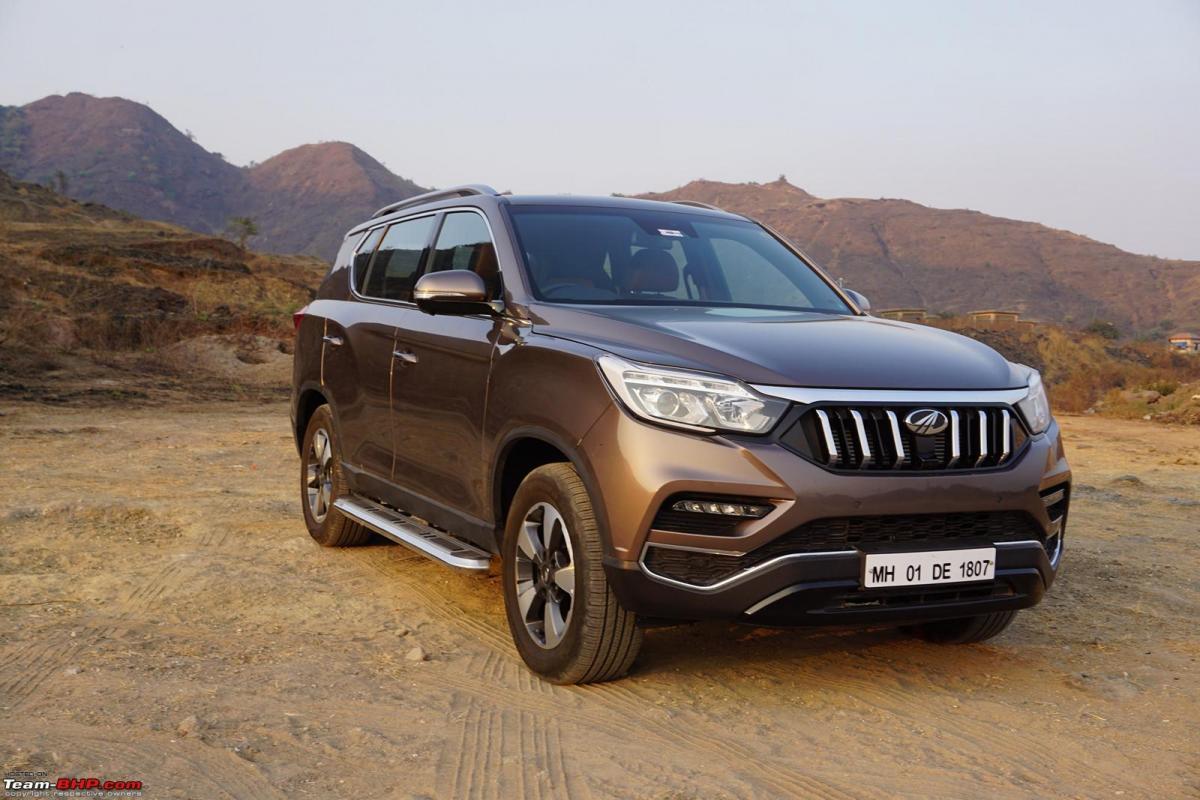 Link to review
Here's what GTO had to say on the matter:
Diesel: Tucson is the best choice. Superb engine, transmission, Hyundai backing, comfortable, features etc. My second choice Compass Diesel AT, but I'd choose the Tucson over it today. Sure, the Tucson is too expensive, but what car isn't in 2022? OEMs are in business to make money and will charge the maximum they think they can charge the customer.

Petrol: Kodiaq and I would wait months for delivery. It's a crossover that always punched above its weight, and is now better in its 2022 avatar with the faster turbo petrol engine and adjustable suspension. The "comfort" and "sport" suspension settings make a world of difference.

Let's keep this discussion around the car-like crossover options. Does not include body-on-frame SUVs such as the Fortuner & Gloster due to their higher price and size. Kept the Alturas only because it's among the cheapest here.
Here's what BHPian AYP had to say on the matter:
I would choose the Tucson diesel from the options listed here. Its diesel engine with more than 400NM of torque and close to 200 BHP of power is very hard to ignore, especially when diesel options are becoming more and more limited. IMHO, diesel has a very limited life left. I wouldn't be too surprised if 8-10 years down the line, diesels disappear for good or are limited to a very select list of cars. For all practical purposes, a person buying a diesel in the next 2-3 years will be the last diesel he or she will ever own. The TSIs and gasoline in general should continue to be available for at least the next 15-20 years if not longer.

For the second position, it's a very close call between the Meridian and the Kodiaq. From a neutral perspective, the Kodiaq is the best car rental period. But the Meridian offers a "decent" diesel while being luxurious enough on the inside. I would choose the Meridian diesel with a manual transmission over the Kodiaq. However, the Citroen C5 Aircross is a dark horse with its potent diesel+AT combo and its performance will in all likelihood push me towards it across the Meridian.

Overall: Tucson diesel> C5 Aircross> Meridian> Kodiaq> Tiguan> Compass diesel> Compass petrol> Tucson petrol> Alturas.
Here's what BHPian Gsynch had to say on the matter:
I have voted for the Jeep Meridian.

I took a TD of both the Meridian and the Tucson back to back and found the Meridian to be more bang for the buck for a city dweller. The Tucson Signature Diesel AT and the Meridian FWD AT Limited (O) are almost at the same price point and the Meridian offers much more. Gives the flexibility to use it as a temporary 7-seater when needed. Meridian interiors are half a step above Tucson interiors (purely subjective observation). Jeep is also a pure SUV brand known worldwide.

Finally and this may be important to many people, the Meridian is available within a couple of weeks while the Tucson D is on a 3+ month waiting list (which, in today's uncertain times, means a potential price increase when you get the car)
Here's what BHPian Shreyans_Jain had to say on the matter:
The Kodiaq is undoubtedly the best car here. From space to pace to finesse to sheer quality. Nothing like it. If you have the budget, this is a no-brainer.

The second choice will be the Jeep Compass, diesel manual. An absolute blast to drive, possibly the most fun to be had this side of a BMW. It's a good 10L cheaper than the other options listed here and is a phenomenal car overall. It is the perfect car for the enthusiast with a small family. Stellar fuel efficiency is an added bonus.
Check out BHPian's comments for more insight and information.