GMC is known for high-end trucks and SUVs. Two of their most popular are the 2022 GMC Sierra and the 2022 GMC Canyon. Here's how they compare.
2022 GMC Sierra
2022 GMC Sierra 1500 Starting Price: $30,800 | Price yours or See listings near you
Above average: More potent 2.7-liter turbocharged engine; new grille and headlight design; larger available touchscreen and head-up display; MultiPro flexible tailgate; standard digital instrument panel.
Below average: The best technology comes only with expensive luxury trim levels; long bed is only available with Regular Cab; Super Cruise is only available on the Denali lineup but standard on the Denali Ultimate.
Consensus: The 2022 GMC Sierra sees a half-cycle model refresh to address both exterior and, more importantly, interior design flaws. It now offers four engine options. A jump in diesel torque has a max towing capacity of 13,200 pounds.
2022 GMC Canyon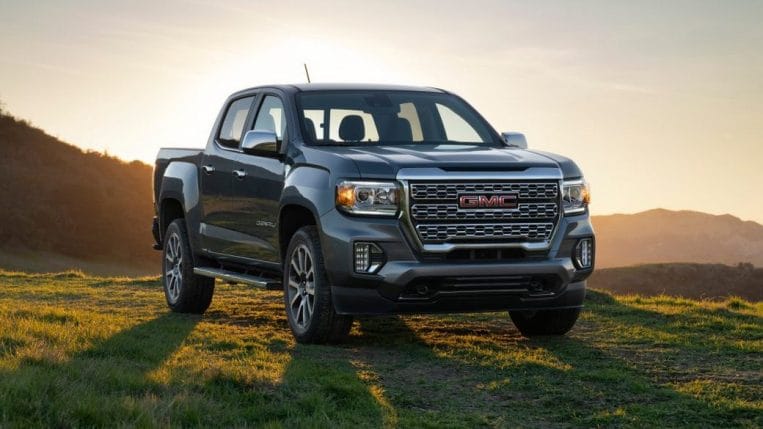 2022 GMC Canyon Crew Cab Starting Price: $26,800 | Price yours or See listings near you
Above average: Powerful diesel engine pulls up to 7,700 pounds; The AT4 package has off-road chops; fits well in a typical garage.
Below average: MultiPro tailgate not available; adding options quickly increases the price; high bed; Trim level names remain obscure and strange.
Consensus: GMC Canyon, which now resembles its larger Sierra sibling, has had its trim levels renamed. New for 2022: Optional Qi Wireless charging and a Denali Black Edition.
Sierra vs. Canyon: Refined practicality
2022 GMC Sierra
The interior of the 2022 GMC Sierra takes its cue from the 2021 GMC Yukon and better competes with rivals like the RAM 1500 and Ford F-150. It's more refined with a larger 13.4-inch touchscreen in the center and has an optional 15-inch head-up display to go with the 12.3-inch digital instrument cluster.
When the redesigned truck rolls out, GMC will offer 2022 Sierra 1500 Limited models that are essentially 2021 models, with the addition of the suffix. Both the Sierra and Sierra Limited models will go on sale at the same time.
The GMC Sierra can be configured with Regular, Double Cab and Crew Cab options. Engines range from a base 2.7-liter turbocharged inline-4 with 8-speed automatic transmission, a 5.3-liter V8, a 6.2-liter V8, and the 3.0-liter turbocharged diesel inline-6- engine, all with a 10-speed automatic transmission. The diesel engine is the towing champion, capable of towing up to 13,200 pounds.
Drivelines can be ordered in rear or 4WD. And then there are the beds: short, standard and long. Prices depend on configuration.
GMC also offers an AT4X trim level that enhances the off-road oriented AT4 Sierra. The new trim adds more premium features that make it both capable and comfortable. Suspension upgrades include additional shock absorption, 2-speed transmission, off-road mode, larger shifter with skid plate, front and rear e-locking differentials, 18-inch black wheels, and the same 6.2-liter V8/10-speed combo as the Denali Final.
Also new for 2022 is GM's Super Cruise autonomous driving system, available only on the Denali and Denali Ultimate series. At the rear, GM's innovative MultiPro flexible tailgate continues to be an option.
2022 GMC Canyon
With features that can appeal to both SUV and pickup fans, the 2022 GMC Canyon doubles as a work truck or personal transport. Excellent handling characteristics provide good driver feedback.
Powertrains include a base 200-horsepower 2.5-liter inline-4, 3.6-liter V6 with 308 horses, or for extra muscle, a 181-horsepower 2.8-liter turbodiesel inline-4 rated at 369 lb- ft. of torque. The latter pushes the Canyon's towing capacity to 7,700 pounds. All models are available with optional 4-wheel drive.
A huge, square grille bears a passing resemblance to the larger GMC trucks and SUVs. Canyon is available in four trim levels, from Elevation Standard, Elevation, AT4 and Denali. While the Canyon is available with extended and crew cab models with short or long beds, the AT4 and Denali are exclusively crew cab trucks. Gas engines get an 8-speed automatic transmission, while the diesel comes with a 6-speed automatic transmission.
Similarities

Choice of engines; available 4-wheel drive; 5-passenger seat.
2022 GMC Sierra Benefits
Four engine choices including V8 and diesel power; three cab configurations and box lengths; additional off-road capability in the AT4X.
2022 GMC Canyon Advantages

Medium measurements; engine choice including diesel power; fuel economy.
Which one is right for me?
The 2022 GMC Sierra is a full-size pickup truck that can do it all and, when properly equipped, can tow up to 13,200 pounds. It offers the ultimate in GMC luxury with the Denali trim.
The 2022 GMC Canyon is a midsize truck with a best-in-class towing capacity of 7,700 pounds. Its smaller footprint and engine choice provide good fuel economy.
Are you ready to buy a GMC Sierra or GMC Canyon? Shop now for one on sale near you
2022 GMC Sierra
2022 GMC Canyon
Popular powertrains
Engine
2.7-liter turbo I4
2.5-liter I4
Horsepower
310 hp at 5,600 rpm
200 hp at 6,300 rpm
Torque
420 lb-ft @ 3,000 rpm
191 lb-ft at 4,400 rpm
Transfer
8-speed automatic
6-speed automatic
Fuel economy
20 mpg (19 city/22 hwy)
22 mpg (19 city/25 hwy)
Also available
5.3/6.2-liter V8s, 3.0-liter turbodiesel I6; 10-speed automatic; AWD
3.6-liter V6; 2.8-liter turbodiesel I4; 4WD
Specifications
Guarantee
3 years/36,000 miles
Powertrain warranty
5 years/60,000 miles
NHTSA safety rating
n/a
4 stars
Max seating capacity
5
5
Wheelbase
147.4 inches
128.3 inches
Total length
231.9 inches
212.7 inches
Width
81.2 inches
74.3 inches
Height
75.6 inches
70.7 inches
Twist diameter
46.9 feet
41.3 feet
Standing height, front
43.0 inches
41.4 inches
Standing height, rear
40.1 inches
38.3 inches
Legroom, front
44.5 inches
45.0 inches
Legroom, rear
43.4 inches
35.8 inches
Shoulder room, front
66.0 inches
57.5 inches
Shoulder room, rear
65.1 inches
56.2 inches
EPA Passenger Volume
n/a
n/a
Load capacity
2,185 pounds
1,775 pounds