Distinct design both inside and out
The 2014 GMC Sierra 1500 All-Terrain received a new styling package for that particular model year. A big difference to the other models was, for example, that it got a painted grille instead of the more common chrome offering. It was also made available as a double cab and a crew cab.
In addition, the All Terrain model received some exclusive design elements, including the "ebony" interior theme, and the SLE and SLT models received front bucket seats. The SLT model's bucket seats even received a carbon fiber-like seat accent.
Fast forward to 2022, GMC rolled out the ultra-luxury Denali Ultimate & premium all-terrain Sierra AT4X for the first time, and received refreshed 2022 Sierra interiors with a luxurious touch.
A more distinctive area for the All-Terrain model included the design of its less visible elements, particularly the suspension. The 2014 Sierra All-Terrain came standard with a Z71 off-road suspension system with Rancho monotube shocks, an auto-locking and quick-reaction rear differential, a transmission, a front recovery hook, and even the addition of Hill Descent Control. as a driving function.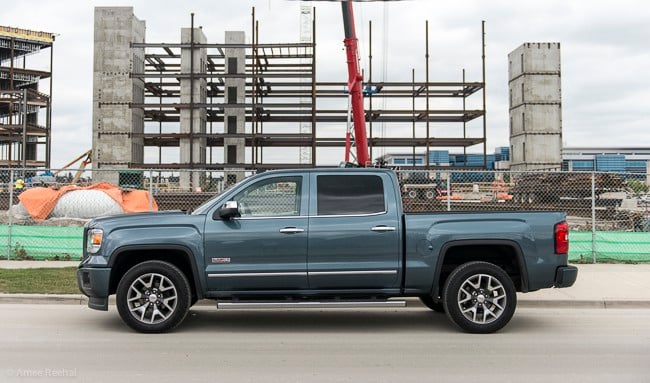 Drive lines
For 2014, GMC introduced a new engine family for the Sierra All-Terrain models (and others in the same Sierra series) called the EcoTec3. New options include a 4.3L V6. and two V8 options, one with a displacement of 5.3 liters and the other with 6.2 liters. All of these engine options came with direct fuel injection, Active Fuel Management and continuously variable valve timing all as standard features, allowing them to run on 4 cylinders to save fuel when carrying less load.
The base-level V6 was the strongest torque offering in its segment at the time, totaling 305 lb-ft, not to mention a solid 285-hp. This powertrain was paired with a 6-speed automatic transmission. It came in handy when making sure the Sierra All-Terrain could handle its towing loads. With the V6 under the hood, the standard SUV can tow up to 3,447 kg (7,600 lbs), which is about 408 kg (900 lbs) more than its close competitor, the Ford F-150 3.7L.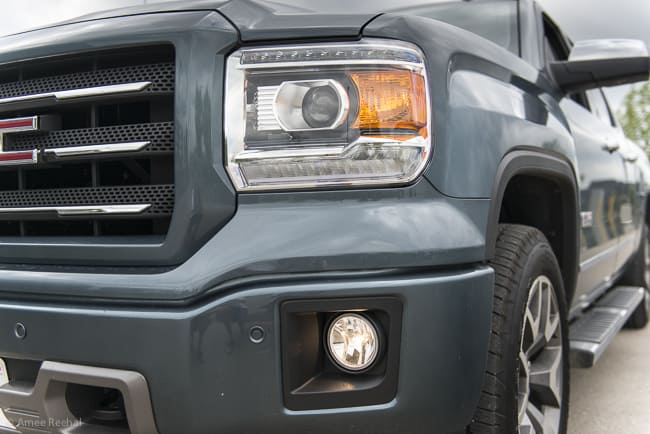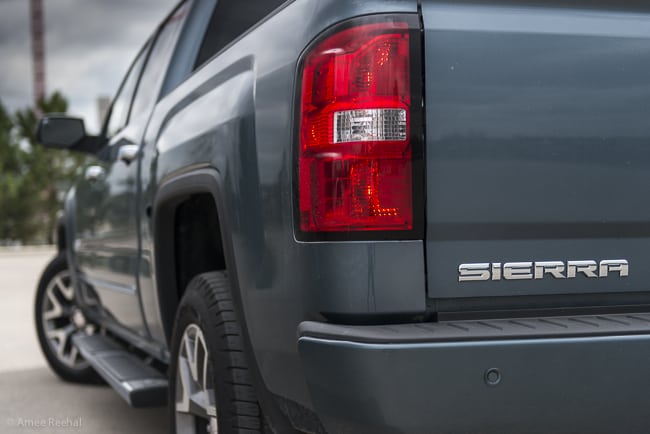 No big or powerful pickup will rival a sedan for fuel efficiency, but GMC's investment in reengineering the EcoTec3 series engines seems to be paying off, delivering 9.8L/100km (24mpg) on ​​the highway and 13L /100 km (18 mpg) in the city, best in the segment.
Naturally, climbing the powertrain ladder delivers even greater power, torque and capability, culminating in the 6.2L V8 delivering 420 hp, 460 lb-ft of torque and a massive 5,443 kg (12,000 lbs) towing capacity. That lowers highway and city fuel consumption to 11.2 l/100 km (21 mpg) and 15.6 l/100 km.
Cargo bed
The cargo bed is an important feature on any pickup truck, and 2014 brought some interesting innovations to the GMC Sierra All-Terrain. Corner steps were fitted as standard which made it much easier to get in and out of the rear cargo bed. These steps were built to support up to 113 kg (250 lbs).
GMC also installed LED lights under the bed rails, which help keep it lit even when the tonneau cover is on. Lifting and lowering from the truck was also made easier with an optional EZ Lift and Lower tailgate system built with a tough and durable integrated torsion bar.
2014 GMC Sierra SLT 1500 Crew 4×4 All-Terrain Tech Specs:
Options on this Sierra:
Terrain Package ($2,520)
All-Terrain 'Plus' Package ($2,435)
Power sliding/tilting sunroof ($1,325)
Navigation and Audio ($995)
Trailer Brake Control ($300)
Terrain Wheel Upgrade ($250)
Engine Heater ($100)
Credits include off-road package discount (minus $775)
All-Terrain 'Plus' Package (Minus 650)
Main specifications of the Sierra:
Engine: EcoTec3 5.3L V8 FlexFuel (L83)
Gearbox: Six-speed automatic
Displacement (cc/cu in): 5328 / 325
Valvetrain: Overhead valve, two valves per cylinder, variable valve timing
Ignition System: Coil near plug, platinum spark plug, low resistance spark plug wires
Horsepower: 355 / 250 @ 5600 (gas); 380/283 @ 5600 (E85)
Torque: 383 / 519 @ 4100 (gas); 416/564 @ 4100 (E85)
Wheels: 20-inch off-road upgrade (17-inch standard)
Brakes: power-assisted, four-wheel discs, four-wheel ABS, with Duralife™ rotors; vented front rotors
Fuel recommendation: Regular unleaded or E85
Fuel consumption (L/100 km): 4×4, 13.3 city / 9.0 highway / 11.4 combined
Trailer, Crew Cab Standard Box, 4×4: 4309 / 9500 (5.3L and 3.42 axles)
Trailer, Crew Cab Standard Box with Max. trailer package: 4853 / 10700 (5.3L and 3.73 axles)
Related