In 2021, Jeep decided to enter the full-size SUV segment with a familiar name: Wagoneer. Americans love big SUVs and luxury. Now, more than ever, buyers will have a hard time choosing between the Yukon and the Wagoneer. People who want the cheapest will still buy the Expedition or Tahoe, but those who want a little more luxury or just something different need to look at the new Jeep Wagoneer. Jeep has also brought back an even more luxurious Grand Wagoneer. The interior of the Grand Wagoneer is to die for, as are all the cows that went into it. Here are 10 reasons why these twins are pretty awesome:
10/10

The Legend of the Jeep Wagoneer

1963-1991 Classic Jeep Wagoneer in a field of horses.

The first Jeep Wagoneer was introduced in November 1962 for the 1963 model year. It was built on the "SJ" chassis also seen in the Jeep Gladiator pickup truck. The Wagoneer had wood siding, a shiny chrome grille, and four-wheel drive as standard. It was considered a large station wagon back then. The term "sports utility vehicle" has not been mentioned yet. In 2022, the Jeep Wagoneer was redesigned as a luxury three-row SUV and built on the Ram 1500 chassis. Jeep has also brought back the Grand Wagoneer as the premium SUV to compete with the Cadillac Escalade, GMC Denali and, let's not forget, the Lincoln Navigator.
9/10

The best price for your money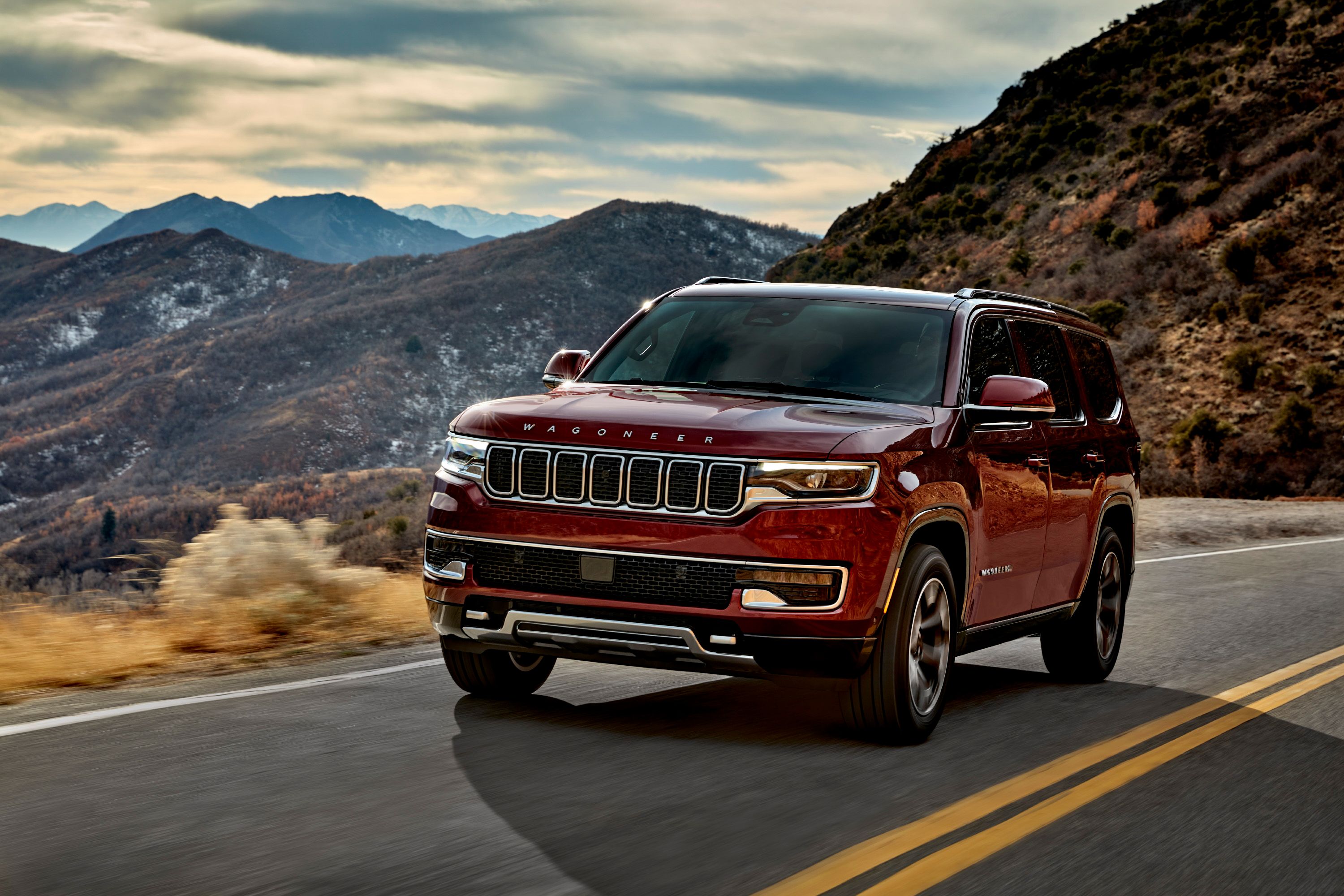 A Ruby 2022 Jeep Wagoneer is driving on a road.
The 2022 Jeep Wagoneer and Jeep Grand Wagoneer are two separate models, similar to how Ford has a Bronco Sport and a Bronco. Both models have a short wheelbase and a long wheelbase version, the long one symbolized by an "L" on the badge. With the Wagoneer, you get six trim options: Series I, II and III; or Series I, II, III Carbide (black with 22-inch gloss black wheels.) But, of course, the best bang for the buck is the Series II. With it, there are five additional equipment groups to choose from, including a Heavy-duty Trailer towing package and a Convenience Group, which gives you heated second-row seats, a heads-up display, 360-degree surround cameras and more. The 2022 Grand Wagoneer is in a class of its own. The interior looks more exotic and European, not like anything Chrysler produced – the brand whose "luxury car" is the 300. The Grand Wagoneer is offered in four models: Series I, II, III and Obsidian. Not to confuse you, the Series III is the top trim level. As with the Wagoneer, the Series II trim offers you the most bang for your buck and has the majority of features standard or available.
Related: Jeep Has Stretched The Wagoneer And Grand Wagoneer And Equipped Them With All-New Engines!
8/10

Fast and powerful like an NFL Linebacker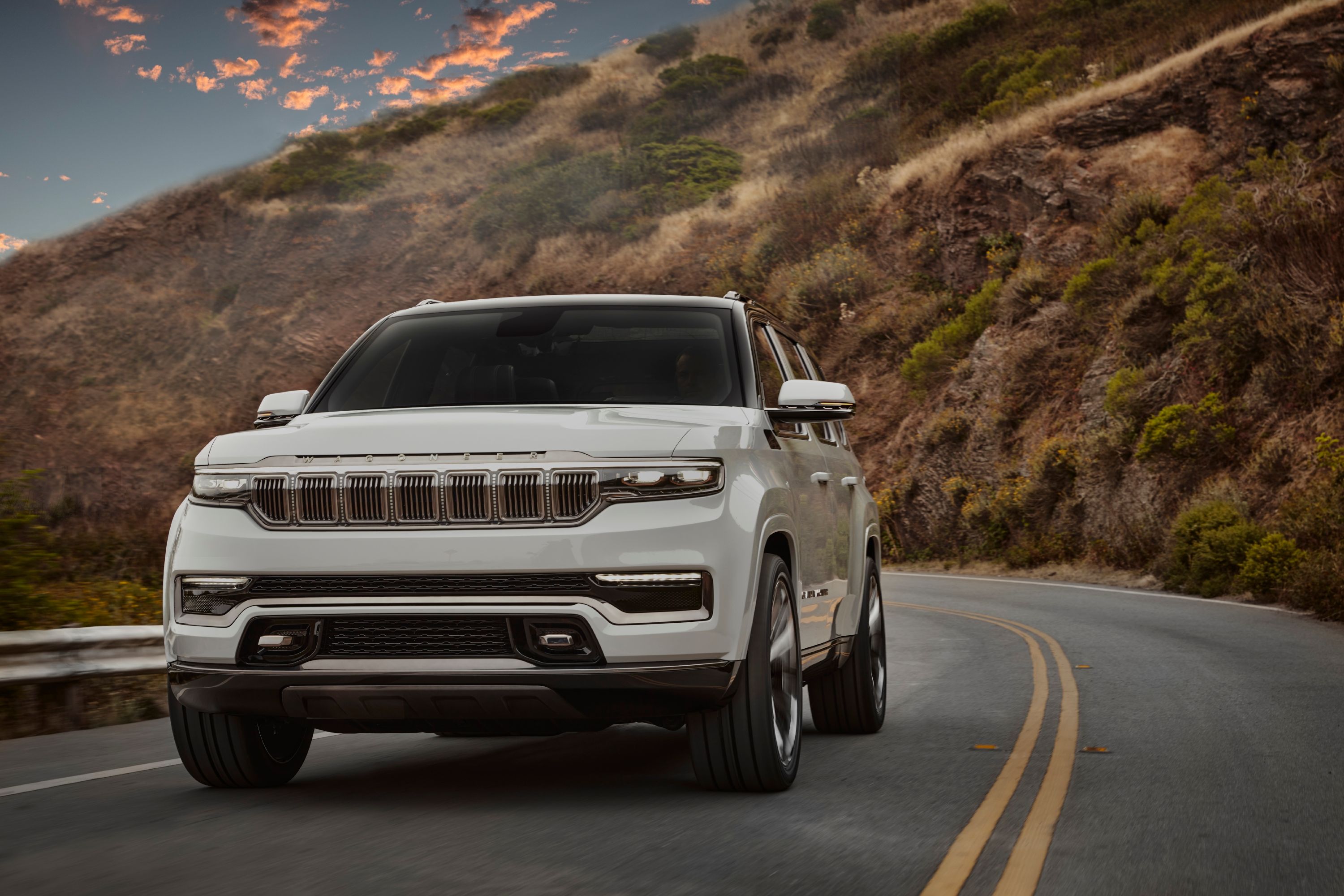 White Jeep Grand Wagoneer driving on a highway
The Jeep Wagoneer comes standard with Ram's proven 392-horsepower 5.7-liter V-8 equipped with eTorque for better fuel economy and a slight increase in low-end torque (404 pound-feet of torque) to get you off the line faster. All-wheel drive is standard on the Grand Wagoneer and optional on all Wagoneer models. The Wagoneer can sprint to 60 mph from rest in a brisk 6.7 seconds. The Grand Wagoneer has a 6.4-liter V-8, offering 471 horsepower and 455 pound-feet of torque, or a new 3.0-liter twin-turbo inline six with 510 horsepower and 500 pound-feet of torque. All Wagoneers and Grand Wagoneers have an eight-speed automatic transmission. The Grand Wagoneer with the 6.4-liter reaches sixty miles per hour in 5.9 seconds. The inline-six is ​​the engine to get in the Grand Wagoneer. It does the 0-60 mph sprint in an impressive 4.7 seconds.
7/10

A Luxury Yacht On The Road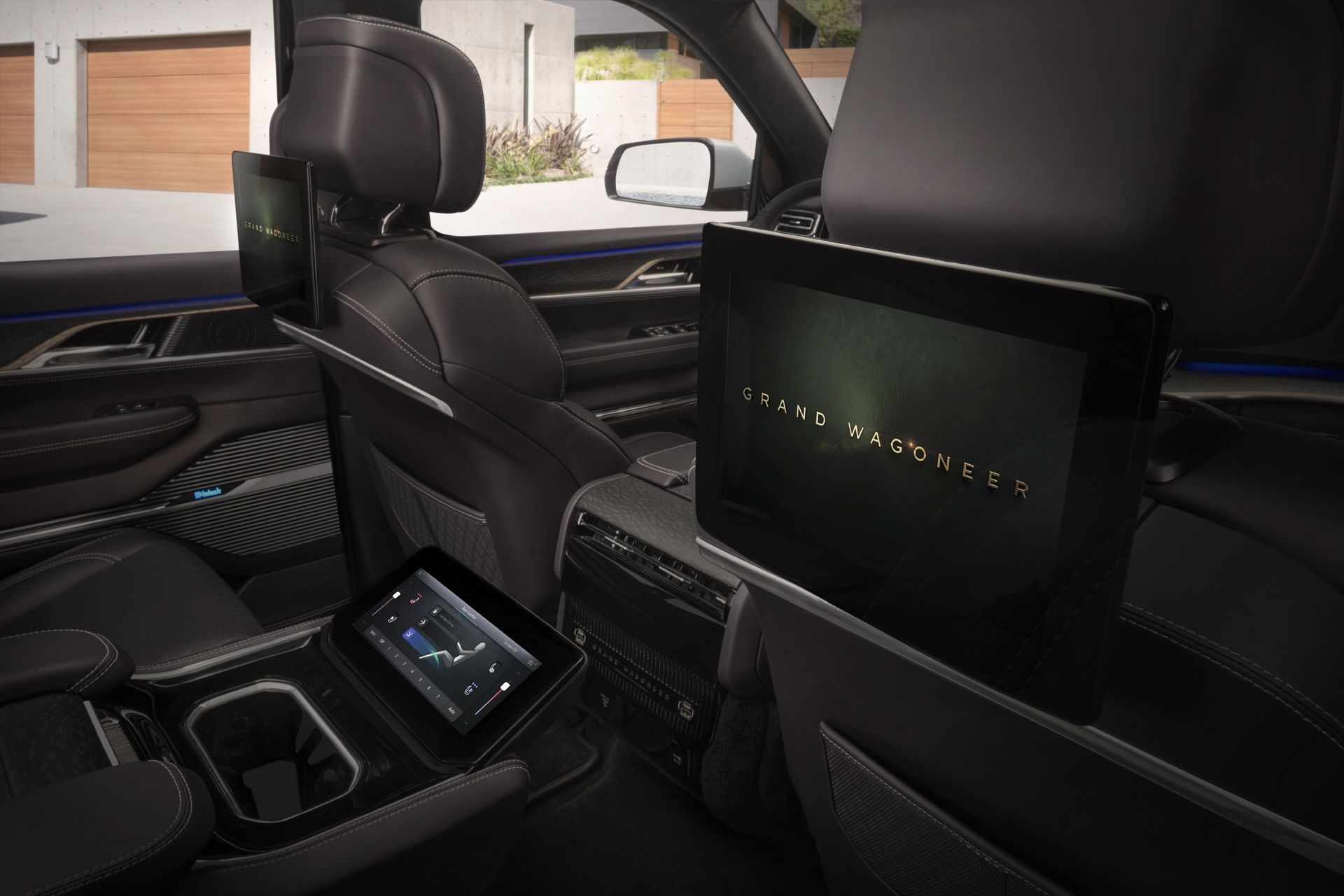 Grand Wagoneer interior design second row.
You will feel like you are in a sports lounge, surrounded by leather and screens. You certainly won't find any members of PETA on any of these luxury land yachts. The Grand Wagoneer Series II has an optional blue agave interior. Combine it with the walnut accents and it looks exceptional. The Wagoneer and Grand Wagoneer offer an optional passenger infotainment screen to control navigation and entertainment. Massage seats are standard on the Grand and optional on the Wagoneer. Both models seat seven or eight passengers, depending on the other seating configuration you choose. Three-zone climate control is standard on Wagoneers. The Grand Wagoneer even offers a built-in locker for valuables.
Related: Jeep Unveils All-Electric Avenger 4X4 Concept
6/10

The Wagoneer twins are so big they should have their own zip codes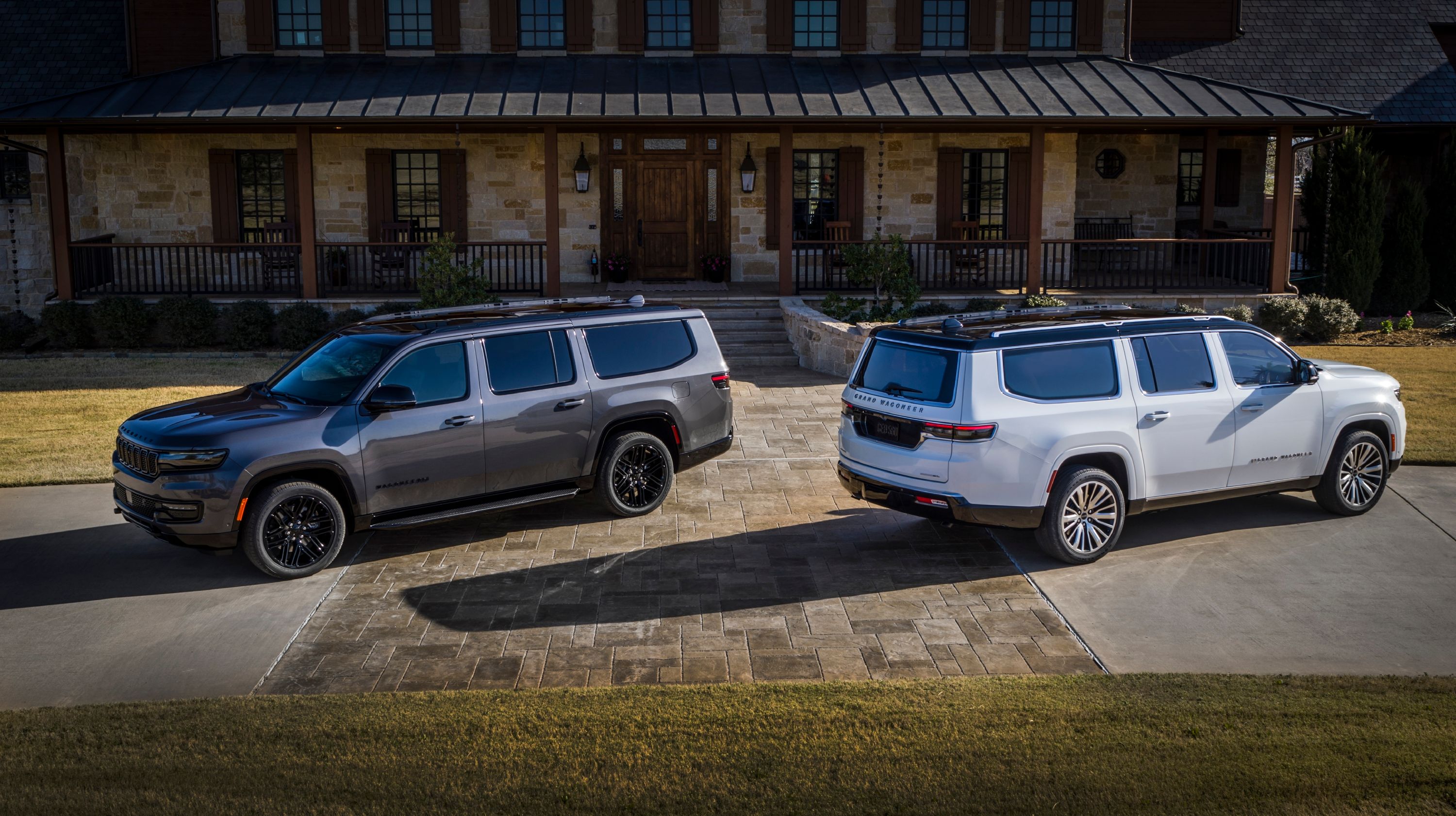 2023 Jeep Wagoneer and Grand Wagoneer long wheelbase models
The Jeep Wagoneer looks like the love child of a Suburban and a Grand Cherokee. It's like the folks at Jeep got in their new Grand Cherokee L with three rows of seats, and they said it was too small. The Wagoneer is said to be inspired by the original Wagoneer, but where is the wood paneling? The Wagoneer has the best passenger volume in its class, at 179 cubic feet. An apartment in New York must be only 80 cubic feet by law. If you get the "L" version of the Wagoneer or Grand Wagoneer, it increases in length by 12 inches. In case you were wondering, the Wagoneer is seven feet wide. A Chevy Tahoe measures 210.7 inches in length, 81 inches in width, and 75.8 inches in height. The Jeep Wagoneer, on the other hand, measures 214.7 inches in length, 83.6 inches in width and 75.6 inches in height. The Wagoneer L is an inch longer than a Suburban. In the automotive industry, it is about increasing competition.
5/10

They can tow as much as a pickup truck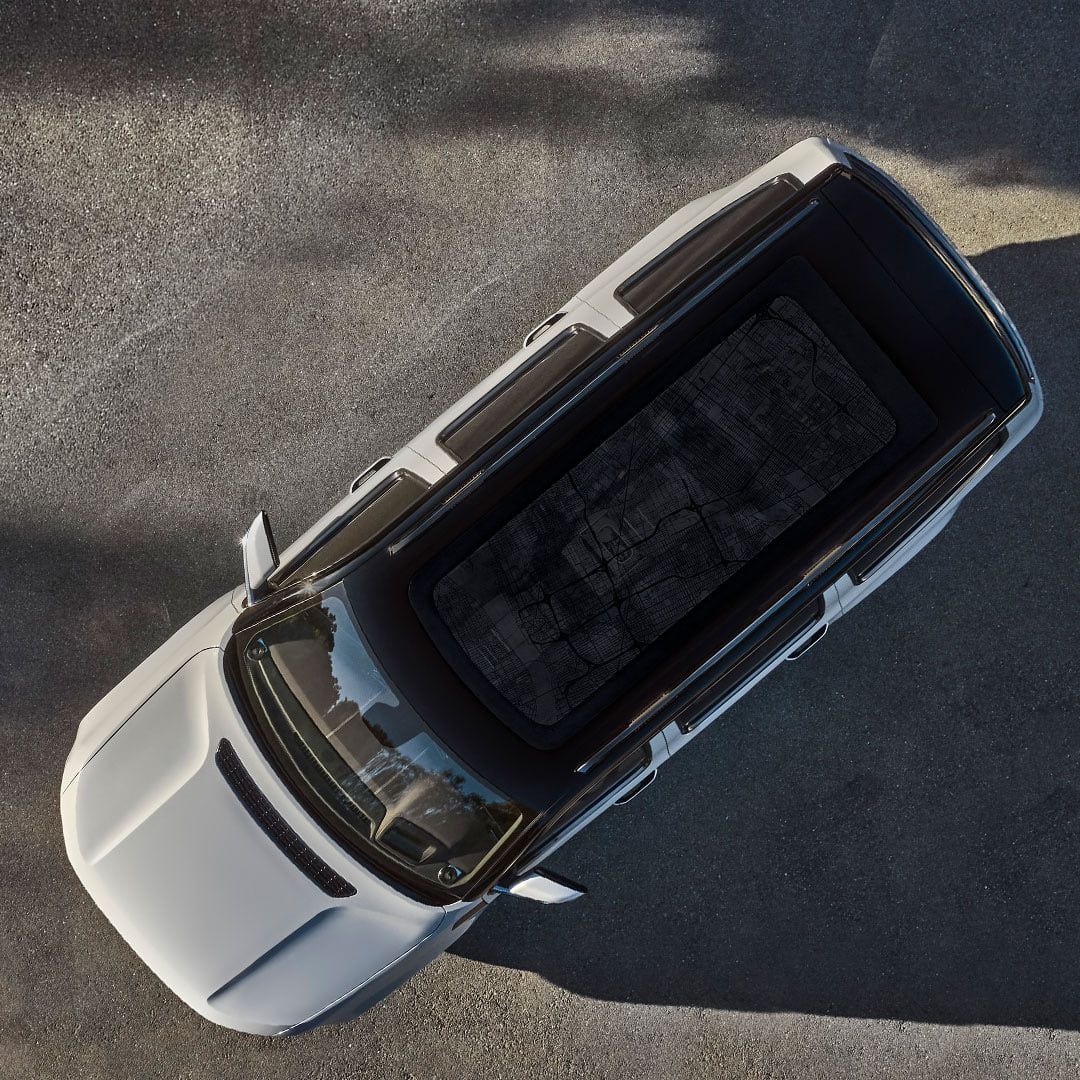 2022 Jeep Grand Wagoneer overhead shot, look at that moonroof.
The Jeep Wagoneer and Grand Wagoneer are built on the Ram 1500 chassis, which allows them to have truck-like characteristics. The Wagoneer twins have a maximum towing capacity of 10,000 pounds. Just make sure to give yourself plenty of time to slow it down as the stopping distance of this beast could be better. The Wagoneer offers 116.7 cubic feet of cargo space behind the front row. It offers 70.9 cubic feet with the third row down and 27.4 with the seats up. That's more than you get in an Escalade or Lincoln Navigator. The four-wheel drive versions have selectable driving modes for whatever terrain you may encounter, such as snow, sand, mud or rock. Jeep is known for its off-road capabilities.
Related: The best new SUVs of 2022
4/10

Fuel economy isn't particularly impressive

n "">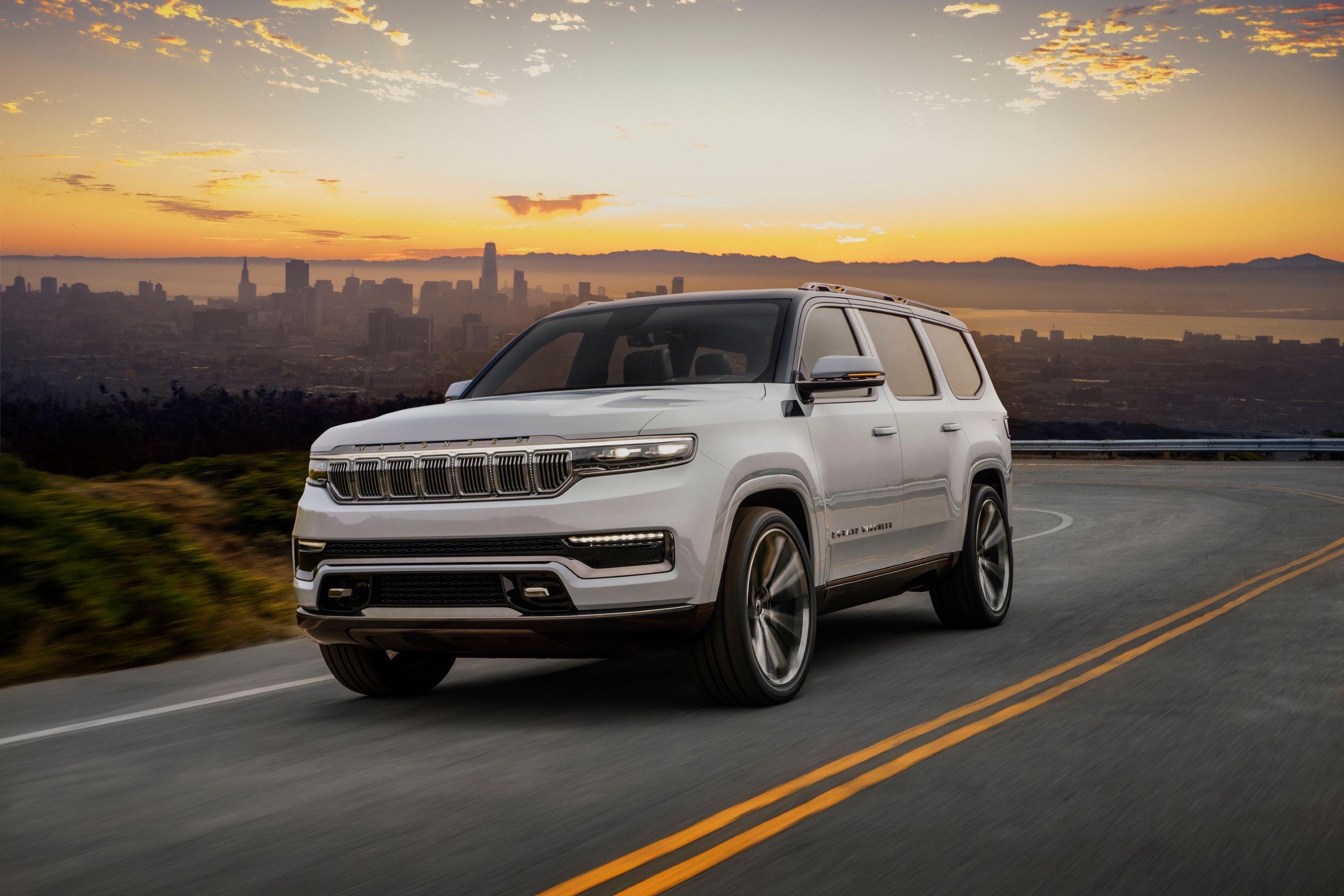 White 2022 Jeep Grand Wagoneer driving on the road
With three engines to choose from, optional two-wheel drive, or even a foot-longer SUV, fuel economy will vary. The Wagoneer's 5.7-liter has an EPA-estimated 17 mpg city /23 mpg highway economy with two-wheel drive. All-wheel drive pulls it down by one. The Grand Wagoneer's 6.4-liter offers 13 mpg in the city and 18 mpg on the highway. However, the inline-six goes only slightly better with 14 city/20 highway. Again, the long wheelbase lowers that number by an mpg.
3/10

More screens and technology than in most houses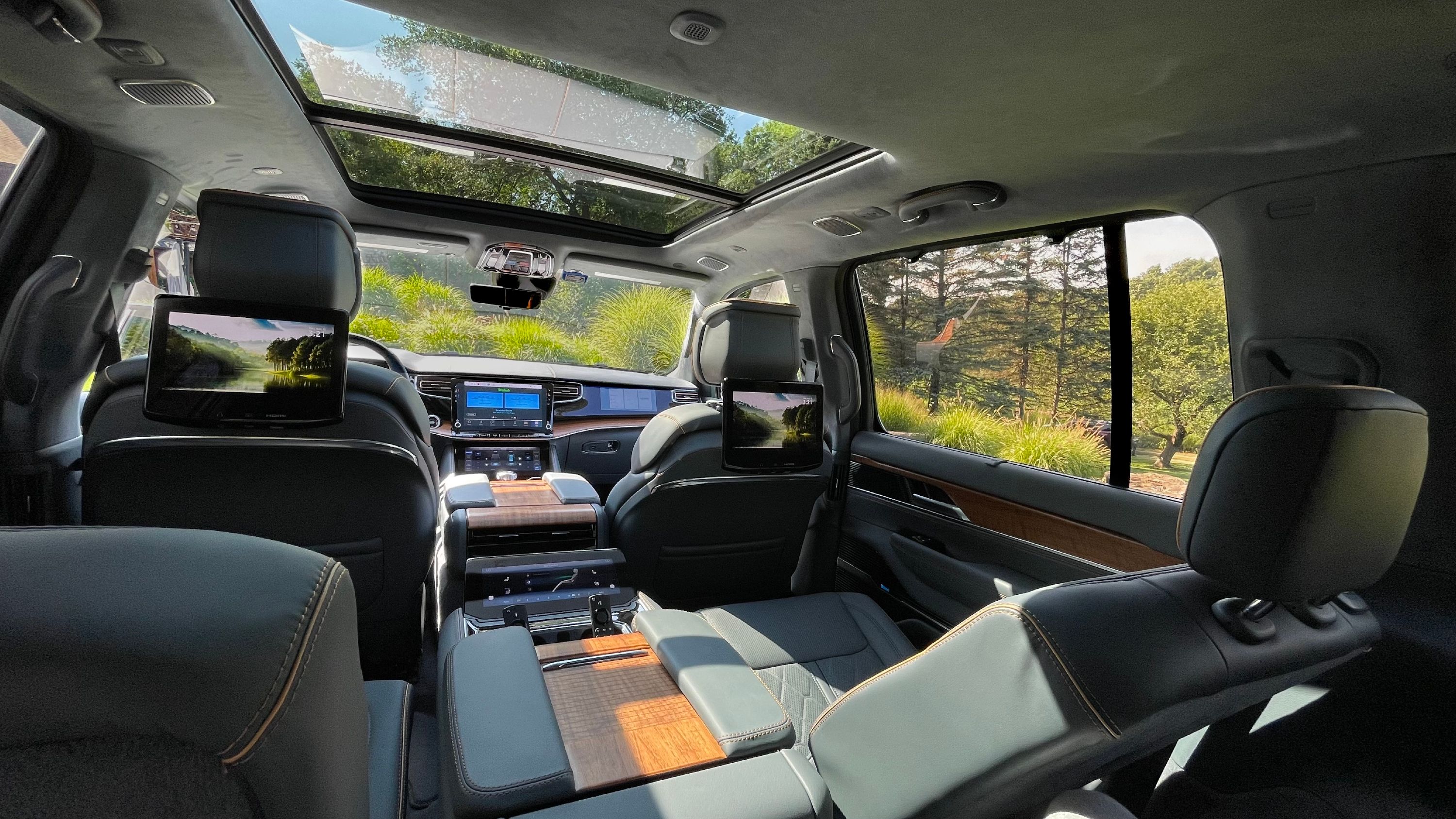 Image of the 2022 Jeep Grand Wagoneer's interior
The interior of the Wagoneer is heavily covered in screens, with the infotainment displaying a 10.1-inch diagonal in the center, while a 10.3-inch digital gauge cluster offers readouts to the driver. Front-seat passengers also get their own displays – an optional 10.3-inch unit – integrated into the dashboard, providing access to navigation and entertainment functions. The UConnect 5 software interface allows users to access various features, including Apple CarPlay, Android Auto, SiriusXM Satellite Radio, built-in navigation, Amazon FireTV and Alexa, as well as a 4G LTE WiFi Hotspot. Buyers of the top-spec Model III model will enjoy the 19-speaker stereo developed with premier audio equipment specialist McIntosh. One of the more eye-catching aspects of the Grand Wagoneer is its multifaceted infotainment system. The center stack is the primary focal point, housing the 12.0-inch central touchscreen, which sits atop the 10.3-inch touchscreen that controls the HVAC system. Every Grand Wagoneer has a powerful McIntosh stereo, but Series II models and up get the most powerful unit, with 1,375 watts of power and 23 speakers.
Related: Jeep tries to redefine electric luxury with Wagoneer S EV
2/10

There is no shortage of security features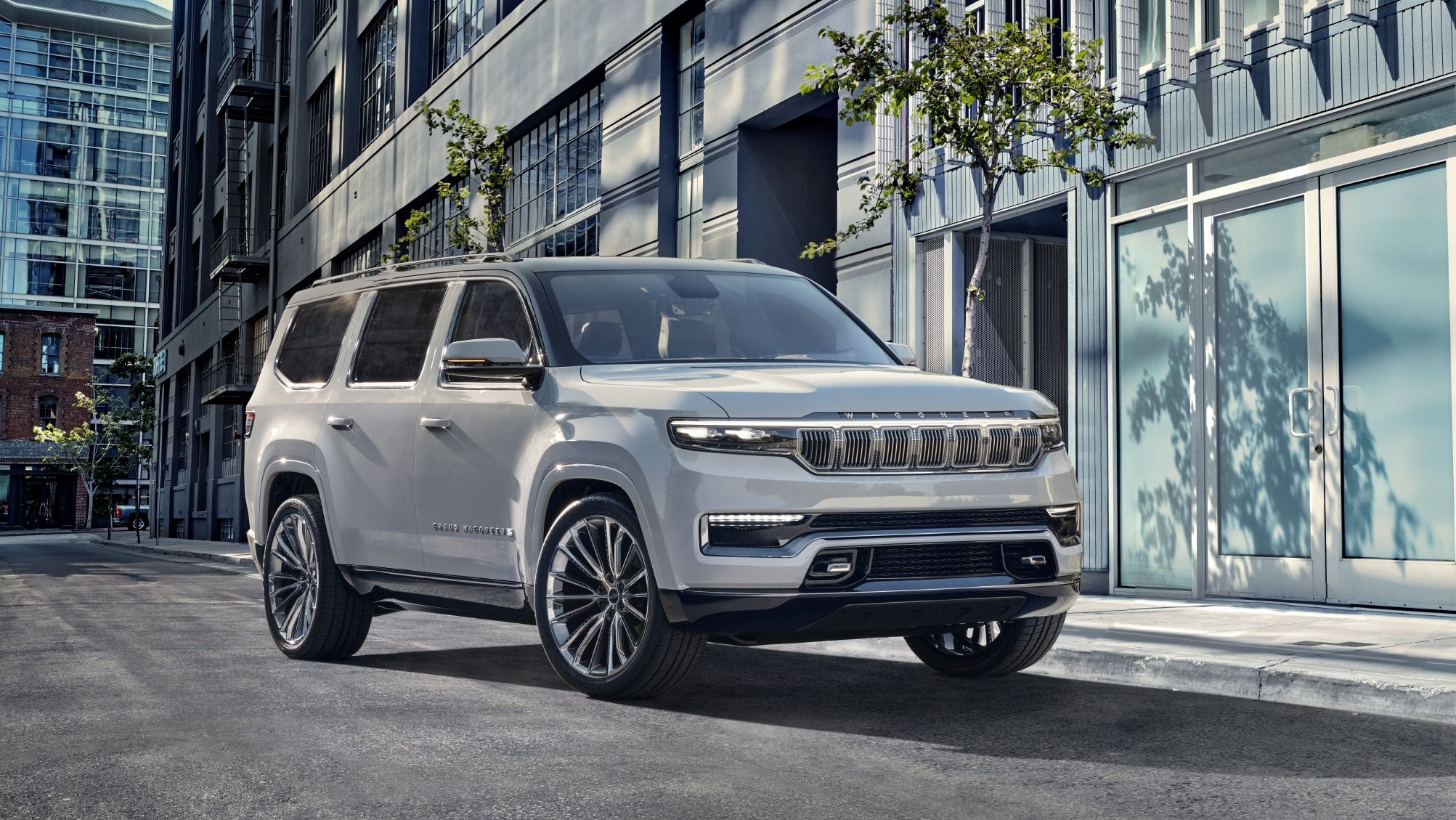 White 2022 Jeep Grand Wagoneer parked on the street
The Grand Wagoneer is equipped with a range of driver assistance technologies as standard; in addition, the luxury SUV has an equally extensive range of additional aids. These include adaptive cruise control, self-parking capabilities and night vision with pedestrian and animal detection. A semi-autonomous mode allowing hands-free driving would eventually also be offered. Key safety features include standard forward collision warning and automatic emergency braking, standard blind spot monitoring and rear cross-traffic alert, as well as standard lane departure warning and lane keep assist.
1/10

The Wagoneer twins don't come cheap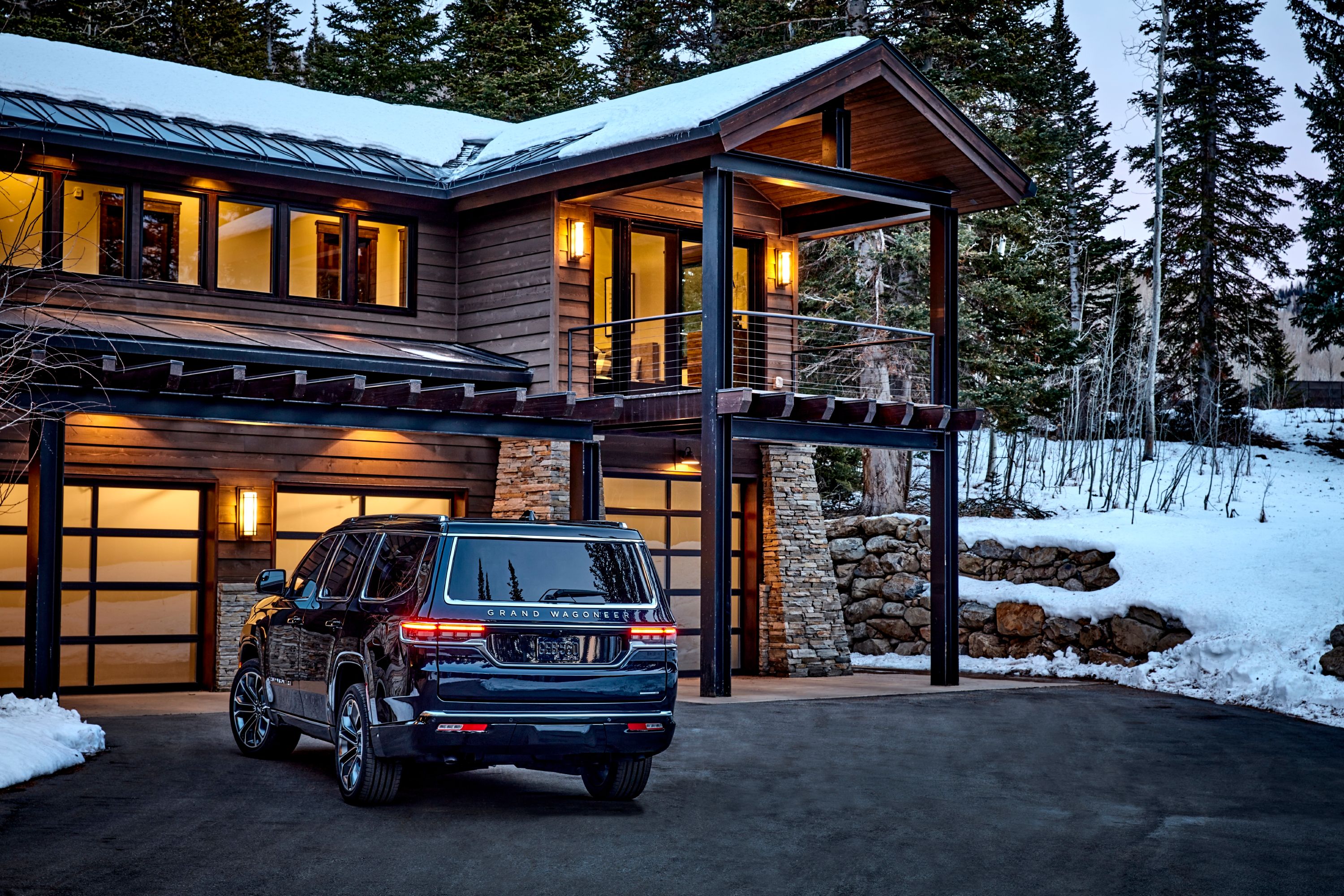 A beautiful view of the rear of the 2022 Jeep Grand Wagoneer
The Jeep Wagoneer's starting price of $60,995 for the Series I puts it above the Expedition, Tahoe and Yukon but well below the Escalade and Navigator. If you were to buy a Wagoneer Series III Carbide 4×4 with all the options, it would cost you $92,110 plus destination charge. A Grand Wagoneer starts at $89,995. But for a fully loaded Series III, the price goes up to $117,710. According to edmunds.com, people pay an average of $90,039 for a Series I and $109,678 for the more popular Series III.
FAQ
Q: How much does a 2022 Jeep Wagoneer cost?
A 2022 Jeep Wagoneer costs between $60,995 and $92,110, depending on options.
Q: How much does a fully loaded 2022 Grand Wagoneer cost?
A fully loaded 2022 Jeep Grand Wagoneer will cost you $117,710.
Q: Which is bigger Grand Wagoneer compared to Wagoneer?
Wagoneer and Grand Wagoneer are the same size. Grand means more luxury, not bigger in this case.
Q: Is a Wagoneer bigger than a Tahoe?
The 2022 Jeep Wagoneer is four inches longer and two inches wider than a Tahoe. The height is about the same.